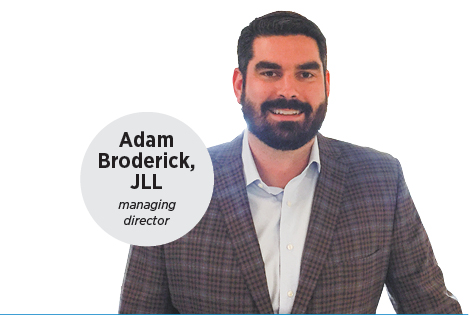 Adam Broderick, 38, assumed full leadership last month of commercial real estate firm JLL's Indianapolis office, replacing John Robinson, who transitioned into leading the firm's local leasing business.
Broderick is backed by more than 13 years of commercial real estate experience and has completed more than 650 transactions, representing both owners and occupiers across the United States.
In his new role leading the Indianapolis team, Broderick will focus on shaping the firm's local business strategy and expanding JLL's presence throughout the region.
How did you get into the commercial real estate brokerage business?
I completed two or three internships with Meridian Real Estate when I was at DePauw University and worked under John Robinson (now at JLL).
What did you like about it?
I liked that it was something different every day. It's not a repetitive industry. Each deal takes on a life of its own, and I like the freedom. Each person's responsible for tracking down your own business and your success is directly tied to your efforts.
How would you describe the local office market?
I would call it a very steady performer right now. Over 2015, '16, '17, we had quite a bit of growth. Now we're just sustaining that growth. The [central business district] market continues to improve on a regular basis and outside capital is coming into the market and investing heavily.
What about downtown?
We have a really good group of owners in the [central business district]. The largest landowner is Hertz, which owns Salesforce Tower, Capital Center and PNC Center, and they've invested millions of dollars in those buildings over the last six to eight months. Generally speaking, we have a well-capitalized group of owners that are investing back into the CBD, and that hasn't happened in many years.
What sector of commercial real estate is the hottest right now?
It's probably the multifamily sector. In general … the pricing is through the roof.
How competitive is it, between brokerages?
There's a heathy competition between the brokerage firms, for sure. But generally speaking, everyone in our industry gets along for better or for worse. With Indianapolis being a smaller market, it's important to maintain, at a minimum, a good working relationship, if not a friendship.
What was it like as a broker during the recession?
It was a learning experience. You had to be creative and unique in your approach to driving new business. But I also think it's healthy for our industry; in the toughest of times, the cream usually rises to the top.
How will leading the local JLL office differ from your brokerage responsibilities?
They're two completely different tasks. We've got a large group of seasoned professionals here. My job really is to not screw that up and to make sure they have the tools and resources that they need and to provide our clients with best-in-class data and deliverables. But I'll still be maintaining my brokerage business.
What do you like to do in your spare time?
I have three girls, 6, 4-1/2 and a 1-year-old, so a lot of time is spent with them. We like to travel, and the girls are into gymnastics. And if the weather returns to what it should be in the spring, I will be on the golf course.•
(IBJ photo/Scott Olson)
 
Please enable JavaScript to view this content.