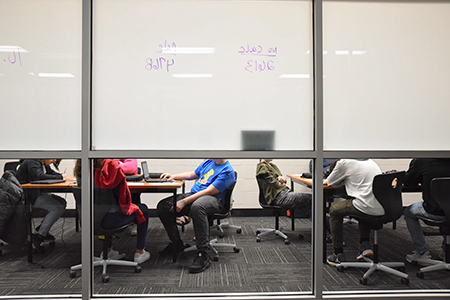 About once a month, architectural firm Odle McGuire Shook gets a call from a school seeking an evaluation of whether the building has the features it needs to keep students safe.
But after a school shooting or other violent incident, those calls and emails increase, said Matt Mayol, the Indianapolis-based firm's president and CEO.
So it's no surprise that just about every one of the 20 or so new school construction or renovation projects the firm does every year involves, at least in part, increasing security measures. And sometimes, it's the impetus for the project.
"We do see a lot of clients looking to do these changes," said Gerard Skibinski, principal architect at Odle McGuire Shook. School corporations "are trying to address safety to the degree that they can, but modifications sometimes are costly."
Odle McGuire Shook, one of the largest school designers in the state, provides architecture, engineering, preservation, interior design and planning services to districts and governments across Indiana. When designing those projects, the firm always recommends security upgrades if school budgets allow.
"It's not our decision," Mayol said. But "we try to be good stewards to say, 'You have this option.'"
Currently, the firm is overseeing building expansions at Mt. Vernon Middle School in Fortville and Delta High School in Muncie. Both projects include plans to make the buildings more secure.
The firm—and the schools—didn't provide all the specifics about their security features.
But Odle McGuire Shook architects detailed some examples in an interview with IBJ: Schools have been redesigned to create only one entry point after class starts, improved door locks are being installed on classroom doors when buildings are renovated, and a special film can be applied to windows and other glass to make them less likely to break if they're struck or shot.
Overall, educators and architects say design elements and the equipment and materials installed in schools today make them safer than they were two decades ago.
Back then, school designers spent their time worrying about making buildings compliant with the 1990 Americans with Disabilities Act. But a school shooting at Columbine High School in Colorado in 1999 changed everything, Mayol said.
"Before that … we were busy making ramps," he said. "Very quickly, school safety took the No. 1 spot."
And every time tragedy strikes a classroom in America, that conversation reignites in schools, around dinner tables and in offices: What can be done to make classrooms safer?
"Every year, we're getting a little more advanced in what we're doing," Mayol said.
Finding balance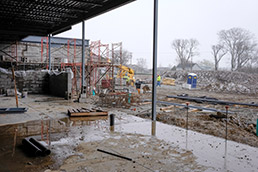 A renovation at Mt. Vernon Middle School in Fortville will include bullet-resistant film on windows and an upgraded visitor management system. (IBJ photo/Eric Learned)
Striking a balance between making buildings as secure as possible and maintaining a warm environment suitable for learning can be a challenge, Mayol admits.
Schools shouldn't feel like a courthouse or an airport, he said, so designers seek ways to implement security measures that aren't always immediately apparent to students and teachers.
Most students don't walk through a metal detector when they arrive; their school bags aren't checked. But protocols are in place to help keep them safe, he said.
The emphasis Mt. Vernon officials have placed during renovations on keeping the buildings' exteriors secure has given them the freedom to design welcoming and functional traits in interior features, said Superintendent Shane Robbins.
For example, the corporation chose to build a lab of four classrooms with walls made completely of glass. Teachers can use the walls as dry erase boards, and the rooms provide students an alternative learning environment.
Shane said he's sure some parents might not have liked that decision—classrooms made completely of glass—but they're no less secure than the gymnasium or cafeteria, he said.
If schools can keep intruders out, the building's interior doesn't need to feel like a security center, Robbins said.
The architects who work at Odle McGuire Shook always talk with clients about safety features that start with a secure front door.
Multiple doors might be open as students arrive. But once the day begins, they should be locked, and visitors should be directed to one entry point, Skibinski said.
"That is the first line of defense for a school," he said.
At both Delta High School and Mt. Vernon Middle School, those entry points are undergoing safety updates. Over the last several years, Odle McGuire Shook has worked on school designs that have included vestibules between the outside and inside of the school building, Skibinski said.
The interior doors stay locked until staff members unlock them to allow a visitor in.
At Delta High School, Odle McGuire Shook is overseeing a project that creates a new front door that will connect directly to the school's main office.
Previously, the administration suite was centered in the 1970s-era building, away from the main entrance, Mayol said.
Many schools had been designed that way to allow administrators to be in the heart of the school, where they could be among students and staff.
Now, architects recommend schools consider creating a secure vestibule—like the one under construction at Delta, Skibinski said.
And there are other ways to invite the public into the buildings, while keeping schools safe, Mayol said.
For example, Lebanon High School—where Odle McGuire Shook recently led a renovation—has a community room for meetings and events. But it's not connected to the rest of the school, Mayol said, and visitors don't have to check in at the main office to get there.
At Mt. Vernon, renovations include an upgraded visitor-management system. The new system will scan a visitor's ID and automatically notify police if they're someone who shouldn't be at the school, Robbins said.
Previously, office staff scanned IDs and would have to dial 911 if there was a problem.
Layers of security
The U.S. Department of Education recommends schools at minimum install secure locks with quick-release capability and say windows that face traffic should have protective coatings that enhance their resistance.
Odle McGuire Shook talks with clients about going even further. Once schools have a secure entrance in place, architects look at their video surveillance systems and school resource officers.
They have lots of questions: Can the cameras be upgraded so they don't need power to operate? Do school resource officers need a reception desk that's easy to lock up when they're patrolling halls?
And they talk with clients about what they can do to make classrooms safer, starting with the room's door.
In many schools, doors can be locked or unlocked only with a key. That could pose some risk if an intruder enters the building, Mayol said.
Now, it's standard to build doors that can be locked from inside the classroom with the turn of a knob, Skibinski said. During a renovation, Odle McGuire Shook can recommend older doors be upgraded.
If schools want bullet-proof glass for the windows built into doors, Odle McGuire Shook can price that, too, though it can be cost-prohibitive, Mayol said.
Still, architects and designers offer as many options as they can, leaving it up to school officials to decide what their budgets can afford.
Sometimes, incidents intervene to make the decisions easier. Robbins said that, following the school shooting earlier this year in Parkland, Florida, Mt. Vernon school leaders opted to apply bullet-resistant film to new windows as they're installed and to some existing windows, too.•
Please enable JavaScript to view this content.