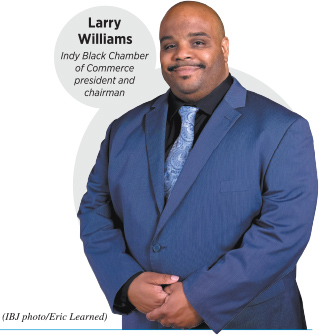 When businessman Larry Williams launched Rowley Security Firm LLC in Indianapolis in 2012, he joined the Indy Chamber for support.
But he didn't find many black business leaders there. So he and a small group of others decided to restart the Indy Black Chamber of Commerce, a group that had been defunct for years.
Now in its third year, the chamber has 92 members.
Why did you decide it was important to restart the Indy Black Chamber?
We make up more than 30 percent of the population, but there was no advocate for black businesses. We really needed someone to advocate for black businesses because they were dying off. There was a lack of support, a lack of advocates to make sure people were meeting their own goals.
We also don't have the connections that everyone else has. You don't have a lot of black people in the higher corporate world.
What role does the Indy Black Chamber want to serve for black-owned businesses?
We want to make sure they're getting contracts and growing in capacity.
We want to be an information resource. A lot of times when business owners see something getting built, they want to get on that project. Well, once the shovel is in the ground, contracts are already signed. You need to know what's coming down the pipeline beforehand.
We also focus on insurance, taxes, books, financials—all the back-end business functions. A lot of people are good at what they do and don't understand the back end to the business.
Our members range from pest control to janitorial companies to construction to logistics to lawyers to insurance to security to consulting.
Now that the group is in its third year, what are the goals?
We're looking to double our membership. The first year was just to get our name out there, because the other one had gone extinct. The second year, we focused on getting members. That's how we got to 92 members. This year, we're trying to make sure we bring in more contracts to help more businesses.
We're advocates. We would like for the bigger corporations—the Lillys, the Cumminses, those companies—to reach out to the Indy Black Chamber and get us involved to make sure we help them get black businesses on these contracts or anything they're doing. There's a lot of businesses you may not know about. That's why we're here.
What is the best part of running this organization?
Seeing people get contracts, and seeing people grow from maybe being alone, to being a five-man show. That's a big deal in small businesses.
Everybody can't be an entrepreneur. There's a mindset you need to have. It's a roller-coaster. It's up and down. You really need a support group to keep you encouraged. The highs are high. When they're low, they're pretty low. It takes a lot and it's very hard.
What is your best pitch to the public on why they should set a goal to support black-owned businesses?
Black-owned businesses hire black people. Once they get a good-paying job, they can buy houses. Once they buy houses, they invest in their community. If the black community grows, then Indianapolis grows.•
Please enable JavaScript to view this content.