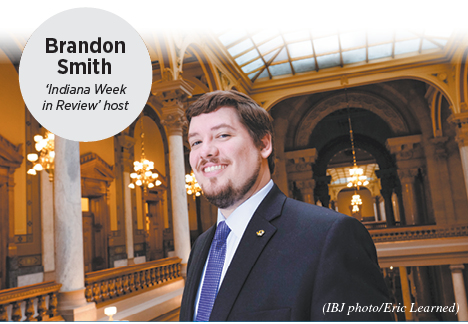 Brandon Smith is no Jim Shella, and he doesn't want to be.
In December 2016, Brandon Smith stepped into some mighty big shoes. The 30-year-old Chicago native replaced longtime WISH-TV Channel 8 political reporter Jim Shella as host of "Indiana Week in Review." Shella hosted the weekly television and radio show focusing primarily on state politics for more than 25 years.
Until Smith took over the show, which airs locally on WFYI-TV Channel 20 and WFYI-FM 90.1, plenty of Hoosiers likely recognized Smith's voice, but not his face. The 2010 University of Missouri grad has worked as a Statehouse reporter for Indiana Public Broadcasting since February 2011.
How has it been replacing a local legend like Jim Shella?
Jim privately told me he was retiring and said he had recommended me to take over the show. So I had time to think about what that would mean. Obviously, I thought how I will balance this with my regular job and what this will mean in terms of the time commitment. But a big part of it was, how do you follow up someone like Jim Shella? I talked to Jim and a lot of other people and what it came down to is, don't try to be Jim Shella.
We weren't going to dramatically change the show because it was a well-oiled machine. But I had to put my own stamp on it, and the way to do that was to be me and bring my own journalistic sensibilities to it.
What has surprised you most since you started hosting the show?
It's fascinating how many people listen to the show on the radio as opposed to watch it on TV. Of course, I hear from both radio listeners and TV viewers. But there are some people who don't even realize the show is on TV.
Have you been surprised by the show's reach?
A big part of what attracted me to the show was what a big place it occupies in the Indiana political scene. I knew that's what I was stepping into—this whole legacy that Jim had created with the show. [Smith had been an occasional guest panelist.]
Did you think about making any changes when you took over?
My producer, Myke Perrey, and I talked about what we wanted to do with the show. The agreement right off the bat is that we liked the format. We'll make little tweaks, but the biggest thing is bringing my journalistic sensibilities to it. I might take on different topics than Jim or take different angles on topics just because that's the way my mind works.
What topics do you take on that otherwise might not have been covered?
I dig into a little more policy than politics at times. And on some topics, I'll talk more about why something is happening rather than who is making it happen.
Do you have any plans to change the show going forward?
I love the format. I love having a Republican and a Democrat that are not elected officials. No elected officials are allowed on the show—while they are in office, anyway. It allows the Republican and Democrat to be a lot freer to discuss whatever the topics are.•
 
Please enable JavaScript to view this content.