A new regulatory filing by The Finish Line Inc. contains this shocker: Sports Direct International Inc., the United Kingdom-based sports-apparel retailer that was rumored for months to be on the verge of buying Indianapolis-based Finish Line, never actually wanted to buy the company.
At least that's what Sports Direct told Finish Line—though it's clear from the language Finish Line used in the filing that its board members were skeptical, in part because Sports Direct was aggressively buying up Finish Line stock during the same period.
At one point last August, the Finish Line board discussed the "lack of clarity regarding the motives behind the recently disclosed share acquisition by Sports Direct and the board of directors' skepticism regarding Sports Direct's public disclosures," according to the filing.
The disclosures were part of a 230-page document Finish Line filed late last month in preparation for the shareholder vote on its $558 million sale to another United Kingdom-based sportswear retailer, JD Sports Fashion, one of Sports Direct's top rivals.
The sale to JD Sports was a surprise to Wall Street analysts—who'd widely viewed Sports Direct as a likely acquirer, in part because it eventually amassed a more than 30 percent stake in Finish Line through a combination of direct share purchases and use of a form of derivative known as "contracts for difference." In contrast, no one on Wall Street was calling JD Sports a suitor.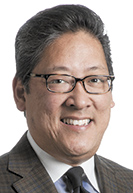 Sato
But JD Sports' interest in Finish Line actually dates back to at least August 2016, when Finish Line CEO Sam Sato and JD Sports Executive Chairman Peter Cowgill attended the Summer Olympics in Rio de Janeiro, according to the filing.
"At a brief meeting at that time," the filing said, "Mr. Cowgill and Mr. Sato had a conversation regarding potential consideration of future strategic discussion, but no specific proposal was discussed."
There's no mention of further communication between The Finish Line and JD Sports until late May 2017, when Cowgill contacted Sato to suggest starting a formal dialogue about a "potential collaboration or business combination." Representatives of both firms participated in a video conference on June 7.
The two companies signed a mutual confidentiality and standstill agreement on July 27 and continued to talk about a possible merger.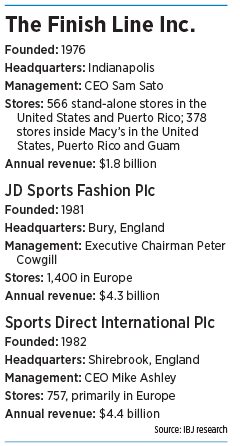 By then, Sports Direct had entered the picture.
On April 14, 2017, Sports Direct revealed it had acquired a 7.9 percent stake in Finish Line through contracts for difference. The use of the derivative was significant because it meant Sports Direct did not have voting rights or authority to decide when to sell the shares.
Six days later, at the invitation of Sports Direct CEO Mike Ashley, a billionaire retail entrepreneur, Finish Line executives met him and other Sports Direct officials for dinner in Indianapolis.
During the meeting, Ashley "raised the possibility of collaboration between Finish Line and Sports Direct in the U.S. and the U.K." but also said "Sports Direct had no interest in acquiring Finish Line and did not seek representation on Finish Line's board of directors," according to the filing.
After consulting with Finish Line's board, Sato on April 26 "sent a communication to Sports Direct declining to pursue discussions on the proposed collaboration." The filing does not say why.
Even after being rebuffed, Sports Direct continued to express interest in a partnership and continued to buy Finish Line shares.
A consulting firm representing Sports Direct contacted Sato in early May to suggest a meeting in the United Kingdom. In response, Finish Line asked Sports Direct to sign "a customary standstill and nondisclosure agreement." Sports Direct never signed the agreement.
Figuring out intent
Brian Baker, an Indianapolis partner at the investment banking firm Quarton International, said he thinks Sports Direct would have signed that document had it truly wanted to buy Finish Line.
"I didn't get the sense that at any point during the process were they seriously pursuing a transaction with Finish Line," Baker said. He said the company's interest might have been purely as an investment.
Another observer disagreed.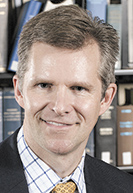 Page
"They bought a large stake. That's certainly consistent with them intending to buy Finish Line," said Antony Page, vice dean at Indiana University's Robert H. McKinney School of Law.
Sports Direct did not respond to an email from IBJ seeking clarification about its intentions toward Finish Line.
On Aug. 21, Sports Direct disclosed it had directly purchased shares in Finish Line for the first time, amassing nearly an 8 percent stake. The purchase, combined with its contracts-for-difference purchases, boosted its stake past 30 percent.
Finish Line directors were getting concerned about what Sports Direct was up to. On Aug. 25, the board met to review the company's latest financial results and determine whether to adopt a shareholder-rights plan, also known as a poison pill.
Such plans are widely used in corporate America to keep unwanted suitors at bay. At the meeting, Finish Line's board voted to adopt one, citing several factors, including "the risks that Sports Direct or other third parties may seek to exploit coercive or abusive takeover tactics that could deprive Finish Line's shareholders of the opportunity to realize the full and fair value of their investment," the filing said.
Under the plan, Finish Line could issue rights to purchase preferred stock to prevent an investor that owns less than 12.5 percent of the stock from boosting its stake beyond 12.5 percent. Any shareholder that already had more than a 12.5 percent stake would be blocked from buying additional stock.
The adoption of the plan ended up escalating tensions between Finish Line, Sports Direct and ETX Capital, Sports Direct's counter-party on the contracts for difference. Sports Direct and ETX on Sept. 11 sought clarification on how the plan applied to the contracts for difference. They also contended an agreement between Sports Direct and ETX involving so-called short put options—an arrangement that obligated Sports Direct to buy even more Finish Line shares—was grandfathered under the rights plan.
Speculation swirls
On Sept. 13, a research analyst published a report saying Sports Direct would likely acquire Finish Line. The New York Post reported similar news on Sept. 28, saying the firms were "in direct negotiations" and that a deal could be announced "in coming weeks."

On Sept. 28, Finish Line's board met to talk about the possibility that the company would receive acquisition offers from Sports Direct, JD Sports or some other party.
The board, represented by the law firm Faegre Baker Daniels, decided to form a special committee to "evaluate one or more strategic transactions that may maximize shareholder value, including a possible sale of Finish Line."
On Oct. 16, JD Sports sent The Finish Line a non-binding indication of interest to acquire the company at $13 to $14.50 per share.
Even as discussions progressed between Finish Line and JD Sports, Sports Direct was still pressing its case.
On Oct. 18, as the Finish Line board met to discuss the JD Sports proposal, Finish Line General Counsel Chris Eck received an email from a Sports Direct representative expressing that company's "desire to engage in discussions with Finish Line regarding a potential commercial relationship."
The following day, during a teleconference with Finish Line, Sports Direct repeated its desire to seek "commercial discussions." Finish Line rebuffed Sports Direct's interest.
On Oct. 24, Sports Direct threatened to file a lawsuit against Finish Line that would ask a court to validate its position that the short-put options were grandfathered under the shareholder-rights plan.
About a week later, Sports Direct told Finish Line's outside attorneys it was moving forward with a potential lawsuit but still was interested in "commercial discussions with Finish Line for collaboration in the U.S."
A representative of Barnes & Thornburg, which was representing Finish Line, told Sports Direct's counsel "that Finish Line would not engage in such discussions, particularly in view of Sports Direct's threat of litigation."
On Jan. 18, Sports Direct's director of strategic investment visited Finish Line in Indianapolis, meeting company executives for lunch and touring a Finish Line store.
Getting to finish line
Finish Line's discussions with JD Sports went far more smoothly, though Finish Line's topsy-turvy performance added complexity.
Finish Line shares traded for nearly $25 apiece as recently as early 2017 but fell sharply after the company saw sales soften. Analysts say the company has been walloped by struggles at Nike Inc., its top vendor, which hit a cold streak after years of game-changing product launches.
Also hurting Finish Line has been declining traffic at shopping malls, which have been hurt by the growing popularity of online shopping, and a push by key vendors, including Nike, to sell more products directly to consumers, bypassing brick-and-mortar retailers.
Finish Line shareholders received an especially big jolt on Aug. 28, when the company reported bleak preliminary results for the quarter ending that month and reduced expectations for the full fiscal year ending in March.
The stock, which had opened at $10.42, plunged as low as $6.90 before rebounding to close at $8.50.
Meanwhile, JD Sports and Finish Line pressed ahead with their discussions. The two firms on Oct. 30 signed an agreement to negotiate exclusively with each other for seven weeks.
Typically, suitors make an offer during the exclusivity period, since allowing it to expire opens the door to competing bidders. However, JD Sports allowed the exclusivity period to expire on Dec. 14 without making a firm offer.
Finish Line kept the dialogue going with JD Sports but opted not to contact other potential suitors—in part because its investment bankers believed they already knew the landscape of potential buyers and didn't think any were likely to top what JD Sports might pay, according to the filing.
The filing also noted that public reports about Finish Line's potential sale had put potential suitors on notice that there might be an opportunity to buy the company but no other parties had stepped forward.
Further, the special committee of the board was "concerned that a broader marketing process might create concern among Finish Line's key suppliers, which could be detrimental to Finish Line," the filing said.
Last-minute flurry
On Dec. 21, Finish Line reported better-than-expected fiscal third-quarter results. Shares jumped on the news, closing at $13.20, up nearly 13 percent on the day.
But the upturn didn't last. On Feb. 7, Finish Line shared with JD Sports projections for its fiscal fourth quarter—which caused JD Sports to express "concerns" about Finish Line's performance. Nine days later, JD Sports submitted a "revised non-binding written indication of interest" in buying Finish Line for $11.50 a share—well below the range of $13 to $14.50 it had proposed in October.
Lots of back and forth followed. Finish Line's counteroffer was $13.75, and JD Sports responded to that with $12.50.
On March 25—a Sunday—the two sides settled on $13.50, paid all in cash.
One way Finish Line got the price up was to agree to a termination fee that was higher than it originally was willing to pay.
If it walked away from JD Sports and took another offer, it would have to pay JD Sports 5 percent of the value of the deal—a total of $28 million.
Despite that stiff penalty, some investors apparently haven't given up on the prospect that another suitor—perhaps even Sports Direct—might swoop in.
That's reflected in the fact that Finish Line stock has closed at or above $13.50 every day since the deal was announced. It closed May 1 at $13.58.
Page of the McKinney law school suspects investors hoping for a higher offer are engaged in wishful thinking.
"Any time the stock price is above the merger price, it suggests that the market thinks the merger will not go through at the stated merger price," Page said.
"It's not clear to me why [investors] think there's more upside here."•
Please enable JavaScript to view this content.