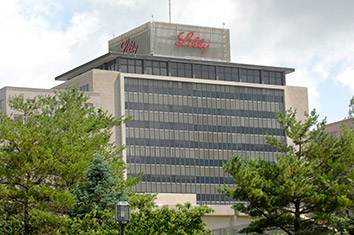 Eli Lilly and Co. on Thursday morning announced it is paying $1.6 billion in cash to buy a publicly traded California company that is a rising star in the burgeoning field of immuno-oncology.
Indianapolis-based Lilly is paying a rich price for the company, Redwood City, California-based ARMO BioSciences Inc. The per-share price is $50, roughly triple the $17 at which the company went public in January. The premium is 68 percent over ARMO Biosciences Inc.'s closing price of $29.82 on Wednesday.
ARMO's shares shot up 67 percent, to $49.85 each, Thursday morning after the announcement. Lilly shares rose 1.5 percent, to $80.48.  
Lilly CEO David Ricks, who was promoted to the top job last year, has been telling Wall Street analysts for months that he is looking for deals to bolster the company's drug pipeline. ARMO is one of many bioscience firms developing compounds that activate the immune system of cancer patients to recognize and eradicate tumors.
ARMO's lead product candidate, pegilodecakin, is in a late-stage clinical trial for pancreatic cancer and in earlier-stage trials for lung and renal cell cancer, melanoma and other solid tumors.
"We believe that pegilodecakin has a unique immunologic mechanism of action that could eventually allow physicians to offer new hope for many cancer patients," Dr. Levi Garraway, senior vice president of Lilly Oncology, said in a written statement.
ARMO was founded in 2010 and has 31 employees. The company so far has not generated revenue, and it lost $42.5 million in 2017.
Lilly has expressed interest in expanding its focus on cancer drugs but might have more flexibility on the back of windfalls from U.S. tax overhaul and spending cuts in research and development. The drugmaker is also looking into options for its animal-health business, including a possible sale.
During the company's most recent earnings call with analysts, Susan Mahony, president of Lilly's oncology unit, said that the company was anticipating it would bet on more immuno-oncology therapies in the future.
ARMO's main experimental drug, AM0010, is being investigated in a pivotal trial for pancreatic cancer patients. The therapy has shown clinical benefit on its own, the company says, but can also be combined with chemotherapy and checkpoint inhibitor therapies across several tumor types. Analysts including Matthew Luchini at BMO Capital Markets, who sees the stock surging to $75 in the next 12 months, consider the therapy to have blockbuster potential.
Eli Lilly expects the deal, which must be approved by regulators, to close by the end of the second quarter.
Please enable JavaScript to view this content.