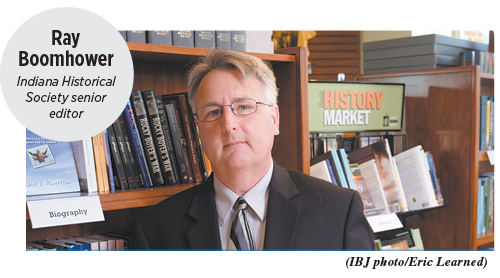 Ray Boomhower takes the long view on Indiana history. He has written 12 books about the state's history, ranging from Robert F. Kennedy's presidential campaign in Indiana to biographies of journalist Ernie Pyle and astronaut Gus Grissom. A former journalist, Boomhower has worked for the Indiana Historical Society since 1987, most of that time as senior editor.
Has Indiana always been a deep-red state?
No. In the 19th century, Indiana was a state where both political parties grappled for control. And it was a key state in national politics. That's why you see a lot of vice presidents who were Hoosiers, because national parties put Indiana politicians on their tickets because they were trying to win this state.
How long ago was Indiana a battleground state?
After about 1876, when the solid south developed, and Democratic party candidates could kind of rely on winning the southern states, there were a few larger states with a lot of electoral votes that were key states to win in any presidential contest—states like New York, Ohio and, of course, Indiana. So you had pretty good, 50-50 ratios in Indiana where one year the Democrats controlled the state, the next year the Republicans controlled the state.
Is Indiana now as far to the political right as it's ever been?
I think most people would see Indiana in the 20th century as a pretty Republican state. But there have been periods, of course, when Democrats controlled things. Just look 50 years ago at 1968, when Robert Kennedy was campaigning for the Indiana primary. At the time, we had a Democrat as governor, Roger Branigin. And both of Indiana's senators, Vance Hartke and Birch Bayh, were also Democrats. But for the most part, I think people now see Indiana as a Republican state.
Indiana has only had one president, Benjamin Harrison. But he didn't even win the popular vote and was defeated for a second term by Grover Cleveland. Why hasn't Indiana had more presidents?
I'm not sure. Benjamin Harrison, I think, is a neglected president, someone who did a fine job in office, but of course, did not win re-election. So a lot of people consider him a failure, low in the pack when you talk about the greatest presidents of all time. But he was a very hands-on chief executive, someone who was a good speaker. He had some legislative success when his party ruled Congress when he was first elected. It was only after his party lost control that things quieted down. But he was someone who, when his Cabinet members fell sick, could take over their departments and run them while they convalesced. He was very involved in day-to-day activities. So I always kind of stand up for Benjamin Harrison.
Who were the most influential governors of Indiana?
There really were two. Oliver Morton, a Republican who was governor during the Civil War, was a key ally of President Lincoln and the Union cause. He had a lot of authority and played a key role. Then there was Paul McNutt, a Democratic governor in the 1930s, who really reorganized state government, modernized it and made it more efficient.
Have you always been a history nut?
I have. I was lucky to have teachers who encouraged me when I showed an early interest in history and biography. My elementary school in Mishawaka had a series of books, called the "Childhood of Famous Americans." They were biographies of notable people. I read them all.•
Please enable JavaScript to view this content.