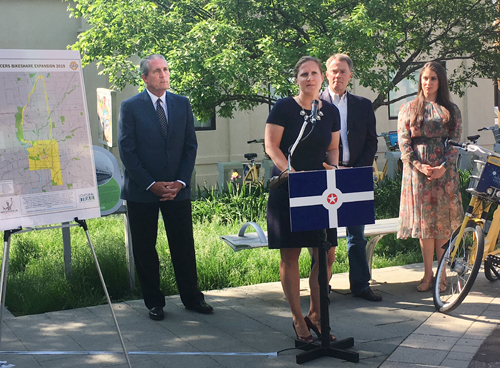 The Indiana Pacers Bikeshare system plans to almost double the number of bicycles and stations across the city of Indianapolis next year, thanks to a new federal grant.
The expansion, scheduled to be announced by Indianapolis Mayor Joe Hogsett and the Indianapolis Cultural Trail Inc. on Tuesday morning, is expected to result in 25 more stations and 250 more bikes available across the city. The current system has 29 stations and about 275 bikes.
The program is being funded by a nearly $1 million Federal Highway Administration Congestion Mitigation and Air Quality grant. The city received a similar grant, as well as a donation from the Herbert Simon Family Foundation, to get the program off the ground in 2014. The foundation, named for Pacers owner Herb Simon, also is kicking in a donation of about $200,000 this time around.
"Since 2014, downtown residents and visitors alike have enjoyed the transportation and connectivity benefits provided by the Pacers Bikeshare program, which is why we're excited to bring this network of bikes into our neighborhoods," according to a statement from Mayor Joe Hogsett. "At no additional cost to our taxpayers, we are doubling the amount of bikes and stations offered, and will be sure they land in the right places thanks to public input received in the coming weeks."
Whereas the focus for the first stations was the Indianapolis Cultural Trail, the goal for the new stations is to expand to near-downtown neighborhoods and other transit corridors.
There will be expansion along the Monon Trail, in Broad Ripple and in downtown—but the actual station locations themselves haven't been picked yet.
The public will be able to provide input for where to put new stations at upcoming public sessions starting in June.
"Pacers Bikeshare has transformed the way people travel in downtown Indianapolis," said Indianapolis Cultural Trail Inc. executive director Karen Haley in a written statement. "By expanding Pacers Bikeshare to neighborhoods and along the the city's bicycle network and transit corridors, we will bring affordable and convenient transportation to more of our city's residents, neighborhoods and destinations."
In addition to the expansion, Pacers Bikeshare also announced that it will launch a business partnership program for firms who desire bikeshare stations on or near their place of business.
The program also has goals to grow its "EveryBody Rides" program, which has provided subsidized passes to lower-income residents.
Please enable JavaScript to view this content.