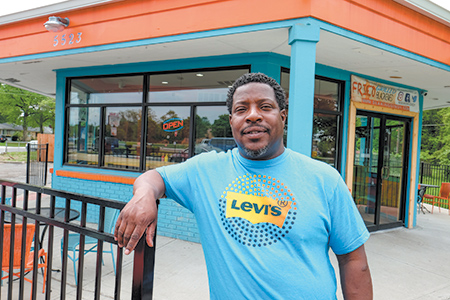 As he worked last year to open his Sea Kings Seafood restaurant at 5523 E. 38th St., Martin Whitfield blew through his renovations budget.
"We were prepared for $40,000 to $45,000. We ended up somewhere between $68,000 and $70,000," said Whitfield, Sea Kings' owner and manager.
After paying for a new roof, heating and air-conditioning, new restrooms and a new entrance, Whitfield had nothing left for other improvements he wanted to make: painting the building a bright blue and orange, installing a new sign, adding exterior lighting and seating.
But thanks to a $15,000 grant from the Local Initiatives Support Corp.'s Small Business Facade Improvement program, Whitfield was able to tackle his entire fix-up list. He created a whole new look for the business, which opened in September in the building that formerly housed the neighborhood landmark Mary's Seafood and Pastries.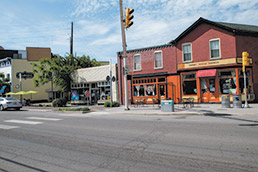 Virginia Avenue restaurants Bluebeard, far left, and Tortas Guicho Dominguez y El Cubanito, far right, received LISC grants to help update their facades. (IBJ photo/Eric Learned)
"One of the things the facade grant allowed us to do is take a long-standing restaurant and put a 21st century spin on it," Whitfield said. "It allowed us to kind of complete a vision."
LISC's facade grant program has awarded more than $3.1 million to Marion County businesses since 2004—funding that has helped leverage more than $10.6 million in investment by property owners.
Participants can qualify for grants of up to $25,000 that cover up to 50 percent of the cost of improvements like new signs, entryway improvements, exterior painting and new windows.
These might seem like cosmetic improvements, but they can have a big impact, said Tedd Grain, deputy director for LISC's Indianapolis office.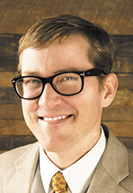 Grain
"It helps prime the pump. It improves the beauty of a corridor. It reduces blight," Grain said. "There's a lot of things we're trying to do with the program."
LISC's facade grant program uses a combination of public and private funding to help property owners improve their building's street-front exteriors.
Last month, the program awarded its 475th grant, $17,000 to True North Landscaping LLC at 2817 Massachusetts Ave. LISC hopes to award its 500th grant by the end of this year.
One sign of success, Grain said, is that numerous past facade recipients are prospering; and some are in parts of town that, once struggling, are now booming.
That list, he said, includes Tortas Guicho Dominguez y El Cubanito, a Mexican eatery on the north end of Fountain Square, along with nearby restaurants Bluebeard and Milktooth and the distillery Hotel Tango.
Other well-known establishments on that list include Tinker Street Restaurant and Sun King Brewing.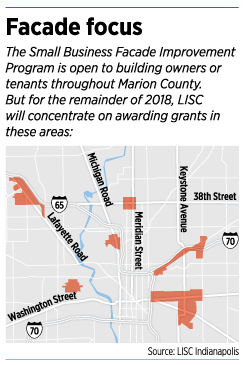 Though facade grants are available to property owners throughout Marion County, for the remainder of 2018, LISC is focusing on its five Great Places 2020 neighborhoods, plus three other areas: the North Massachusetts Avenue corridor, East Washington Street and the International Marketplace area around Lafayette Square.
Clustering the facade grants in selected areas, Grain said, helps maximize the program's impact.
LISC started 2018 with a grant-funding pool of $575,000. The money comes from a variety of public and private sources: the city of Indianapolis' Community Development Block Grant program, the Lilly Endowment, the Indianapolis Neighborhood Housing Partnership and State Farm.
The program is making a difference, said Susan Vogt, director of economic development at the community development organization Near East Area Renewal.
Numerous facade-grant recipients are along East 10th Street within NEAR's territory. Recent recipients in this area include Rabble Coffee and the soon-to-open Mayfair Taproom.
"I think it helps to set a tone for business improvements along a corridor," Vogt said of the grant program. "A lot of times, it's a struggle for the business to make those improvements. It's a nice leg up."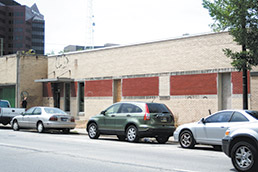 Transformation Fitness and Wellness before its new facade. (Photo courtesy of LISC Indianapolis)
That was the case for Transformation Fitness and Wellness at 1222 N. Pennsylvania St.
When owners Arin and Tony Lindauer moved their business to that address in 2014, they had to make significant renovations, which left them without money for a permanent sign.
"We had put a banner up, just to save money," Arin Lindauer said.
The business received a $4,700 facade grant in 2014, which helped pay for a sign plus an eye-catching multicolor paint job, new windows and other improvements.
After the improvements, Lindauer said, the business started getting walk-in customers—something it hadn't had at its previous location at the corner of 25th and Delaware streets.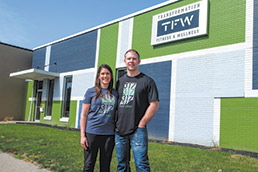 Arin, left, and Tony Lindauer used part of their grant to pay for a sign and a multicolor paint job at Transformation Fitness and Wellness. (IBJ photo/Eric Learned)
The fitness facility specializes in small-group training, with a focus on people ages 40 to 60.
Lindauer said the business consistently gains a customer or two each month who say they noticed the business while driving by it. That's a big boost for the small facility, which typically enrolls 10 to 15 new customers per month.
She credits the facade improvements. "I've gained customers because of the signage, because of the paint."
Whitfield, the Sea Kings Seafood owner, is similarly upbeat. He said he's received lots of positive feedback from customers, some carryovers from Mary's Seafood and Pastries who appreciate the investments he's made.
"People that don't know me are proud of me," he said.•
Please enable JavaScript to view this content.