With temperatures (we hope) finally stabilizing, the covers have come off the patio tables and the chairs have been righted. Yes, outdoor dining season has begun.

While, inside a restaurant, everything from the music to the lighting to the decor can be as strictly controlled as what ends up on your plate, outside, well, there are more variables. Sure, some eateries offer enclosed patios and other controlled open-air options. But in most outdoor setups, the efforts to control the elements are mitigated—or accentuated—by the components of the environment.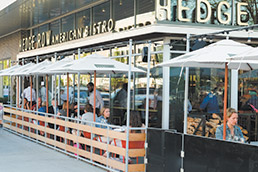 That's not always a good thing—as those who have had their pasta ogled by downtown pedestrians or have found themselves partaking of a festive meal overlooking a suburban parking lot can tell you.

In contrast, here's a sampling of restaurants that have found the sweet spot—a combination of fresh air, good food, and appealing, eye-catching surroundings.

Hedge Row, 350 Massachusetts Ave.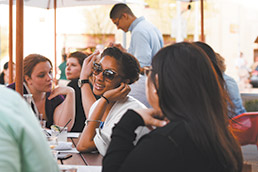 Hedge Row is a Mass Ave newcomer that makes for great people watching. (IBJ photos/Eric Learned)
For people watching, you'd be hard-pressed to find a better spot than the patio of this Mass Ave newcomer. Head Chef Brad Gates—backed by a team led by owner Kimbal Musk—delivers a fresh-focused menu that includes Charred Chinese Broccoli Wood Roasted Carrots, Mole Braised Short Ribs and Yellowfin Tuna Ceviche. Plus, there's Butterscotch Pot de Creme and Sticky Toffee Pudding. And for entertainment, you can enjoy the pedestrian traffic—kept a few feet away by rails and greenery.

Bonus: Across the six-way intersection, don't be surprised if you see enthusiastic pedestrians imitating the gyrational moves of Julian Opie's "Ann Dancing" sculpture.

Public Greens, 900 E. 64th St.

The most casual of the jewels in the Patachou crown, Public Greens also stresses locally sourced ingredients. Here, you can order from the chalked menu on the wall but it's recommended that you check out the choices themselves at the counter since words alone might not give you a clear idea of what to expect from the Ramp Fritters or Grilled Tri Tip Steak. (Tip: Go for the creative soups. On a recent visit, they included Thai Carrot as well as Pea & Mint.) Outdoor dining puts you right along the Monon Trail, which leaves you open to conversations with friends and family who may wander or ride by.

Bonus: The greens are, indeed, public. The patio also offers a view of the vegetables growing on the other side of the path.

Bluebeard, 653 Virginia Ave.

A positive side effect of the development of Virginia Avenue along the Indianapolis Cultural Trail has been the creation of a string of restaurants and bars, many with an outdoor component. These can combine for a lively streetscape that rivals any in the city. Bluebeard was one of the pioneers in the area's rebirth. Here, it's recommended that you populate your table with friends, since sharing is the way to go, starting with Charcuterie and Cheese plates.

Bonus: It's a short walk to Fountain Square for a pleasant post-meal stroll.

Burgerhaus, 335 W. Ninth St.

With only lower-level entrance, it's easy to overlook this burger bar at the base of the 9 on Canal building, but its range of sandwiches is strong (try the Cozumel, with grilled pineapple, guacamole, beefsteak tomato and jalapeno) and its fried pickles plentiful.

Bonus: Its parent restaurant is in Valparaiso and there are now additional locations in Schererville and Carmel. But how many of those can lay claim to gondola-spotting possibilities from a waterfront patio?

Rick's Cafe Boatyard, 4050 Dandy Trail

Outdoor dining isn't limited to urban spots, of course. While Geist Reservoir restaurants have come and gone on the northeast side, Rick's Cafe Boatyard on the west side's Eagle Creek Reservoir has survived since 1993. Overlooking reasonably spectacular sunsets and dock space for 100 boats, the spot is as close as we've got to a toes-in-the-sand, Mai-Thai-sipping, Jimmy Buffet-ish laid-back atmosphere here in landlocked-land.

Rick's obviously emphasizes seafood, but doesn't get highbrow about it. South American Lobster Tail and Atlantic Salmon Roulades share the menu with Fried Louisiana Catfish Filets and Smoked Salmon and Roasted Poblano Nachos.

Bonus: You can dress to impress here or show up in your flip-flops. (Just be careful about those stray pop-tops).•