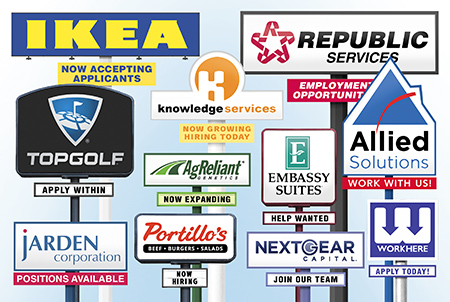 Indiana's unemployment rate remained at 3.2 percent for the third month in a row in April, well below the national rate of 3.9 percent, the Indiana Department of Workforce Development announced Friday.
Private sector employment slipped by 7,000 in April, but is up almost 24,000 over the year, the state said.
Indiana's labor force—which is composed of both employed and unemployed-but-willing-to-work residents—increased by 11,655 workers from March to April, to 3.33 million. The increase came from a 10,918 rise in employed residents and a 737 hike in unemployed residents.
Indiana's labor-force participation rate—the percentage of the state's population that is either employed or actively seeking work—stood at 64 percent in April. It remains well ahead of the national rate of 62.8 percent.
April job losses were seen in the Construction (-2,300) and the Trade, Transportation and Utilities (-2,500) sectors. Job gains were seen in Manufacturing (400) and in the "Other" category (1,200), which includes Mining and Logging, IT and other services.
The state's unemployment rate has been lower than the national rate for more than four years, except for the month of October 2014, when it was equal.
The unemployment rate in Indiana for April also is lower than in neighboring states Michigan (4.7 percent), Illinois (4.4 percent), Ohio (4.3 percent) and Kentucky (4 percent).
Please enable JavaScript to view this content.