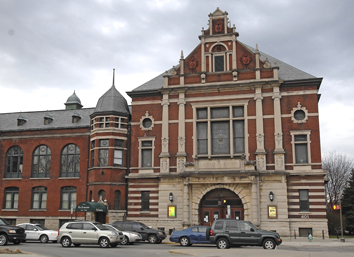 Cassie Stockamp, who has led Athenaeum Foundation Inc. through several initiatives to preserve and reinvigorate the group's signature landmark on Massachusetts Avenue, will leave her post as president at the end of the year to travel the world and volunteer for philanthropic organizations.
"I've been hearing that little voice in the back of my head saying, 'I want to live differently and see what that is like,'" the 57-year-old Stockamp told IBJ on Monday morning. "It's a year of reinventing yourself."

Cassie Stockamp
Stockamp, who has a masters of business administration from Indiana University-Purdue University Fort Wayne, was hired as president of the Athenaeum Foundation in 2007. Among her chief achievements in the position have been stabilizing the Athenaeum's long-term finances, developing a business model and fundraising program, renovating portions of the building, creating its annual GermanFest event, and increasing the amount of the space utilized in the 124-year-old landmark.
"Cassie's impact on the Athenaeum cannot be overstated," Athenaeum Foundation Board Chair Greg Henneke said in a media release. "Her leadership guided the organization into a new chapter, marrying the building and foundation's past mission into modern relevance. She has been a transformational leader and has set the stage for continued success moving forward. We cannot thank her enough for her contributions."
Stockamp also spearheaded the nine-year-process to designate the Athenaeum, located at 401 E. Michigan St., as a national historic landmark. The honor was conferred in 2017.
"The process was lengthy and required significant time and effort," Stockamp said. "Accomplishing the goal was tremendously satisfying, and I consider it to be one of our most important achievements."
The not-for-profit foundation focuses on maintaining and operating the Athenaeum, which was built in 1894 and served for many decades as one of the key cultural and social centers for central Indiana's German population. It originally was named Das Deutsche Haus, or The German House. It currently serves as the home for many businesses and not-for-profit groups, including the Young Actors Theatre, the Rathskeller restaurant and the rcenetly opened Coat Check Coffee.
The foundation's board of directors has started a national search for a successor. Stockamp declined to reveal her salary, but the organization's tax records for 2016 (the most recent year available) listed her total compensation as about $120,500.
Early in 2019, Stockamp plans to begin traveling with a loose agenda that includes visiting Africa, South America, Southeast Asia and New Zealand. She has arranged to volunteer for service groups along the way.
She plans to sublease her apartment in Indianapolis over that time, but whether she remains in central Indiana after the trip is still up in the air.
"We'll see what I bring back from my travels," she said.
 
Please enable JavaScript to view this content.