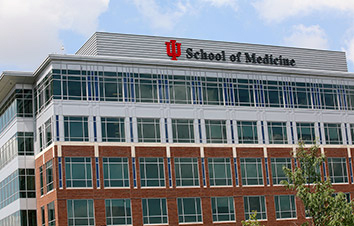 Indiana University School of Medicine plans to launch a dedicated research center to focus on difficult-to-treat types of breast cancer, a move that would pull about 30 researchers at IU under one umbrella, as well as recruit four additional senior researchers and a director.
The medical school was set to make the announcement Monday evening at the 25th Annual Vera Bradley Foundation for Breast Cancer Classic, a large amateur women's charity golf and tennis tournament held each spring in Fort Wayne.
The Vera Bradley Foundation is committing $2.5 million to establish an endowment for the new center, which will be called the Vera Bradley Foundation Center for Breast Cancer Research. IU said it would match that gift, and the medical school is committing another $2.5 million, for a total of $7.5 million for the endowment.
The medical school has begun a national search for the inaugural director for the new center.
"While we have made major strides in the treatment of breast cancer, far too many women still die from this disease, and others endure long-lasting side effects from treatments," said Dr. Jay Hess, dean of the medical school, in written comments. "With the establishment of this center, we are putting a big stake in the ground and redoubling our efforts to find solutions for these women."
The center will conduct research related to all facets of breast cancer, but will focus on triple-negative breast cancer, an aggressive, fast-spreading form that disproportionately affects younger women and black women.
According to the Centers for Disease Control and Prevention, common treatments for triple-negative breast cancer include lumpectomy, mastectomy, radiation and chemotherapy. More than 41,000 women died in the U.S. from breast cancer in 2014, and 236,968 women were diagnosed with the disease.
"We are beginning to uncover the genetic changes that give rise to these particularly toxic forms of breast cancer, and we are developing the capabilities to harness the power of a woman's own immune system to attack her tumor," said Dr. Anantha Shekhar, executive associate dean for research affairs at the medical school.
The Indiana-based Vera Bradley Foundation is the charitable foundation for Vera Bradley Inc., a company based in Roanoke that designs and makes handbags, luggage and travel items. It has donated more than $37 million to the IU School of Medicine for breast-cancer research since 1999.
"To say that breast cancer cannot be cured is unacceptable," said Patricia R. Miller, co-founder of Vera Bradley Inc. and an IU graduate.
"We will keep raising funds for research for as long as it takes," Miller added. "With the establishment of the Vera Bradley Foundation Center for Breast Cancer Research, I am confident we will be successful."
Currently, the medical school has about 30 researchers focused on various aspects of breast cancer who are scattered throughout various departments, including chemistry, oncology, surgery and genomics. The center will be designed to bring the researchers together under one director.
In addition to the $7.5 million being raised for the endowment, IU is budgeting about $12 million to recruit about four additional senior researchers. Typically senior researchers would also bring their post-doctoral researchers and other staff with them.
Please enable JavaScript to view this content.