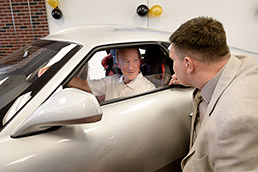 Purdue University President Mitch Daniels talks with Keating Supercars founder Tony Keating from a Bolt, the predecessor to the Viperia Berus that will be built at Purdue's Discovery Park District. (Photo courtesy of Purdue University)
British carmaker Keating Supercars moved in late May into the Discovery Park District of Purdue University. The carmaker's new facility features the fastest street-legal car in the United States, which can hit speeds topping qualifying times for the Indianapolis 500.
Keating plans to produce the latest generation of its car, the Viperia Berus, on the West Lafayette campus. The car can travel more than 240 mph and is anticipated to sell for $180,000 to $250,000.
The cars—which will be assembled at Purdue and sold in the United States and Asia—are expected to come on the market in November. Keating will produce about 100 per year in West Lafayette.
The cars will be assembled through a collaboration with Purdue Motorsports' STEM program. For each car sold, the company will donate $30,000 to support STEM education.
"This is a thrilling opportunity for students in our motorsports program to get hands-on training in engineering, technology and other fields by working with a company known for power and performance," Purdue President Mitch Daniels said in a written statement.•
Please enable JavaScript to view this content.