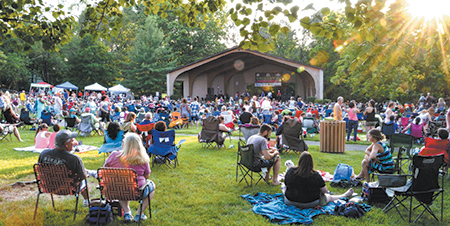 An outdoor trek in central Indiana doesn't have to just mean a walk in the park. There's far more to try at outdoor areas than just trail traversing or taking a dip in a public pool.
Here's just a sampling of the wide range of activities and one-shot programs offered throughout the region's parks.
Working out
If you're getting tired of the gym, a change of venue might spark your exercise regime. You can take yoga classes at Holliday Park, Zumba at Broad Ripple Park, and more. Broad Ripple Park also offers dance classes, including Kids Bollywood.
Bird watching
Don't know the difference between a black-tailed cuckoo and a band-tailed pigeon? A beginning bird hike through Hamilton County's Cool Creek Park offers a good starting point to learn the finer points of our feathered friends.
Concert-going
Beyond the obvious big-name lineups at the Lawn at White River State Park, you can soak up the sounds at the Music in the Garden series at Garfield Park, Craig Park in Greenwood, Noblesville's Dillon Park, and many more. Not confining itself to Conner Prairie, the Indianapolis Symphony Orchestra visits Ellenberger Park on July 17.
Reading
Yes, you can spread out a blanket and take your favorite book to any public park. But if you'd like some guidance, consider joining the Natural History Book Club at Holliday Park.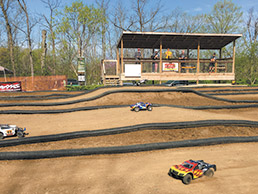 (Photo courtesy of town of Avon)
Racing your RC vehicles
That's RC as in "radio-controlled." And the compacted dirt track at Avon Town Hall Park is available free during regular park hours.
Waving your wand
Broad Ripple Park hosts a Wizard Expo July 10 in the dance studio. A "Tribute to Harry Potter" magic show is the centerpiece for this fourth annual event.
Taking a train ride
OK, so it's a small-gauge train, but Johnson County Park offers 20-minute rides embarking from McClain Cabin Station. On the third Saturday of each month, you can supplement the train experience with a look at model trains and layouts in the park office.
Movie-going
Bring a lawn chair for vintage movie night at Garfield Park, where recent box office hits are nowhere to be found. The summer's offerings include the W.C. Fields comedy "My Little Chickadee" on July 21.
Painting
Garfield Park Art Center offers art classes in a variety of media, and Rachel Davis of The Purple Palette holds plein air painting programs at McCloud Nature Park and Sodalis Nature Park in Hendricks County. For a unique alternative, though, you can't beat its Picasso Puppies program Aug. 18 at Garfield Park. Participants are encouraged to bring along a canine pal, who will craft a would-be masterpiece using nontoxic paint and dog-safe materials. Current shot records and leashes are required.
Stargazing
Things are looking up June 22 at Eagle Creek Park for an (obviously) after-dark program at which members of the Indiana Astronomical Society bring their telescopes for a look at the worlds above. American Meteorological Society members also will run programs on select clear-sky nights at Hendricks County Parks.
Geocaching
More than 1,700 geocaches in Greenfield alone. And if you are of a mind to find even a small percentage of them, you can sign up for a free hunt courtesy of Greenfield Parks and Recreation.
Theater-going
Indianapolis Shakespeare (formerly Heartland Actors Repertory Theatre) will expand its offerings this season. In addition to staging "Coriolanus" in White River State Park Aug. 2-4, it's sending its professional company to 13 parks, including Tarkington (June 14), Watkins (June 21) and Frederick Douglass (June 30) with a production of "Macbeth."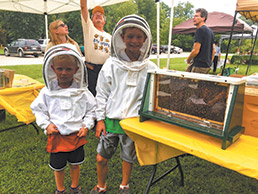 (Photo courtesy of Hendricks County Parks and Recreation)
Attending a bee festival
McCloud State Park in Hendricks County hosts the McCloud Honeybee Fest on Aug. 25. Observation hives will be on display, master beekeepers will instruct, and vendors will hawk while games and activities promote interest in the buzzing buggers.
Zipping
What was once a novelty at Eagle Creek Park now seems to be popping up all over, with opportunities to skim the treetops at many places around the state. Don't like to go alone? Pioneer Park's Soaring Eagle Zip Line in Mooresville has a two-seater allowing for side-by-side glides.•
Please enable JavaScript to view this content.