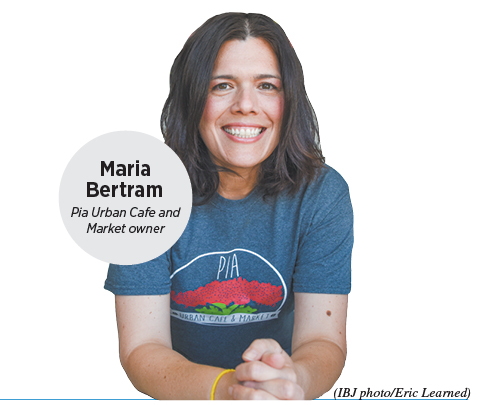 Maria Bertram, 41, spends her days selling Puerto Rican coffee, Cuban sandwiches and other fare at Pia Urban Cafe and Market, 2834 E. Washington St., which she opened in 2016.
It's a drastic departure from her previous job as a pharmaceutical product manager at Eli Lilly and Co., where she worked for 13 years.
Bertram, an engineer by training who also holds an MBA degree, started her Lilly career in Puerto Rico, where she was born. From there she moved to Virginia, then Indianapolis.
What motivated you to make such a big career change?
It definitely has to do with something that Lilly started offering to us as an employee. It's called the Lilly Day of Service. When I was working at Lilly, we got the opportunity to serve in different communities as part of that day. … Everything started from that, and also the opportunities I had from my church [College Park Church] as well. … Because of the opportunities they gave me, they opened my eyes to the needs of the city.
Was there a reason this neighborhood spoke to you?
Yes. I think that the community itself—the leadership of the community, talking with the church and the church leaders and the pastor of Englewood Christian Church. I got to know them. I got to meet with them and understand where they see the community growing and what they're envisioning with the redevelopment of this community. I think that struck me a lot, and I wanted to be part of that.
It sounds like this cafe is not just a business for you, but that there are some other things that you're trying to do with it.
One of the areas is definitely bringing a little Puerto Rico to Indiana. We do that through the coffee and the food, but also personally I wanted to have a commitment to open the shop to bring in women who have been marginalized in the community. … We help them get back into the workforce. Discipleship—one-on-one time with those that we hire here, and on-the-job training. I think it's more a job of building that confidence and timing in the job before they go after a full-time job. Right now, that has been kind of the desire of my heart.
How many women have you worked with so far?
For the period of the two years [of the cafe's existence], about four.
I had two success stories. A young [woman] came here for three or four months, and then she moved to a full-time job somewhere else. … She really wanted to work at a day care, and she went for it.
Now I have another gal. She's been with me a little longer. She's been here with me for about six months. … She's a single mother of four, all under the age of 10. The hours that I offer here for her, they are working great right now.
So you put her in your success category because she's been able to keep the job?
Oh, yes. Absolutely. And being consistent. One of the things I see the most is that consistency factor.
You mentioned that you offer the women a job, but also coaching and instruction. What sort of things do you typically go over?
We're looking at the basic skills of being on time, accountability. When it comes to having that interaction with the customer, we work on their confidence. Confidence is not something that you read in a book, right? … The other part of it is long term. We talk about their long-term goals and what kind of skills or things that they would like to work on. … One thing that I also encourage is to talk to people at places where they want to get a job in the future. Through my network, I connect them a lot.•
Please enable JavaScript to view this content.