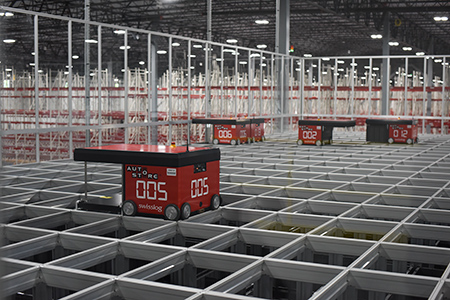 Jose Altera, a logistics specialist at Indiana University Health, stepped up to the control panel at the hospital system's new warehouse and distribution center in Plainfield and began punching buttons.
It was time for yet another practice session in the enormous warehouse—soon to be stocked with more than 5,000 different items, from syringes to bedpans—before it begins operations July 10.
"I scan the bar code here," he said. "Then you see a picture on the screen here. Then I count the items and press this button and confirm."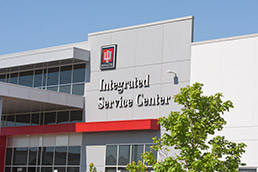 (IBJ photo/Eric Learned)
At his feet, a tote bin whisked straight up in the air, guided by one of 18 robots with wheels and long extension arms. The robot lifted the tote halfway to the ceiling and, after much scurrying along rails, set it in a cubed storage spot, where it would be stored until another worker needing those supplies punched in the buttons to retrieve them.
IU Health is using the system of robots, tote bins, electronic controls and software to try to more efficiently manage its vast network of supplies for 18 hospitals and hundreds of clinics around the state.
The Indianapolis-based system has spent $9 million on the "high-tech integrated service center," but hopes to save up to $3 million a year through standardizing inventory, ordering in bulk at a discount, and streamlining delivery routes.
Developer Browning Investments broke ground in 2016 on the 300,000-square-foot building. It is designed to receive, hold and process inventory. IU Health signed a long-term lease with Browning.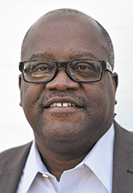 Mullins
When the warehouse begins operating, IU Health plans to close down bulk supply rooms at each of its hospitals and clinics, an inefficient, throwback system that tied up a fortune in inventory and took up enormous amounts of space.
Instead, hospitals and clinics will have just one or two weeks of supplies on hand in small storage areas. Trucks and workers at the Plainfield warehouse will deliver items as they are needed. IU Health plans to run trucks out of the warehouse every day, supplying all the facilities around the state.
"The goal is to have the right products in the right place at the right time in the most cost-effective manner," said Dennis Mullins, vice president of supply chain operations at IU Health.
Finding efficiencies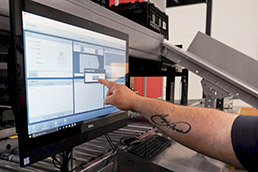 The new warehouse near Indianapolis International Airport will handle more than 5,000 different medical products, from syringes to bedpans. (IBJ photo/Eric Learned)
Health systems are increasingly scrutinizing their supply chains. Supplies account for 30 percent of a typical hospital's budget, behind only salaries and benefits.
Hospitals that look for ways to lower purchasing costs—by consolidating suppliers or using volume-buying pressure—can see a big improvement on the bottom line, said Ed Abel, director of health care practice at Indianapolis-based Blue & Co., an accounting and consulting firm.
"All the hospitals in Indiana are looking for ways to cut supply costs, but I don't know of anyone else in the state taking it the degree that IU Health is," he said.
According to the Centers for Medicare & Medicaid Services, hospitals and clinics will spend $360.1 billion this year on prescription drugs; $63.7 billion on nondurable products, from gauze to IV solutions; and $53 billion on durable medical equipment, such as X-ray machines and radiation technology.
"The current supply chain is complex and fragmented," said Elizabeth Walker, an Indianapolis health care consultant at Miami-based BDC Advisors. "There are multiple handoffs before a product reaches a patient, which adds complexity and cost."
According to a 2017 study by health care consultant Navigant, hospitals can save $23 billion—or about $9.9 million per hospital—by improving their supply chains. About three-quarters of hospitals still rely on a manual system for inventory management, rather than an automated or robotic system, and overspend due to purchasing disorganization.
The study looked at 2,300 hospitals and their spending for supplies. In addition to inefficient purchasing and inventory systems, the study found wide disparities in prices on identical products. The price of a pacemaker, for example, varied from $9,000 to $21,000.
Supply-chain expertise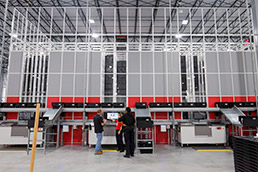 (IBJ photo/Eric Learned)
What many hospitals need, the study said, was experienced supply-chain managers who can negotiate contracts, set up streamlined systems, use advanced software, and have a voice in discussions on strategy.
In Indiana, some other hospital systems are also taking steps to rein in supply costs. Community Health Network, which operates eight hospitals and dozens of physician clinics and walk-in centers, uses a distributor to help it store and manage supplies, said Steve Bell, Community's vice president for supply chain management.
"By using a local distributor, we have eliminated the need for a bulk storage area at each of our main facilities and can get low unit of measure supplies to each site as needed and on a daily basis without multiple handling," Bell said. "We then replenish the supplies at each unit ourselves. It's accomplishing the same goal, but without the overhead of a distribution center."
St. Vincent Health, the second-largest health system in Indiana (behind IU Health) with 19 hospitals and 15,000 employees, declined to comment.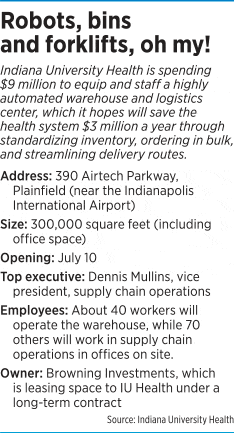 But its parent, St. Louis-based Ascension, set up a joint venture in May with a large Australia-based international hospital company, Ramsay Health Care, to form what appears to be the first-ever global health care supply chain firm.
A major goal of the joint venture is to reduce costs at Ascension's 151 U.S. hospitals and hundreds of other not-for-profit facilities to the levels in lower-cost countries.
Through the joint venture, Ascension initially will seek out global sources mainly for medical-surgical products such as gowns, sutures and mattresses. It might also source some pharmaceutical products, most likely generic drugs. Later, the buying group may move into medical devices, implants and a broader range of drugs—all of which would face much tougher regulatory hurdles, according to Modern Healthcare, an industry newspaper.
"This is a natural evolution in the rapidly consolidating marketplace," said BDC Advisors' Walker. "In the past, each hospital department was responsible for ordering and maintaining its own inventory. This approach was inefficient and costly."
Franciscan Health said it has a large supply distribution center in Greenwood, on Emerson Avenue two miles south of its Indianapolis hospital campus. The center has large storage capacity and also serves Franciscan Health hospitals in Mooresville and Carmel, outlying outpatient clinics and facilities, and Franciscan Physician Network medical practices.
Gradual rollout
At IU Health, the plan is to ramp up the new warehouse in stages that could take six months or so to phase in.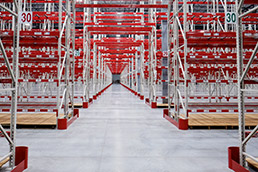 Indiana University Health is leasing the 300,000-square-foot building from the developer, Browning Investments. (IBJ photo/Eric Learned)
The first phase is to focus on commodity goods, such as bandages, gauze, tape, syringes and bedpans—small, routine, relatively inexpensive items. Later, it will bring in pacemakers, defibrillators and other more expensive supplies.
On a recent morning inside the warehouse, a few workers practiced with the software on the robotic-picking system, where small goods could be stored and retrieved, then sent out to trucks on a conveyor-belt system.
Two other workers worked on a sign that will be hung in an aisle. Someone else checked the ventilation system, to make sure the air would be suitable for dozens of workers and thousands of goods. A worker wheeled a forklift up aisles filled with thousands of boxes of medical records. Managers also are helping workers get certified on forklifts and how to load trucks.
"There's a lot that goes into it," Mullins said. "We can't just turn on the lights and expect everyone to know how to do everything. There's a lot of training and testing to make sure when we go live, when we start supporting our hospitals on July 10, we're 100 percent ready."•
Please enable JavaScript to view this content.