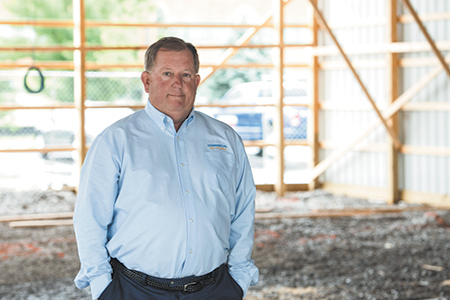 Longtime local entrepreneur Jim Sapp, 62, is revving up for expansion of his latest venture: Commercial Self Storage, a company geared to business customers.
It's a cross between a coworking startup space, a business park and a storage facility—and business is booming. After seven years of a single operation, Commercial Self Storage has added two locations this year, with plans for three more within a year plus others after that.
"Our niche is helping businesses with logistics and storage—and there's a big demand because, after the recession, people got smarter and they're looking for smaller warehouses," said Sapp, who co-founded Indy Lube 30 years ago, then sold his shares 10 years later.
Sapp owns Commercial Self Storage with his wife, Theresa.
The business—with locations in Castleton, Greenwood and suburban Columbus, Ohio—offers storage and showroom space, office rentals, free forklift access and other amenities to companies that need a space larger than most traditional self-storage units but smaller than a warehouse.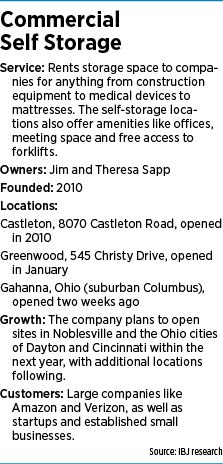 The storage units range from 300 to 3,000 square feet. They have interior lighting and electrical plugs, some are climate-controlled, and utilities are included with the rent.
The Sapps opened their first Commercial Self Storage in Castleton in 2010, starting out with two buildings on a 6.5-acre site on Castleton Road, near the intersection of East 82nd Street and Interstate 69. That facility now has nine buildings and is 100 percent leased, he said.
In January, Commercial Self Storage opened a second location, just south of County Line Road in Greenwood, near the city's municipal airport. The Greenwood facility opened with seven buildings and 70,000 square feet of space. It is 92 percent occupied, Sapp said, and the company has already started expanding the site. Workers are in the process of building structures that will add another 90,000 square feet of storage.
A third facility, in suburban Columbus, opened several weeks ago. Within a year, the Sapps plan to build three more sites: in Noblesville and the Ohio cities of Dayton and Cincinnati. Beyond that, Sapp said, he'd like to continue the growth in Indiana, Ohio, Kentucky and Michigan.
Mostly through word-of-mouth and with help from some online Craigslist ads, Commercial Self Storage has attracted a wide range of customers with diverse storage needs.
Subcontractors who transported returns for Amazon used to park their trucks at the Castleton site, Sapp said, and Ben Carson's 2016 presidential campaign used the site as its national storage repository for campaign-related materials. Other customers include fast-food restaurants, hospitals and a slew of small local companies.
'Definitely a niche'
About 40 percent of Commercial Self Storage's tenants are large companies, with small, established firms and startups making up the remainder.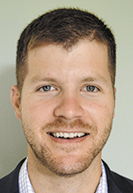 Landes
They include Crash Beds LLC, which launched in July 2017 and makes and sells mattresses. Brandon Landes, who owns Crash Beds with wife Nicole, was the first tenant at the Greenwood location. Crash Beds set up shop there in September, before most of the site had even been finished.
"We were looking for someplace that we didn't have to do a three- to five-year lease," Landes said. Crash Beds started out on a month-to-month basis at Commercial Self Storage before signing a longer lease a few months later.
For $2,500 per month, the firm gets 1,800 square feet that includes a small showroom upfront and space to make, store and ship the mattresses.
Landes said he might have been able to lease a larger space elsewhere for that price, but he likes the extras at Commercial Self Storage, including the free forklift access. "That has been a great amenity," he said.
Sapp declined to reveal revenue but said Commercial Self Storage's rates are $13 to $14 per square foot. The units begin at $299 per month, and the company averages $750 in rental fees per customer per month.
The rates are significantly higher than at a consumer-oriented storage facility, but Sapp said it's hard to compare the two because Commercial Self Storage's offerings are so different. "It's an apple to an orange. It's Ruth's Chris to McDonalds."
Industry expert Mickey Hurley agreed that the Sapps' business is different from the norm.
"What he's got is definitely a niche," Hurley said.
A real estate agent, Hurley is president of Carmel-based Self Storage Advisory Services, which provides analysis and listing services to owners of self-storage properties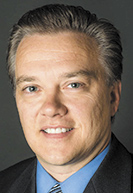 Hurley
He offered a couple of reasons for the Sapps' recent success.
Traditional storage companies have always had some commercial customers in their client base, Hurley said. But the storage industry lost significant business during the Great Recession when many of its small-business customers failed.
Now that the economy is booming, small businesses once again are looking for storage space.
"His timing's good," Hurley said of Sapp. "He's capturing all of that small-business activity that has occurred since the recession."
Another reason: The industry in general is booming.
"Right now, self-storage is probably the hottest thing out there," Hurley said.
The Self Storage Association, an Alexandria, Virginia-based trade association, estimates there are about 50,000 self-storage companies around the country. The industry is highly fragmented, with many local and regional operators.
Serial entrepreneur
For his part, Sapp said his goal is to continue to build the company over the next eight or 10 years, then sell it.
To get there, Sapp said he expects to need some outside investors within two or three years—though he's leery of giving up control, based on his Indy Lube experience.
"I had partners with Indy Lube and it didn't end up so well. Well, it ended up OK, but we had a little 'divorce,'" he said.
Sapp co-founded the company in 1986 with James Yates of Lincoln, Nebraska, and James Caplinger Jr. of Topeka, Kansas.
Indy Lube started with one Indianapolis location and by 1995 had grown to include 14 company-owned and eight franchised oil-change centers in Indiana and Minnesota. That same year, Yates and Caplinger ousted Sapp as president, CEO and board member. Sapp filed a federal lawsuit against the two in return.
The three settled the case in 1996 when Yates and Caplinger agreed to buy out Sapp's share of Indy Lube for an undisclosed sum.
Sapp moved on to a variety of other entrepreneurial ventures, with varying degrees of success.
In 1996, he took over Sapp Brothers, a tractor-trailer leasing company that had been owned by his late father. Boston-based Chancellor Corp. bought Sapp Brothers from him in August 2000. The following March, Sapp Brothers sought Chapter 11 bankruptcy protection, and both Chancellor and Sapp Brothers closed the following year.
In 2004, Sapp wrote a self-published book, "Starting Your First Business," and spent several years after that working as a business consultant.
In 2006, he established Access Garage Doors at the Castleton site that is now home to Commercial Self Storage. The two companies coexisted at the site from 2010 to 2013, when Sapp sold the garage-door business.
He and his sons opened a frozen yogurt shop in Castleton in 2011. The shop, Froyo, never caught on and closed two years later.
Sapp also owns two hair salons—Salons of Castleton, which opened in 2012 at 6520 E. 82nd St., and Salons of Greenwood, which occupies space at the self-storage operation there.
Sapp said he expects to see competitors for Commercial Self Storage pop up within two to five years, but he also sees a big opportunity to continue to grow his business. As long as the company can find 10 to 13 acres of land near an interstate and within five or six miles of at least 500,000 people, he said, there will be plenty of customers that need what Commercial Self Storage is offering.
"For a lot of different businesses," he said, "it makes sense."•
Please enable JavaScript to view this content.