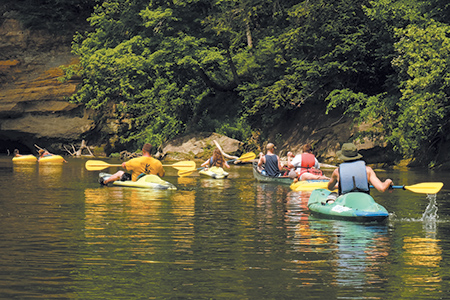 It's often said that Indiana's capital is the largest city in America not on a navigable waterway. But that doesn't mean there aren't waterways to navigate nearby.
No, you won't find the kind of whitewater adventures that are going to lead to legendary stories—or legendary injuries—but there's pleasure to be had on Indiana's rivers and streams.
About an hour and change outside of Indianapolis is Sugar Valley Canoe Trips. It offers canoe, kayak and tubing adventures in and around Turkey Run and Shades state parks, down the river the Piankeshaw people called Pun-go-se-co-nee, or "water of many sugar trees."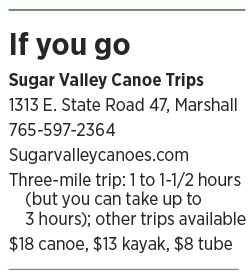 Sugar Valley's choices range from a simple 3-1/2-mile meander that departs hourly from 9 a.m. to 4 p.m. most days to a 15-mile day trip that will take five to seven hours. A 22-mile overnighter is also available, all at reasonable rates ($18 for a two-person canoe for the short run, up to $50 for the two-day). And, fear not, beginners: Sugar Creek poses about as much of a challenge to your paddling skills as the average waterpark lazy river.
Registration is strongly recommended, particularly on weekends, and it's mandatory that you show up at least 30 minutes before your departure time. That's so you can get registered, grab a life vest ("You ain't gotta wear it, just have it," said our teen provider), and wait for the bus that takes you up river.
The staff is fairly laissez faire about just about everything, and knowledge is assumed. You'll get no instruction, guidance or even assistance in shoving off. A rookie canoeist who grabs a kayak paddle is just out of luck.
Luckily, canoeing is very much a learn-as-you-go activity. And you don't go here for amenities, anyway; you go to let Sugar Creek do most of the work for you. Don't feel like paddling for a while? Drifting is a very real option most of the way. The only disruption is when your canoe grinds against the creek bed where the water is low.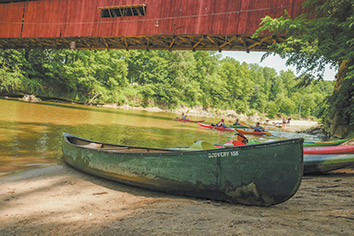 The river offers plenty of scenic spots to pull ashore for a picnic if you like, but be mindful of the restrictions before you pack. No Styrofoam coolers or large coolers of any kind are allowed. No glass. No hard alcohol. And nothing you can't hold on your lap on the short bus ride. And you need to take away all your trash. Children are welcome as long as they can walk independently and you bring no more than one child per adult.
Depending on the trip you take, you'll pass under at least two covered bridges—which should be the only sign of civilization beyond fellow paddlers. Carp and catfish are clearly visible under the water's surface—you might even spot a turtle or two.
Best of all, before you know it, you're likely to reach a meditative state where you can forget cell phone disruptions and email notifications and, instead, listen to the calls of birds and marvel at the play of light reflecting off the underside of rock formations.
In town, you might have been thinking about how much any given block of Mass Ave has changed in the past year or two. Here, you can contemplate the lack of change over centuries in spite of the constant motion of the water.
It's easy to forget that such natural beauty is so close and so easily accessible.•
Please enable JavaScript to view this content.