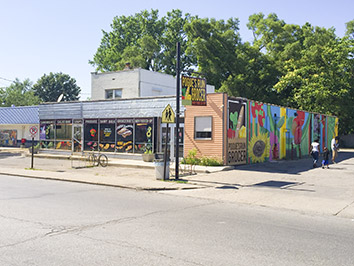 The not-for-profit Pogue's Run Grocer on Indianapolis' east side is closing for good on Monday because of severe financial problems, board members of the organization said in a Facebook post on Saturday.
"Sales are at an all-time low. The store has reached a point where it cannot sustain itself and the people who are carrying most of the burden are the employees. Not only do they show up to work every day uncertain of whether their job will be here the next day, but also uncertain in regards to whether the store can cover their payroll," according to the post from the Indy Food Cooperative board of directors.
The cooperative opened Pogue's Run in December 2010 in a 75-year-old building at 2828 E. 10th St. The grocery boasts more than 1,000 members who paid a one-time $150 fee to belong, according to its website.
Members of the cooperative were entitled to discounts and other benefits, but the store also is open to the public.
Pogue's Run Grocer, which occupies 4,000 square feet in the former Lane TV building, is the only food cooperative in the city.
The cooperative board said in the Facebook post that it lacks the means to pay employees for the current pay period. It said all proceeds from the store's sales today and Monday will go to staff and to local vendors that are owed money. The grocery is closed Sunday.
"Many of our staff have been with the store for many years. Each one of them has been the beating heart of the store and what made Pogue's Run Grocer special," the post said.
The post said Pogue's Run Grocer has had a positive impact on the community during its seven years in existence.
"Over the years the store has provided our community with a place to purchase beautiful produce and local goods, learn information about better ways to take care of our bodies and our environment, and a place to share and eat amazing food."
Please enable JavaScript to view this content.