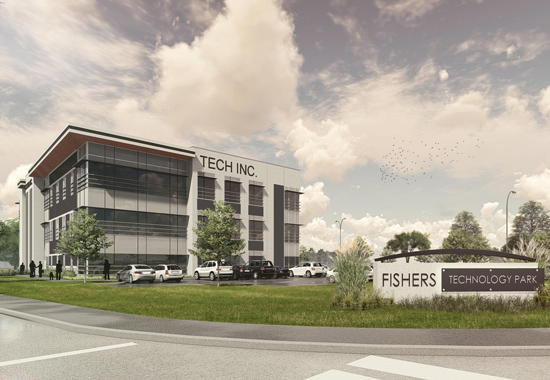 A Carmel-based real estate company announced plans Monday to spend $8.5 million to construct an office building in the Fishers Certified Tech Park.
The Hageman Group, a Carmel-based real estate firm, plans to build the 31,000-square-foot, multistory building at 8939 Technology Way. The building will serve as a gateway to the tech park, located off Commercial Drive and Lantern Road near the city's Nickel Plate district.
 The Tech Park is home to co-working space Launch Fishers, the Indiana IoT Lab and NetFor Inc.
City leaders said they hope the project helps attract innovative companies to Fishers.
"Innovation companies are looking for a place to call home in Fishers and this development provides another opportunity for growing companies to join the entrepreneurial economy here in our city," Fishers Mayor Scott Fadness said in written comments.
The city and Hageman Group signed off on an agreement Monday night in which the city will provide $2.05 million in bond proceeds to be paid with tax increment financing district funding. It also will waive impact fees to assist with development costs.
The incentives are contingent on the building's being pre-leased and under construction within 30 months and an investment of at least $5.6 million from private funding.
No announcements have been made about which companies would move into the office space.
The Hageman Group invests in and develops multifamily and commercial projects through the Midwest. Often, those projects involve public-private partnerships.
The project joins the more than $430 million in development near downtown Fishers in the past three years, city officials said.
Recently, the city announced a 45,000-square-foot office building would be constructed by BW Development LLC on the east side of the northern ellipse of Municipal Drive. Flexware Innovations plans to build a 24,000 square-foot building on the west side.
Please enable JavaScript to view this content.