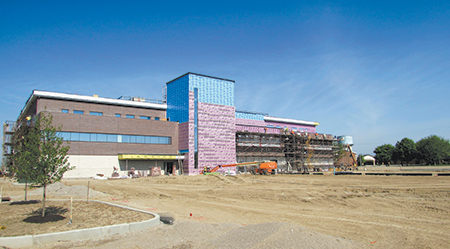 Franciscan Health is the undisputed king of south-side health care providers, with 454 staffed beds at its massive hospital campus on South Emerson Avenue and patient revenue of $2.4 billion last year.
But as Franciscan executives look farther south into fast-growing Johnson County, they see a huge opportunity to expand services for the burgeoning patient base there.
To that end, Franciscan is putting the final touches on an 87,000-square-foot medical office building in Greenwood, which is scheduled to open in December with a wide array of primary and specialty care, along with an urgent-care center, a laboratory, imaging center and rehabilitation center.
With a price tag of $35 million, it's the biggest investment for Franciscan in central Indiana since it spent $300 million from 2009 to 2012 to expand its South Emerson Avenue campus.

By pushing into Greenwood, about nine miles south of its flagship hospital in Indianapolis, Franciscan is trying to shore up and expand its share of the Johnson County market in the face of increasing competition. Franciscan operates two other hospitals in central Indiana, a six-bed micro-hospital in Carmel and an 83-bed hospital in Mooresville.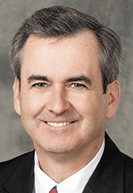 Callaghan
Johnson County is a critical piece of Franciscan's growth strategy, said Dr. James Callaghan, the health care system's president and CEO for the Indianapolis area. And the intersection of State Road 135 and Stones Crossing in Greenwood seemed a natural location for the new building, he said.
"We have a lot of patients from that area," Callaghan said. "It's part of our primary service area. And as we looked for a place, by studying ZIP codes, where patients could access our services and specialties, that was really an ideal spot."
Yet, Franciscan's new medical center is a scaled-back version of its original proposal. When officials rolled out the project in 2016, it included a 20,000-square-foot hospital with eight overnight beds and an emergency room. That would have made it a micro-hospital—a new, booming category of hospital construction sweeping the country, popular among health systems for the facilities' relatively low construction and operating costs and high operating margins. The entire project would have cost $50 million.
Micro-hospitals are set up to provide faster, more convenient service, with free parking and exam rooms just a few steps from the front door. They are often staffed with just a few doctors and nurses per shift, but charge the same rates as traditional hospitals; some critics say the micro-hospitals are just glorified, high-margin emergency rooms, mostly treating low-acute problems such as stomach bugs and twisted ankles.
But in recent months, Franciscan quietly dropped the micro-hospital part of the plan, at least for now. Callaghan said micro-hospitals are running into questions from regulators and payers, causing too much uncertainty.
Health insurer Anthem, for example, said in March it would not include St. Vincent Health's micro-hospitals in its network, a move that would have raised out-of-pocket costs for Anthem customers. But Anthem changed its mind earlier this month, saying it would cover the micro-hospitals.
And the Centers for Medicare & Medicaid Services, which pays a huge portion of the nation's health care, has started cracking down on some micro-hospitals if they don't devote the bulk of their services to inpatient care.
"We decided to pause that part of the project as we watch how the campus develops and grows," Callaghan said. "But we're also watching the regulatory and the payer environment with regard to how micro-hospitals are utilized and conducted. We're still in a bit of a wait-and-see period as to whether we will add hospital beds to that site."
Capitalizing on growth
Across Johnson County, residential developments and retail projects are springing up, pushing demand for health care.
In Greenwood, the city is redeveloping its downtown core near the intersection of South Madison Avenue and West Main Street, with plans to add 450 apartments and 130 town homes within 10 years. Last year, the city paid $1 million for the old Greenwood Middle School, with plans to redevelop the 19-acre site.
Last year alone, businesses invested $363 million in new industrial equipment, resulting in more than 1,000 new jobs, according to the Johnson County Development Corp.
All the economic activity is adding wealth and population to a county that health systems can't ignore. And Franciscan is far from the only system to respond.
Johnson Memorial Hospital is the county's only hospital (although Community Health South is right on the Johnson County/Marion County line) and is spending $42 million to overhaul its 71-year-old campus in Franklin to add a new emergency and outpatient building and a rehabilitation center, making it the largest project in the hospital's history.
Meanwhile, just northeast of Franciscan's new medical center, yet another health system, St. Vincent, also is gearing up to enter Johnson County. The Indianapolis-based system is planning to open a 17,000-square-foot micro-hospital on S.R. 135 with seven exam rooms, eight overnight beds and an emergency room.
It would be the latest in St. Vincent's aggressive push to open a total of eight micro-hospitals—or "neighborhood hospitals," as the Indianapolis-based system calls them—in central Indiana. St. Vincent is also finishing construction on a similar tiny hospital just off the County Line Road exit of Interstate 65. That's just a half-mile from Franciscan's huge flagship hospital in Indianapolis.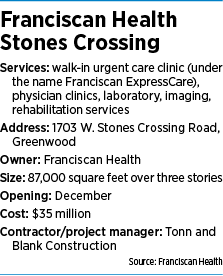 Add it all up, and it's an investment of $87 million in new health care facilities in Johnson County (and more close by)—expenses almost certain to translate into higher fees for patients and payers.
Strained industry
Yet, to make the picture even more complex, the investments come as many hospitals are under stress and fighting to make money. Nationally, hospital margins have hit a 10-year low and some credit agencies are predicting stalled revenue growth and the strain of higher expenses in coming years.
In December, credit-rating agency Moody's Investors Service warned that Franciscan is facing operating challenges as it planned numerous capital projects around Indiana. In addition to the Greenwood project, the Mishawaka-based system is planning a patient tower on its Lafayette East campus, a cancer center on its Munster campus, and a replacement hospital on its Michigan City campus.
Moody's assigned a rating of Aa3 to Franciscan for $340 million worth of new bonds, which is the fourth-highest in the Moody's long-term scale. However, it downgraded the rating outlook from stable to negative, meaning it could be lowered. It said the negative outlook reflects the view that Franciscan "will likely experience softer margins and somewhat higher operating leverage due to both cost and revenue pressure."
Even so, some observers say Franciscan's investment in Johnson County makes sense, because the complex will provide services in an outpatient setting, which insurers prefer.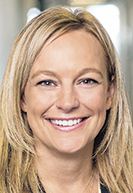 Walker
Yet, Franciscan needs to take steps to set itself apart in a competitive territory, said Elizabeth Walker, an Indianapolis health care consultant at Miami-based BDC Advisors.
"They are following rather than leading this trend and will have to work to differentiate themselves in this increasingly crowded landscape," she said.
What all the health systems are chasing is a fast-growing, higher-than-average-income household in Johnson County.
The county has seen its population grow 10 percent from 2010 to 2017, to about 154,000. Median household income is $63,023, nearly 25 percent higher than the statewide median of $50,433, according to the U.S. Census Bureau.
Callaghan, the Franciscan CEO, said he is not chasing high-income residents in Johnson County just for the bottom line. He said he is merely following demographic trends and trying to provide services where patients are moving.
"The south side continues to grow farther south, with lots of development," he said. "We are the largest provider on the south side and we wanted to provide a convenient place that patients could utilize in this area."•
Please enable JavaScript to view this content.