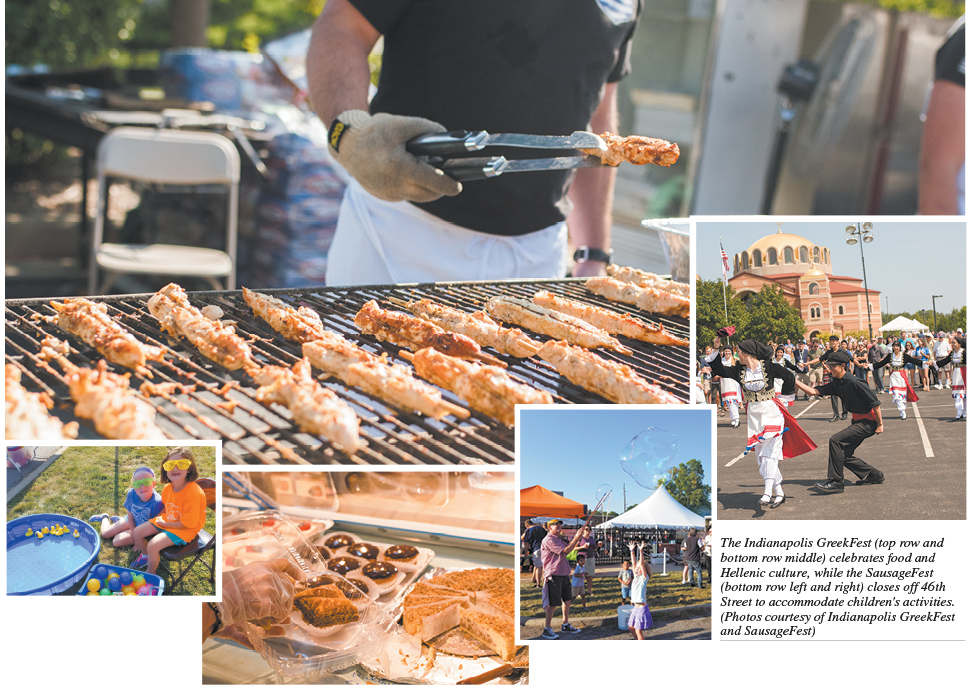 Nothing says summer like paying for dinner with a foot-long span of festival tickets. For those of us who celebrate the season in central Indiana, here's a sampling of some can't-miss, free neighborhood festivals that serve more than fair food:
SausageFest, Aug. 17-18 at St. Thomas Aquinas Church and School, 4625 N. Kenwood Ave.
As the name suggests, sausages are the star of this 13-year-old celebration of local food, beer and music in the Butler-Tarkington neighborhood. Nearby Kincaid's Meat Market supplies a variety of links destined for the grill, including one created especially for the festival, and side dishes come from the Illinois Street Food Emporium. This year, Byrne's Grilled Pizza also will set up shop.
Indianapolis favorite Sun King Brewery brings its mobile taproom, pouring five of its beers, and there's a wine garden for those who prefer a glass to a mug.
Pro tip: Spring for the souvenir SausageFest mug and present it for refills; you'll cut down on waste and get more beer for your buck.
Local musicians provide a lively soundtrack for the family-friendly event, playing short sets throughout both evenings. A block of 46th Street is closed to traffic to accommodate children's activities, and a separate teen area has its own stage where bands perform.
Indianapolis GreekFest, Aug. 24-26 at Holy Trinity Greek Orthodox Church, 3500 W. 106th St., Carmel
This festival, celebrating its 45th year, shares church members' faith and Hellenic culture with the broader central Indiana community. And food is an important part of that culture. The festival food court offers an array of authentic options, from a full Greek dinner to fried cheese. The gyros and baklava go without saying, right? Wine and local craft beer also are available.
The non-edible culture is just as diverse: Greek music, Hellenic dancing, cooking demos and even church tours. The GreekFest Marketplace promises authentic clothing and jewelry, and the Agora—or grocery—sells assorted Greek kitchen staples and delicacies.
French Market, Sept. 8 at St. Joan of Arc Catholic Church, 4217 Central Ave.
This 28-year-old parish fund-raiser has outgrown its origins as a Sunday afternoon church picnic, evolving into a bona fide street fair with live bands, artisan booths and an array of French food—an homage to the church's namesake. Escargot and beef bourguignon at a festival? Don't forget the beignets and the eclairs.
Free monitored bicycle parking by Pedal & Park is available at the corner of 42nd Street and Park Avenue.
Indianapolis Italian Street Festival, June 2019 at Holy Rosary Catholic Church, 520 Stevens St.
This year's festival is in the rearview mirror, but mark your calendar to attend this Indianapolis classic next June. Dating back to 1934, the annual event pays tribute to the church's origins as a parish for Italian immigrants who settled nearby.
Italian Fest is known for its mouth-watering menu, which includes pasta, sausage, meatballs, pizza and homemade cannoli. Italian wine and beer also are available along with local craft brew. Live music and midway rides provide entertainment options for kids of all ages.•
Please enable JavaScript to view this content.