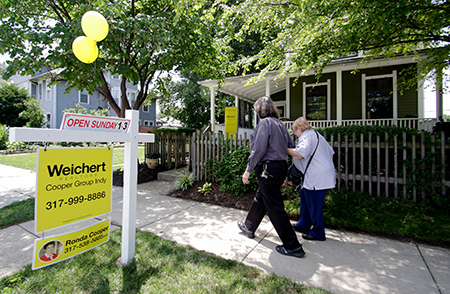 The inventory of existing homes in central Indiana is getting so low that it's driving up prices at a rapid rate and causing some potential buyers to take unusual steps to snag the house of their dreams.
April statistics from the MIBOR Realtor Association show the inventory in the 15-county area fell to 6,046 homes, a 32 percent drop from the same time last year and an even steeper 44.1 percent decline from April 2016.
As a result, the median sales price over the past year has shot up 9.4 percent, to $175,000. The rate of increase was even higher in February and March, when it topped double digits, rising 10.2 percent and 11.2 percent, respectively.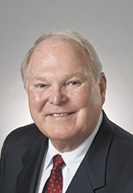 Litten
"It's unlike anything I've ever seen," said Jim Litten, president of F.C. Tucker Co. Inc. "It's really crazy."
But while home prices overall are up nicely, the reality is that they have skyrocketed in certain neighborhoods and been fairly flat in others, especially in more urban areas.
Still, homes on the market in MIBOR's 15-county area in April fetched 97 percent of their list price, a 1.4 percent increase from the year-ago period. And some buyers facing the stiffest competition are paying even more than what the owner is asking to ensure they don't walk away empty-handed.
"We have buyers who have finished second or third in the process of buying a home that they loved," said Mark Zukerman, principal of Encore Sotheby's International Realty in Carmel. "That's a very difficult thing—not only businesswise, but emotionally—especially for first- or second-time homebuyers."
So what's causing the craziness? Real estate agents point to a handful of factors contributing to what they are calling a "perfect storm."
Even though new-home construction is on the rise, the pace of building is still far slower than what occurred pre-recession.
Area home builders, for instance, saw more demand for new homes in the first quarter of this year than they have since 2006, according to the Builders Association of Greater Indianapolis.
Builders filed 1,698 single-family construction permits in the nine-county area in the first three months of the year, a 30 percent increase over the 1,310 permits filed during the same period in 2017, BAGI said. But take a trip back to the same three-month period in 2006, and the number of building permits was 2,712.
Also contributing to the inventory shortage is the rising price of new homes, many of which are too expensive for first-time buyers. New-home prices in the area have soared in recent years, as suburban cities hold builders to costlier design standings. In turn, first-time buyers are driven to cheaper, existing inventory.
"I have young couples who want to live in Fishers and they can't, and they're professionals," said Laura Musall, an F.C. Tucker agent.
High consumer confidence, in addition to low unemployment and interest rates, is influencing the housing market as well, not only in the metropolitan area but across the country, real estate agents said.
To illustrate just how crazy it's become, newlyweds who lost out on previous attempts to buy a house finally became frustrated enough to take matters into their own hands. They designed a flier that they gave Musall to submit with their offer, relaying to the homeowner how much they loved her home. The strategy finally paid off.
"With them, we would go to a home an hour after it was listed and there would already be four or five people looking at the house with their agent," Musall said. "It's just a really strange market right now, because of the lack of inventory."
Statistics for the central Indiana market show just a two-week supply of homes in the $100,000 to $199,000 price range and a 1.2-month supply for the $200,000 to $299,000 market. For more expensive homes, priced at $500,000 to $999,000, there is a 3.8-month supply, according to F.C. Tucker data.
"That's the one that blows my mind," Litten said of the more-expensive market. "Several years ago, it was a year's supply."
Months of supply is the measure of how many months it would take for the current inventory of homes on the market to sell, given the current pace of home sales. For example, if the market has 50 houses and 10 are selling each month, there is a five-month supply of homes for sale.
Supply is a good indicator of whether a particular real estate market is favoring buyers or sellers. Typically, a market that favors sellers has less than six months of supply.
The current market is favoring sellers so much that some buyers are making an offer without even seeing the home in person.
"All they've seen is photos online," said Jim Wilson, of Re/Max Legends Group near East 86th Street and Allisonville Road. "They've made an offer sight unseen, before they can even get in the house."
And those who are paying more than list price run the risk of encountering problems when it comes time to have the house assessed. If a home isn't assessed at the selling price, lenders won't finance beyond the assessed value. No matter, agents said, because buyers are choosing to make up the difference themselves, just to ensure they get the home.
"Agents are writing that into the contract, that the buyer will make up the difference if the appraisal is low," Wilson said.
Some relief might be forthcoming, however. A June 20 report from the National Association of Realtors said May saw 557,000 new listings hit the market, more than any month since July 2015.•
Please enable JavaScript to view this content.