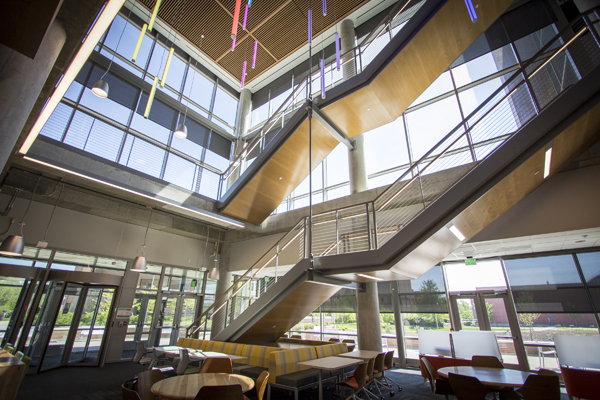 Eli Lilly and Co. is expanding its research and development footprint in Indianapolis by about 130,000 square feet with a new $75 million building at its technology center south of downtown.
The Indianapolis-based pharmaceutical company said the building at 1223 W. Morris St. will house laboratories and offices in a flexible design that will allow scientists to collaborate more closely with each other.
Lilly executives, including CEO David Ricks, will hold a formal ribbon-cutting on Friday morning, but the building has actually been in use for several months.
"Everything here is created to be open and collaborative, encourage creativity, encourage teamwork," said Dr. Dan Skovronsky, executive vice president for science and technology. "The way that science gets done has changed over the years, and the notion of a scientist coming up with discoveries or inventions in an isolated space is no longer the way it works."
Work at new building will focus on small molecules and synthetic peptides, which comprise about half of Lilly's clinical portfolio.
The building features an open design, large windows, modular laboratories that can be reconfigured quickly, and artwork from students and faculty from the Herron School of Art and Design at IUPUI.
Lilly plans to spend more than $5 billion in global research and development this year, with about $4 billion in U.S. efforts. In addition to Indianapolis, Lilly has U.S. research facilities in Boston, San Diego and New York City.
In Indianapolis, Lilly has 2.7 million square feet of laboratory space.
Please enable JavaScript to view this content.