Until the early part of this decade, American dieters had two choices in low-calorie sweeteners: saccharine in the pink package, or aspartame in the blue.

Then came Splenda. The new product, based on a high-intensity sweetener called sucralose, could be used like sugar in baking. That feature opened a door for calorie-counting consumers. It also opened the eyes of Carmel entrepreneur Ted Gelov.

Gelov's company, Heartland Packaging, was supplying food and beverage businesses with packets of salt, pepper and sugar. He noticed that Splenda had revived consumer interest in no-calorie sweeteners, and decided to get in the game.

Heartland Sweeteners LLC, the company Gelov started in 2004, is now a top maker of private-label alternatives to Splenda. The company also markets its own products directly to consumers. Heartland claims it's the world's second-largest producer of sucralose-based sweeteners for table-top use (in other words, sprinkling in coffee or spooning into baking mixes).

Gelov won't share revenue figures, so it's unclear how much distance lies between Heartland and the market leader, Splenda-maker McNeil Nutritionals, a subsidiary of New Jersey-based Johnson & Johnson.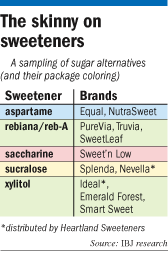 The field of sugar alternatives is even more crowded today. Stop by the sweetener section of a grocery store, and you're likely to find a dizzying array of name-brand and generic products packaged in pink, blue, yellow and green. The newest color represents a recent explosion in "natural" sweeteners, including one from Heartland called Ideal.

"I think we can beat 'em all," Gelov boasted.

Even if Heartland remains a minor player, the business sounds enticing. One analyst valued the wholesale market for alternative sweeteners at $1.1 billion in 2008 and projected it will grow 3.4 percent annually through 2013.

"Look around," Gelov said. "We've got a growing diabetes problem. We have a growing obesity problem. I don't see a decline."

Heavyweight competitors

Heartland is still a small business with fewer than 100 employees split between the Carmel headquarters and a northwest Indianapolis manufacturing facility. Gelov, 43, is a career entrepreneur who seems unfazed by the competition from food-industry giants such as J&J and Cargill.

"It's hard to challenge the big guys, especially in this category," said Dexter Manning, a food industry consultant at Grant Thornton in Atlanta.


Cost alone is enough to keep most startups from selling on a national scale, Manning said. Getting a national grocery chain to distribute one product in a major metropolitan market, for example, can cost $100,000 or more.

Heartland's bread-and-butter business is store-brand sucralose, which it blends and packages for national and regional grocery chains under generic names such as "Sweetener."

The company still is trying to land national distribution for its own sucralose-based sweetener, Nevella. Its main retail outlet so far is Dollar General.

Heartland might have more retail success with its latest product, Ideal. The no-calorie sweetener is based on xylitol, a sugar alcohol that's used widely in sugar-free gum.

Heartland packages Ideal in green and white and sells it as a "natural" product in grocery chains throughout the East, West and South. In the Midwest, Marsh, Meijer and Giant Eagle stores carry it.

Gelov admits that retail success is yet to come, but he's encouraged by recent sales data on Ideal from Texas, Ohio and Pennsylvania.

A company like Heartland might establish a few distribution points and "eke out a nice little profit," Manning said.

However, he added, "Based on numbers I've seen, that would not be the first business I would choose to go into."

Until this spring, Heartland's main hurdles were costly legal actions.

In December 2006, McNeil sued Heartland for trade-dress infringement, saying the company's store-brand sweeteners too closely copied Splenda's yellow packaging, blue logo and slogan touting that it's made from sugar. (Sucralose, the active ingredient, is derived from sugar through a complex chemical process.)

McNeil told the court that from 2000 to 2006, it had spent $230 million advertising and promoting Splenda.

The product was an "astronomical success," McNeil said. Sales rose from $32 million in 2001 to $410 million in 2006. Splenda had captured 60 percent of the U.S. low-calorie sweetener market, leaving Equal (aspartame) and Sweet'n Low (saccharine) with 15 percent and 14 percent, respectively.

By introducing a number of store-branded sweeteners in July 2006, Heartland threatened Splenda's profit margin. According to McNeil's complaint, the company's retail customers included Wal-Mart and several grocery chains, including Stop & Shop and Food Lion.

McNeil and Heartland entered settlement talks, but didn't disclose any terms they reached. The parties voluntarily dismissed the case this March.

Although such cases rarely go to trial, they are expensive, said Jim Coles, a partner at Bose McKinney & Evans who specializes in intellectual-property law.

Many consumer-oriented businesses aren't familiar with trade-dress claims, which are easy to file but difficult to prove, Coles said. Startups tend to focus more on protecting their own product rather than making sure they don't infringe on someone else's rights, he said.

"Sometimes that issue can end up burying the company," he said.

While fending off McNeil, Heartland also faced the possibility of losing its sucralose supply. Tate & Lyle, the British sweetener and starch-maker that invented Splenda, had complained to the U.S. International Trade Commission that three Chinese manufacturers infringed on its sucralose-processing patents. Tate & Lyle also named 18 importers and distributors, including Heartland, in its complaint.

This spring, the ITC upheld its initial ruling in favor of the Chinese imports, as well as Heartland.

Gelov appears to have the resources to deal with such legal battles. This year, he bought a completely unrelated company, Hake Yachts in Stuart, Fla.

Gelov is ambitious enough that he's also attempting to gain control of his key ingredient. He owns a research-and-development firm that's trying to improve on sucralose production.

Deriving sucralose from sugar is a complex process that requires harsh chemicals. Gelov's firm, Lexington Pharmaceuticals Laboratories LLC, claims to have come up with a "greener" process, for which it's seeking a patent.

Gelov hopes Lexington, based at Purdue Research Park in West Lafayette, will supply Heartland with other food technologies.

"We have a pipeline of innovative products we're all very excited about," he said.

Wellness strategy

Ideal is part of Heartland's strategy of marketing sweeteners with health benefits other than cutting calories. Nevella is now formulated with "probiotics," the industry word for bacteria that aid digestion and might confer various other health benefits.

The most-often-touted health benefit of xylitol, used in Ideal, is that it prevents tooth decay.

Heartland President Mike Servie and the company chef, Don "Ozzie" Godleski, traveled to Atlanta in July to promote Ideal at a national conference of diabetes educators.

Rather than feel overwhelmed by yet another new sweetener, diabetics welcome the variety, said Deborah Fillman, a public health director in Owensboro, Ky., who attended the convention.

Fillman didn't try Ideal, but she said she's interested in any new sweetener that comes on the market.

"What we keep striving for is the original sugar product," Fillman said. "It's not just the taste. It's how the food looks, how the food feels. Once we find all that, it's the perfect product."

All sugar alternatives have one drawback or another, whether it's an odd taste, high price, or the tendency to induce diarrhea if ingested in large quantities.

"Natural" sweeteners are the latest to hit the market, prompted by the U.S. Food and Drug Administration's approval last year of using stevia-plant extract as a food additive.

Companies including Minnesota-based Cargill soon rolled out a host of sweeteners in green packaging.

"They try to suggest this isn't something much more than the crushed leaves, or a squeezed plant," said Mike Richardson, an industry analyst for the Freedonia Group in Cleveland. In reality, he said, "They undergo quite a bit of processing."

Cargill created Truvia, which is a blend of the stevia extract, which has a bitter aftertaste, and erythritol, a cousin to xylitol.

No single product has become the Splenda of natural sweeteners, Richardson said. "They're still pretty nichey."

Heartland chose to go a different route by making its "natural" sweetener Ideal with xylitol, which has roughly the same bulk and sweetness as sugar. Like Splenda and Nevella, it's also sold in pouches for use in baking.

Xylitol's table-top use has been marginal so far, but Heartland might be able to change that. Ideal is the first xylitol product to be placed alongside other sweeteners in the sugar aisle at mainstream grocery stores, Richardson said.

Richardson said previous xylitol marketers "really seem to be trying to draw the demographic that would buy these things at health-food stores—the Toms-of-Maine-crowd."

A market study conducted by Richardson in May found that new sweeteners such as sucralose, stevia extract and xylitol have the most growth potential. Manufacturer-level demand for xylitol and other sugar alcohols is expected to grow from $423 million to $527 million by 2013. At the retail level, the figures are even higher, Richardson said.

The growth will be more impressive for stevia extract (also known as rebiana), and others that have yet to reach the U.S. market. Richardson projects demand will rise from $38 million to $98 million.

Diabetes and obesity will continue to fuel demand for alternative sweeteners, Richardson said, but he doesn't see it as endless.

The problem goes back to the one diabetics struggle with every day. How do you make something that's like sugar, but without the calories?

"Unless there's an enormous breakthrough in terms of these products becoming a whole lot better than sugar, there really is a ceiling for them," he said.•