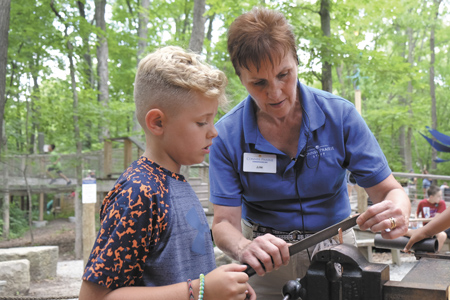 A baseball hat hangs from the corner of a future site map posted in Conner Prairie CEO Norman Burns' office.
"River people" is embroidered on it, a symbol of what's to come at the living-history museum off of Allisonville Road in Fishers.
"That hat represents the fact that we're not only prairie people; we're river people, too," Burns said.
As the organization's leaders plan for the next two decades, they're targeting the 3.3 miles of the White River that runs through their property for new experiences and attractions. And they're thinking about ways to bring customers to Conner Prairie year-round.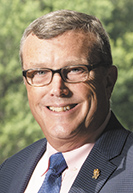 Burns
Last year, the museum embarked on a master site plan for its entire 1,052 acres of land and river frontage between River Road and Allisonville Road, north of East 126th Street.
As the museum continues to hit record attendance numbers year after year—more than 428,600 people visited in 2017—it's important that leaders identify ways to continue that momentum for years to come, Burns said. Conner Prairie, which generated revenue of $11.3 million last year, has formidable financial firepower, thanks in part to its foundation, which holds more than $120 million in assets.
In creating the plan, the museum engaged board members, employees, community members and other stakeholders, who shared hundreds of ideas, he said.
Four themes emerged from those planning sessions: engagement, connectivity, enhancement and sustainability. And with those themes in mind, leaders identified 25 projects, which Burns refers to as "big ideas," for expanding the site's offerings.
The master plan considers the next 20 years. And while many of the projects identified are still years away, museum leaders are laying the groundwork today, he said.
Opportunities to dine, lodge and experience new adventures, such as kayaking and canoeing, could be among the amenities offered by the not-for-profit, which was established by Eli Lilly in the 1930s.
Brenda Myers, president and CEO of Hamilton County Tourism Inc., said there isn't a voice Conner Prairie—one of Hamilton County's top tourism destinations—hasn't considered in developing its plan. She's impressed with what she's seen.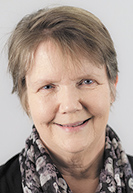 Myers
While the museum is likely the most innovative of its peers, it also has always respected the land and its history, Myers said. The site plan builds on the great things the museum already offers, she said.
"I love that they are always trying to keep it fresh," she said.
Accessing the river
It's been two years since Burns, a Tennessee native who has a long background in history and not-for-profit management, was picked to replace longtime CEO and President Ellen Rosenthal.
He's spent that time evaluating the museum's resources and assets, and in the process, discovered leaders didn't have a true sense of just how many acres Conner Prairie owns or how they're controlled.
That first year, Burns conducted a site survey that identified all 1,052 acres. Then, the group's leaders commenced planning.
Until recently, the White River, which divides Conner Prairie's land, has never been accessible to museum guests. They couldn't see it, they couldn't interact with it, and no exhibits made use of it.
This year, that changed when the museum opened its first White River Overlook. The overlook gives visitors a view of the river as it bends around the prairie. But leaders say they want to take that accessibility further.
The river is the reason Conner Prairie exists today, Burns said. It's because of the White River that the Delaware Indians and pioneer William Conner, the museum's namesake, found the land that is now known as Conner Prairie, he said.
"We can't really separate the story of Conner Prairie from the White River. Yet we've really never told that story," Burns said. "That's the big mind-set for us: How do we take this natural resource … and how do we tell the story of that river? How do we talk about the natural resource that it is?"
Many of the 25 projects the master plan identified involve the river, Burns said. While he highlighted some, he declined to detail them all, saying the plan is not set in stone.
But one idea Conner Prairie will test this fall is kayaking and canoeing.
Right now, students participating in summer camp programs at the museum are the only visitors given the opportunity to kayak and canoe there.
Leaders want to open those river excursions to other visitors. So they're planning two days in early fall when people can test the waters and provide feedback as to whether that's something they'd do again in the future.
Another project on the list—creating a river ecology center—will likely take years and require a partner, but conversations have already started.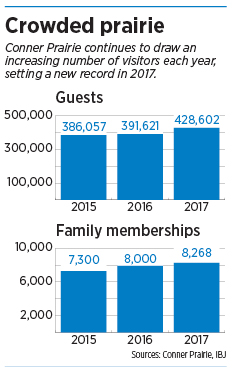 There's no such center in central Indiana now, and museum leaders believe Conner Prairie would be the right location for one. "We know that we have a wonderful section of the White River," Burns said.
A center could be on the site's west side, where few activities are held today.
"That's one of the big, big ideas that's been identified," he said.
Leah McGrath, Fishers deputy mayor and a Conner Prairie board member, was part of those early planning sessions. She said it's exciting to see ideas in the master plan that open Conner Prairie up more to the community.
"I think there's an opportunity to engage the White River in ways we've never done before," she said. "That, combined with the already-excellent environment Conner Prairie has and what it provides—I do think it will attract more visitors and hopefully more repeat visitors, too."
Enhancing amenities
Conner Prairie leaders are also considering new amenities and projects that might encourage guests to visit year-round.
While the museum center and some classes currently operate throughout the year, many exhibits and programs run only during warmer months. The museum is looking at ways to offer those programs over a longer period, Burns said.
Eventually, Conner Prairie could offer some sort of lodging experience that would be unique to the museum, he said.
The museum is also considering an on-site restaurant that would feature farm-to-table meals, with ingredients grown in agricultural exhibits onsite.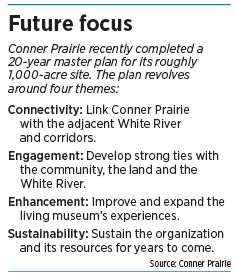 The master plan identifies land on the east side of the property for a 19th century agriculture experience and land on the west side for a 20th century experience that could help tell the story of Eli Lilly's involvement with Conner Prairie. Then the president of drugmaker Eli Lilly and Co., Lilly developed Conner Prairie Farms at the site in 1934, some 30 years before Conner Prairie officially opened as a museum, according to the museum's website.
Again offering farm experiences would enable the museum to expand its popular animal encounter programs that feature rare breeds, Burns said.
Before any of these projects—what the master plan identifies as transformation projects—can begin, Conner Prairie has to address fundamental issues like infrastructure, parking, entry points and restrooms.
"That sounds boring, but that's all part of master planning," Burns said.
Museum leaders also have to consider a renovation of the Museum Center, which was built in 1989 and is now used for a welcome center and offices for staff.
They're considering building a separate facility for employees, which would allow for a renovation of the 67,000-square-foot Museum Center.
"We need to start over, kind of," Burns said.
The museum is working with consultants and a planning team to prioritize the 25 projects identified in the master plan, and they've begun looking into launching a feasibility study for the first of multiple fundraising phases necessary to complete the plan.
For now, nothing is set in stone, Burns said. Just like any strategy, the master plan might undergo multiple iterations before it's settled.
"We'll probably discover projects we want to take off and we may discover projects we want to put on," he said, adding that's why the museum isn't prepared to release the full plan to the public.
"That's the beauty of a [comprehensive] plan. You really plan out how you're going to use a space, and over time you make adjustments."•
Please enable JavaScript to view this content.