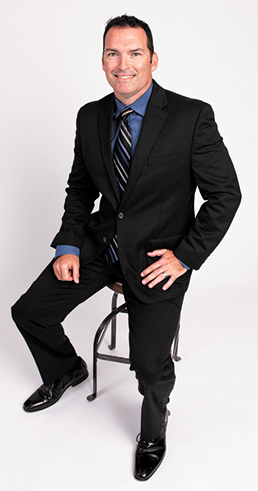 CEO Eric Garrett launched his multifamily housing company in 2014. (IBJ photo/Eric Learned)
Revenue Growth FY 2015 to 2017: 1,284%
Working elsewhere: The Garrett Cos.—which develops, builds and manages multifamily housing—works almost entirely outside Indiana. Some of its work that is in development or ongoing includes a $90 million, 288-unit project in Boulder County, Colorado; a $75 million project in Castle Rock, Colorado, outside Denver; and $50 million to $70 million ventures in Orlando and Fort Myers in Florida. "If we didn't book another piece of business in '18, revenues are projected to be around $155 million," Garrett said. "And in '19, somewhere in the $220 million range."
How it's done: Garrett said his team of analysts sifts through hundreds of sites a month around the country and identifies desirable locations. The company gets the land under contract and make sure the plans can be built. Then Garrett's construction arm takes over and builds. The company also manages its finished products.
Career path: Garrett started his career almost 20 years ago with the Chicago real estate investment brokerage Marcus & Millichap, where he sold apartment complexes. "I learned about what makes a good apartment market and what makes a good apartment site and started learning the basic dynamics of how to piece those together." After working in development for a large Indianapolis-based company, he took what he learned in those jobs and started The Garrett Cos. in 2014.
Biggest challenge: Garrett said lack of tradesmen and skilled workers to build projects is a problem contractors are grappling with. "Every subcontractor is hurting for employees," he said, and projects that used to take 12 months now take 16 because of the labor shortage.
They're hiring: "We're on the hunt for good people who want to join the team and have an interest in seeing the country and doing some exciting projects," Garrett said. He noted that the Indiana Chamber of Commerce ranked The Garrett Cos. as one of the best places to work in the state. "The growth we've experienced is a testament to the people we've been able to assemble. The team is phenomenal."•
Check out more of IBJ's ranking of Indy's fastest-growing companies.
Please enable JavaScript to view this content.