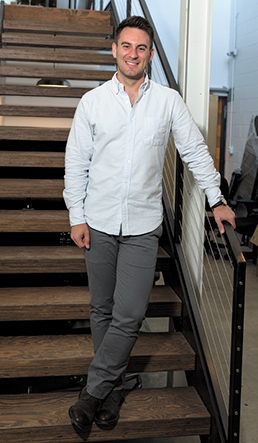 Josh Owens said SupplyKick had a "spectacular year" in 2017.(IBJ file photo)
Revenue Growth FY 2015 to 2017: 335%
Meteoric growth: SupplyKick CEO Josh Owens said 2017 was "a spectacular year" for his company, which helps businesses increase their presence and their sales on Amazon, eBay and Walmart.com. He attributes the growth to an increase in existing products and partnerships, adding new partners and products, and bringing on new team members to improve growth, partner success, marketing, operations and logistics.
New partners: SupplyKick has been getting into the pet and baby markets, as well as hardware. Among its new partners is L.E. Johnson Products Inc. out of Elkhart, in the door/hardware space. "We've been able to help them launch new products on Amazon in the last year and grow existing products." The company now has up to 70 products on Amazon, and its sales have doubled there, Owens said.
Baby on board: Another new client is Bumbo, which makes baby products. Owens said the company came to SupplyKick wanting a partner that understands retail, and could keep products in stock and work with it as a direct partner. Bumbo had new products it wanted to test, and it needed someone to manage its supplier relationships and supply chain. "Those are all the things we're adept at handling, especially with these larger brands that have national distribution, have products in brick-and-mortar stores, and have products in a variety of e-commerce stores," Owens said.
Managing growth: Owens worked at Angie's List when it was going through national expansion and at One Click Ventures as e-commerce boomed, so he's aware of the need to manage growth. "The big thing I'm focused on right now is that we've got the right people in place who have that diversity of background and experiences and are excited about a high-growth environment," he said.
Continuing pattern: SupplyKick, which had 14-15 employees last year, now has 30—including some who've brought retail, logistics and marketing expertise from Target, J.C. Penney and Walmart—and the company expects to continue its rapid growth in 2018, Owens said. He expects to add a number of partners in the second half of the year. "If we can execute on that," he said, "that's going to be exciting for everyone."•
Check out more of IBJ's ranking of Indy's fastest-growing companies.
Please enable JavaScript to view this content.