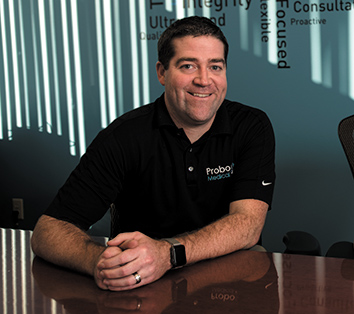 CEO David Trogden launched Probo Medical in 2014. (IBJ file photo)
Revenue growth FY 2015 to 2017: 254%
(Ultra)sound business: Probo Medical buys, repairs, refurbishes and sells ultrasound equipment to hospitals, imaging centers, doctors' offices and resellers. While a new system might cost $80,000 to $100,000, a refurbished version costs $30,000 to $40,000. An ultrasound probe that would cost around $10,000 new can sell for half of that used. "The fundamental thesis behind our business is saving health care systems money," President and CEO David Trogden said.
Getting started: After graduating from DePauw University, Trogden went to work in Indianapolis for E&A Cos., where he spent five years in business development, looking for businesses to acquire. In 2008, E&A bought Ultra Solutions, a California business that sold refurbished ultrasound equipment. Trogden ended up moving to California to run that company. In 2013, after Ultra Solutions was sold, he returned to Indiana and started Probo in 2014. "We now have the largest inventory of used and refurbished ultrasound equipment in the nation, if not the world," he said.
Growing rapidly: In 2015, Probo had three employees. Now it has three locations—Fishers, Tampa, and Tulsa, Oklahoma—and 75 to 80 employees. The company opened in Tulsa because some highly skilled people there who repaired transesophageal ultrasound probes, which go through the throat to image the heart, were out of work after their company was sold. The Tampa expansion resulted from a merger.
Core values: In addition to selling equipment, the company donates five or more ultrasound systems a month to clinics and doctors in Haiti, Africa and India. The program is run by Trogden's wife, Casey.
Keys to success: Trogden said Probo has succeeded by having a solid business model, staying focused on its core business, and building both a great management team and infrastructure to grow at an uncommon pace. "We act urgently in everything that we do, and the one thing I guarantee anybody coming on board for the first time is: It's going to be a wild ride. We've definitely been on a wild ride and we want that to continue into the future."•
Check out more of IBJ's ranking of Indy's fastest-growing companies.
Please enable JavaScript to view this content.