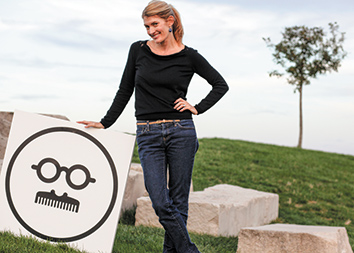 Owner Alison Murphy launched William Roam after finding most hotel toiletries unimpressive. (Photo courtesy of William Roam)
Revenue growth FY 2015 to 2017: 117%
An observation: Alison Murphy and her husband, Charles Haywood, travel for business and pleasure, and they noticed on occasion that the shampoo and personal-care products in their rooms were sometimes of lesser quality. Murphy set out to change that by creating William Roam, which manufactures shampoos and other products and distributes them to places that range from bed-and-breakfasts to casinos with hundreds of rooms.
Related business: Murphy and her husband own Mansfield-King, a contract manufacturer that makes high-end personal care products for various labels. So they already had the manufacturing capabilities and knew what products would cost. They invented the brand name William Roam because they thought it was evocative of the American travel experience. "Americans embrace the world and travel, and we wanted a company that reflected that," said Murphy, a naturalized American citizen who grew up in Australia.
Proud to be American: Murphy said William Roam is unique in the market for being American-made, and she thinks that resonates with both the company's hotel customers who are putting it in their properties and the guests who stay there and buy its retail-size products for use at home.
Responsive: Another way William Roam sets itself apart is by filling orders quickly. Murphy said hotels don't always keep a lot of product on hand and "they need to know that, when they place an order with their supplier, they're going to get it within a certain time frame. We do that."
Appropriate growth: Murphy said she's happy with the growth of William Roam, which she describes as the first new brand on the scene in 15 years. "Our acceptance into the market has been immediate and pretty widespread. We're very pleased about that." The company plans to roll out a new collection later this year—it already has three—and expand its retail business. "We have a significant online retail market now, but we're increasingly being asked to be carried in stores and boutiques and we'd like to expand that presence," she said.•
Check out more of IBJ's ranking of Indy's fastest-growing companies.
Please enable JavaScript to view this content.