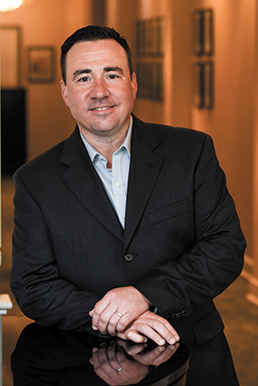 Gemco principal Bill Bates said he strives to make mechanical services turnkey for contractors. (IBJ photo/Eric Learned)
Revenue growth FY 2015 to 2017: 70%
What it does: Gemco works with general contractors to provide mechanical, electrical, plumbing and control systems. Recent projects have included pharmacy-type distribution warehouses—an 800,000-square-foot building in Florida and a 1.1 million-square-foot building in Maryland.
How it's done: Gemco principal Bill Bates said he'll get an architectural layout of the building. He'll see what is needed for lighting levels, plumbing and where the offices are, then come out with a conceptual layout of all the mechanical, electrical, plumbing and control-system needs. He's then able to provide clients with a firm bid, saving the contractor as much as $300,000 in the process. "We know what they want already," he said. "We make it turnkey for them."
Control systems: The goal is to make buildings smarter and operate more efficiently. In a warehouse, for example, Gemco might use motion detectors to create a daylight-harvesting strategy. If there's no motion in an area, the lights don't come on. If there is motion, sensors measure how much sunlight is coming in through the skylights. If there's enough natural light, the lights still don't come on.
Out of state: Less than 20 percent of Gemco's work is in Indiana, though it's now working on a 1.1-million-square-foot building in Jeffersonville. The company's expertise has taken its employees from Washington state to New Jersey to Florida to Texas—and all points in between, Bates said. "Our growth has been building crews that will travel to meet their construction needs."
New hires: Bates said one of the toughest challenges is finding skilled workers, especially people who will travel, so Gemco hires largely from out of state. He said the future looks promising, and the company's near-term goal is to diversify so that, if an economic downturn hits, it will survive. "Unless something out of our control like the economy changes, it's hard to imagine a situation where our level of growth does not continue."•
Check out more of IBJ's ranking of Indy's fastest-growing companies.
Please enable JavaScript to view this content.