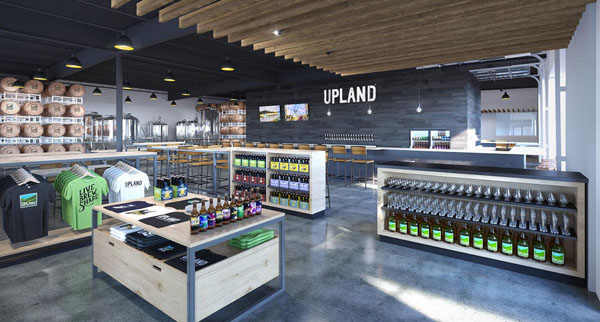 Bloomington-based Upland Brewing Co. is planning a massive project in the heart of Fountain Square that would include a brewery, restaurant, beer garden, drinking hall and bike shop.
The 13,000-square-foot facility is planned for the former site of a Value World discount retail store at 1201 E. Prospect St., essentially a block east of the center of Fountain Square's resurgent commercial and cultural districts.
"We are really excited to embark on this next adventure,' said Upland President Pete Batule in a media release. "We wanted to put down roots in a community where we could draw inspiration and give back in equal measure, and what better place than this creative hub of Indianapolis."
The facility's debut is scheduled for next spring.
The restaurant's menu will focus on cuisine with locally sourced ingredients. The facility will have seating for about 225 people indoors and another 100 on the patio. The kitchen and the brewing operation each will occupy about 2,000 square feet.
Batule declined to reveal the projected cost of the project in an interview with IBJ. Upland has agreed to lease the space from local developer Milhaus.
Batule said that Upland is trying to preserve as much of the Value World building as possible, noting that "it's a place where I think a lot of people in Indianapolis remember going to as a kid."
The 1,000-square-foot bicycle shop will be run by locally based Gray Goat Bicycle Co. and include full-service repairs, parts and accessories, and new and used bikes for sale.
Gray Goat already has shops in the Greenwood area and Franklin. Establishing a shop inside a brewery or beer hall is a new idea for Indiana but consistent with a national trend, said David Bower, Upland's chief growth officer.
"There's a lot of synergy between the clientele in a bike shop and a beer bar," Bower said.
Founded in 1997, Upland is known for its sour and barrel-aged beers. Its brands include Wheat Ale, Dragonfly IPA and Champagne Velvet.
Upland already has two locations in the Indianapolis area: Carmel Tap House, 820 E. 116th St., and its Broad Ripple Tasting Room at 4842 N. College Ave. In its hometown of Bloomington, Upland runs a brewpub, two breweries and tasting rooms. It also maintains a restaurant in Columbus called the Pump House.
Please enable JavaScript to view this content.