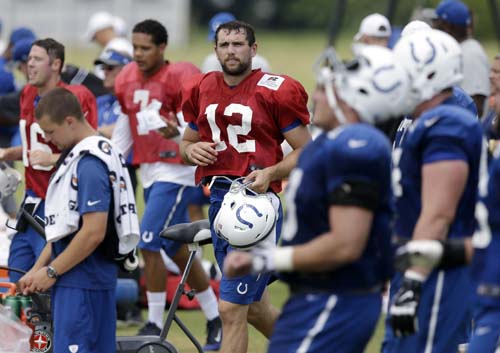 Andrew Luck should be back in his old spot when the Indianapolis Colts open training camp next week.
Yes, he'll be behind center. Yes, he'll take some extra days off. And, no, he may not play the usual preseason rotation.
But when he's on the field, general manager Chris Ballard expects to see the same old Luck —throwing passes without limitations for the first time in more than 18 months.
"He's good to go," Ballard said Friday during a media tour of the team's new camp site at Grand Park Sports Campus in a northern Indianapolis suburb. "Like (coach) Frank (Reich) and Andrew talked about at minicamp, we'll try to mimic it like a regular season week. He's going to have days off. He's not going to throw seven days a week."
Players were not available for interviews Friday.
Luck's return is the best news yet for a team trying to rebound from a 4-12 season and a third consecutive year without a playoff appearance.
Luck said he played through a sore right shoulder in 2015 and eventually opted for surgery on the partially torn labrum in January 2017. He missed all of last season as he tried to rehab.
Two weeks after Luck started to throw in October, he was shut down after complaining of lingering pain. In early November, he was placed on the season-ending injured reserve list and didn't resume throwing publicly again until last month's three-day mandatory minicamp.
He's spent the last five weeks working out in California.
"I haven't been with him, but I've seen enough throws that I know he's throwing the ball pretty well," Ballard said before reflecting on his thoughts from last month's throwing sessions. "I thought the first day there was one ball on a swing pass, 'OK, there you go, he really let it go.' The next day, there were four to five balls he really let go. I think that'll be the case when you get to camp."
The plan calls for Luck to throw about four days per week at camp — simulating his regular-season routine.
But nobody can say with certainty when, or if, the No. 1 overall pick in 2012 will regain his Pro Bowl form.
"I think we'll get questions until he lines up and plays again, and plays high-level football again," Ballard said. "I can see the panic the first time he throws an interception. It's just part of what we do. He understands it. He gets it."
Ballard acknowledged Luck needs to take "live reps" during camp and indicated Luck would likely see some preseason action. How much time is still to be determined, and Ballard declined to say whether Luck would play in Indy's preseason opener, Aug. 9 at Seattle.
Luck isn't the only player who will be watched closely.
Starting safeties Clayton Geathers and Malik Hooker are both expected to open camp on the physically unable to perform list next week. Geathers had offseason knee surgery — what Ballard described as a "clean-up" procedure — while Hooker is rehabbing from torn anterior cruciate and medial collateral ligaments in his right knee.
Left tackle Anthony Castonzo and left guard Jeremy Vujnovich also could be placed on PUP. Castonzo pulled a hamstring while working out last week. Vujnovich, who started all 16 games last season, is recovering from a pulled calf muscle.
The Colts report to camp Wednesday and will work out in Westfield through Aug. 18.
Please enable JavaScript to view this content.