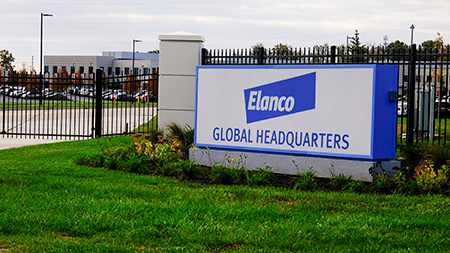 Eli Lilly and Co. plans to spin off its Elanco animal-health business into a separate, publicly traded company, a move that would reduce the drugmaker's control over the 64-year-old unit that employs 6,500 people, including 800 at its Greenfield headquarters.
Indianapolis-based Lilly said Tuesday morning it will file a registration statement in the coming weeks with the U.S. Securities and Exchange Commission for a potential initial public offering for Elanco. The company intends to sell up to 20 percent of Elanco in the IPO and divest the remainder as early as 2019.
Lilly said Elanco's headquarters would remain in Greenfield following the spinoff and that no job reductions are planned.
The announcement ends months of uncertainty over the future of Elanco. Lilly announced in October that it was considering a sale or spinoff of the animal-health business to unlock more value for shareholders. The unit makes an array of vaccines, antibiotics, feed additives and other health products for livestock and pets.
Lilly said the number of shares to be offered and the price range for the offering have not yet been determined.
"Based on our strategic review, we concluded that after-tax value for Lilly shareholders would be maximized by pursuing an initial public offering of Elanco," David A. Ricks, Lilly's chairman and CEO, said in a statement. "We believe this will allow Elanco to efficiently deploy its resources to those growth opportunities that best serve its customers. In addition, this will provide Lilly even greater focus on the human pharmaceutical business to pursue our purpose of creating life-changing medicines for patients."
For years, Lilly could count on Elanco as a steady growth engine that could help it cope with declining sales caused by human-drug patent expirations.
But recently, the unit has struggled, as competitors including Zoetis and Bayer have taken market share. The downturn came just as Lilly was expecting a big boost in sales and profit, helped by Elanco's $5.4 billion purchase of Novartis' animal health division in 2015.
In 2017, Elanco generated revenue of $3.09 billion, 13 percent of Lilly's total. That was a 2 percent decline from the prior year. Through the first half of 2018, Elanco's revenue was $1.55 billion, flat from the same period a year earlier.
Analysts have said Elanco might be worth $14 billion to $16 billion as a stand-alone company. They'd viewed an IPO or the sale to a private equity firm as more likely than a sale to a competitor, which would have been sure to receive close scrutiny from antitrust regulators. Elanco is the No. 3 animal-health player in a field of giants, with the top four firms alone collectively garnering more than $14 billion in sales.
Lilly launched the unit in 1953 to produce antibiotics for livestock, and over the years expanded it to a wide variety of health products for companion animals and food animals. Lilly and Elanco executives have said the setbacks were due to stiffer competition, aggressive pricing by rivals and other factors.
This story has been corrected. An earlier version provided erroneous information on the percentage of Elanco that Lilly would sell in the IPO.
Please enable JavaScript to view this content.