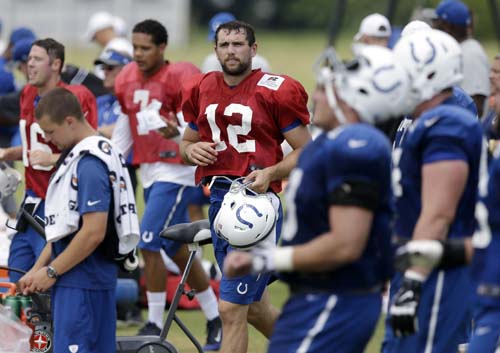 Andrew Luck looked comfortable in his old spot Thursday.
He took command of the huddle, made all the required throws, chatted with teammates and coaches and even critiqued himself. He avoided one personal concern by successfully handling the first snap, and he was serenaded by Indianapolis Colts' fans chanting his name.
Yes, after more than 19 months of answering questions about his surgically repaired throwing shoulder, Luck finally got a chance to show everyone exactly what he could do during the team's first training camp workout Thursday.
"It was a good day, a solid day in windy conditions," new coach Frank Reich said following a two-hour workout in shorts. "I thought he looked strong, consistent, a good first day for him."
The unofficial numbers: 4 of 9 with one interception in two rounds of 11-on-11 and 11 of 19 overall.
Of course, nobody expected Luck to be at his level best on Day 1.
The three-time Pro Bowler had surgery on a partially torn labrum in January 2017, missed all of last season with lingering pain and didn't resume throwing again until May. He did light work during June's three-day minicamp and ramped up his activity in California over the next six weeks.
Thursday marked the first time he worked out with the starting unit since the end of the 2016 season, and it was also his first real chance to get acclimated to Reich's new offense.
"He doesn't have the familiarity that we have when it comes to running the offense," center Ryan Kelly said. "I mean you can look at it on paper for so long, but until you're out there and running it … So every so often in walkthroughs, he'd ask me a few questions. It's usually the other way around, so it's kind of weird right now."
The Colts also weren't about to ask anyone to do too much too fast. So rather than turn things loose, Reich instructed his players to slow it down for the first two days.
It showed.
But that's not why so many fans showed up to the team's new camp site, Grand Park Sports Campus in Westfield.
They wanted to see the team's most anticipated camp appearance since Luck arrived in town with the title of No. 1 overall draft pick in 2012.
Some couldn't wait. The line started forming more than two hours before practice began, and blue No. 12 jerseys were a favorite fashion option in the bleachers. When individual drills started to wrap up and it became obvious Luck was about to start throwing, one fan shouted: "Get ready for the most anticipated pass."
Luck did not speak with reporters after the workout though he was more talkative than usual on the field.
He started the afternoon with a brief conversation with Reich and could be seen discussing specific plays with receivers and offensive linemen throughout the afternoon.
Reich liked most of what he saw.
"Really good," he said. "Being under center, running team periods, making plays, seeing him hit the big play to (Eric) Ebron, you know, taking control of the huddle, making some checks at the line of scrimmage, just doing what he does. I mean you could see it in his demeanor, you could see it in his eyes, working through his progressions. He was sharp."
Luck is expected to throw again Friday. He will participate in Saturday's practice, but will not throw and then will return to full action Sunday night when the Colts are scheduled to practice in pads.
The hope is he will be ready to play in the Colts' preseason opener Aug. 9 at Seattle.
"Working together for so long, we just went through a walkthrough for an hour and as soon as we did it, it was like old times. Same cadence," Kelly said before practice. "It's crazy how fast things come back to you."
Please enable JavaScript to view this content.