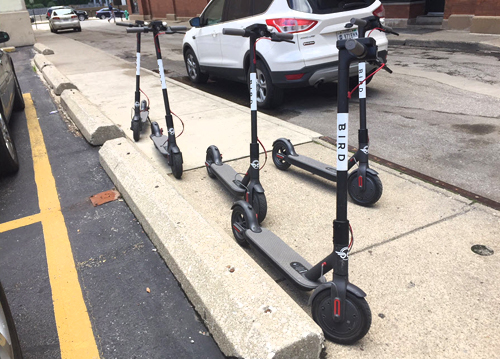 Electric scooters could soon be back on Indianapolis streets, as Wednesday marks the first day that scooter-rental companies are expected to be able to submit applications to the city for a license to operate their businesses.
Both Bird and Lime—the two California-based companies that made scooters a hot topic when they brought hundreds of the vehicles to Indianapolis in June—say they plan to submit license applications. The companies sidelined the scooters last month while they waited for the City-County Council to come up with regulations.
The Department of Business and Neighborhood Services told IBJ that the administration plans to release the license application Wednesday, following the City-County Council's mid-July approval of a permitting structure, which will require licensed companies to pay a $15,000 annual fee, plus $1 per scooter per day. The city plans to use the fees to help improve its bike lanes.
The new ordinance also imposes a $25 fee on the companies when riders illegally operate scooters.
Brian Madison, director of the Department of Business and Neighborhood Services, said the administration has been "working diligently to develop the application" since the council action.
"We'll at least get a couple of applications," Madison said. "There could be more."
The applications ask, among other questions, whether the company has had a prior license or application in another city denied, suspended or revoked.
"We hope to review applications and issue licenses within a week, assuming there are no issues with third-party actors such as insurance or bond companies," according to Brandi Pahl, communications officer for the department.
A spokesperson for Santa Monica-based Bird, the first company to launch its services in the city, on June 15, said it is prepared to return to Indianapolis and pay the $1-per-sccoter-per-day fee, largely due to a previous commitment to share revenue with the cities in which they operate.
"We proactively have set aside those amounts already for Indianapolis, and every city in which we operate, as part of our SOS (Save Our Sidewalks) pledge because we believe that our industry should help cities build more bike lanes, promote safe riding, and maintain our shared infrastructure," the company said in a written statement.
Bird, which operated an estimated 500 scooters in the city before removing them, declined to say how many scooters it planned to operate in Indianapolis. The company said it is "aiming to have enough scooters to ensure proper supply for all Indianapolis riders."
San Mateo-based Lime told IBJ on Tuesday that it plans to apply for a license and is determining how many scooters to bring back to the city. The company had a fleet of 300 scooters in Indianapolis last month but said data indicates there's demand for even more.
Lime officials once again made it clear that they aren't happy with the fee structure approved by the City-County Council.
"We have expressed, and continue to express, concerns about the fee structure in the ordinance," it said in a written statement. "The fees would be six times higher than the fees collected in any of the more than 70 U.S. markets Lime operates in. Lime is not opposed to permit fees; however, we believe the costs of operating in Indianapolis may deter future investment and innovation from companies who wish to bring their cutting-edge technology to the city."
Both Bird and Lime charge users $1 per ride, plus 15 cents per minute. The dockless scooters are activated and paid for through a mobile phone app.
Please enable JavaScript to view this content.