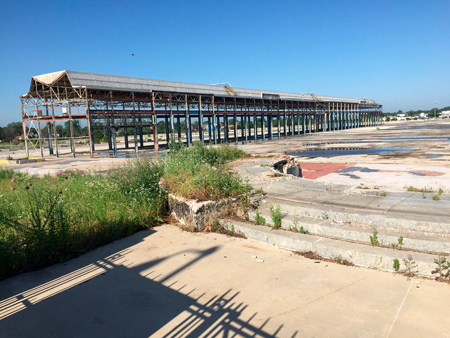 As Indianapolis economic development officials worked behind closed doors to develop a pitch to attract Amazon's HQ2 to locate here, they used a "war room" at a downtown creative agency.
They referred to meetings there by names like Project Wolverine and Project Hazel. At one point, they asked Mayor Joe Hogsett to stop by to film an "Indy love letter" as part of their proposal. And they considered that Amazon wanted to be seen as a "hero" in redeveloping an urban community.
Details of the Indianapolis bid to attract tech behemoth Amazon to build its second headquarters here have so far been hard to come by, as city officials have signed nondisclosure agreements with the company.
But the emails and calendars of top city officials obtained by IBJ in a public records request show a flurry of activity going on behind the scenes—and officials' excitement at months later landing on Amazon's short list of 20 cities still under consideration.
"I now know what it feels like to be someone holding a lottery ticket while a live draw is going on," Thomas Cook, chief of staff for Mayor Joe Hogsett, emailed one stakeholder. "We've matched the first four numbers and know we're a winner no matter what, but it sure is fun to think about what running the table would mean."
The emails to and from key city staffers including Cook, Deputy Chief of Staff Taylor Schaffer, and Deputy Mayors Angela Smith-Jones and Jeff Bennett, and the calendars of Hogsett and Cook reveal a number of key details (although it's not clear what ended up in the actual bid):
—Officials scheduled at least eight meetings at a downtown "war room" at Innovative, a marketing agency that helped develop the successful bid to win the 2026 NCAA Final Four. Several of the calendar notations for the meetings explicitly listed Amazon as the subject.
—City and economic development officials discussed possible "creative" incentives the team could offer Amazon, including building a homeless shelter and charter school on the proposed site and building a pedestrian bridge over the White River.
—A few potential sites besides the oft-cited GM stamping plant were at least briefly considered by city officials, but that one rose to the top.
—City officials attempted to meet up with an Amazon official during an unrelated visit to Seattle.
The emails and calendars show city officials were engaged in trying to put together an Indianapolis-area bid as soon as Amazon released its request for proposals Sept. 7.
On that day, Maureen Krauss, chief economic development officer at Indy Partnership and the point person on the Amazon bid, emailed officials from the Indy Chamber, TechPoint and the city, saying, "We are looking at their proposal," and, "Everyone on this thread needs to be part of the team."
The group arranged a spur-of-the-moment meeting at the chamber office that day to discuss Amazon HQ2.
The next day, Sept. 8, Indy Chamber President Michael Huber and site selection expert Larry Gigerich tried to get a meeting with the mayor to discuss the RFP.
In October, Gigerich emailed Schaffer to invite Hogsett to the Amazon team's "war room at Innovative," to participate in taping a message for an "Indy Love Letter that we are using in the proposal," according to the invitation.
"Indianapolis … you are not shy," read a script of the "love letter" attached to Gigerich's initial invite. "Your name is a stranger to no one. Yet somehow you still have your secrets … You helped engineer an industry and your voice can still be heard around the globe even when you are silent." 
Schaffer did not immediately reply to IBJ's request for comment about whether Hogsett ended up recording the letter, but his calendar indicates he had plans to visit the Innovative headquarters at Gigerich's prescribed time and date on Oct. 9. An accompanying memo described the meeting as a "review" of an "Amazon Digital Campaign."
Innovative was listed as the destination for multiple meetings in both Cook's and Hogsett's calendars over the next six months. Cook's calendar lists six meetings at Innovative, though it is not clear if each meeting was directly related to the Amazon HQ2 proposal.
On Feb. 21 of this year, Cook had a scheduled meeting at Innovative under the title "Project Wolverine." The project name reappeared on Feb. 28, listed at the same location and during the same time frame.
On March 21—during the week sources previously told IBJ that Amazon officials visited Indianapolis—Cook was invited to a meeting at Innovative called "Project Hazel Preparation."
Hogsett's calendar lists him as "out" during the same period as the Project Hazel preparation meeting, but it is unclear where he was at that time. Schaffer told IBJ in an email that "out" indicates a "non-governmental event where Mayor Hogsett is acting outside his official capacity at a personal meeting, appointment or event."
IBJ could not confirm whether the code names Project Wolverine or Project Hazel refer to Amazon. Stephanie Califar, who was listed as a contact for the Project Hazel gathering, told IBJ on Friday she would not confirm what the names meant. At the time of the meeting, she was serving as an economic development events manager at the Indy Chamber, but she no longer works there.
The bid process apparently wasn't all pleasant. Cook in January of this year sent an email with the subject line "Amazon meeting," asking whether any city employees were attending.
"I have no interest in (or intention to) attend this boondoggle of a meeting tonight," Cook wrote. "But someone is going, right?"
Meeting with Amazon
Shortly after Amazon released the RFP, fate seemed to align for city officials to meet with an Amazon official, Juan Garcia, during an unrelated Indy Chamber group event in Seattle.
Gigerich, founder of economic development firm Ginovus LLC, said he was fine with city officials meeting with Garcia privately "since it was already in motion." But he encouraged caution.
"Let's glean what we can in terms of helpful information but not ask direct questions regarding the project," Gigerich told Smith-Jones and EmployIndy CEO Angela Carr-Klitzsch in an email. "We need to continue to respect the process."
"You are the traffic controller," Smith-Jones replied. "I don't want to make any moves or decisions without consulting you."
Gigerich was in Seattle on Sept. 27 and emailed city and chamber officials after his "3.5 hour behind the scenes tour of Amazon's HQ campus in downtown Seattle."
The 40-point email contained details about Amazon's culture, its employees' transit activities, and oddities about the first dog to work at Amazon—a Welsh corgi named Rufus.
Point 13: "The company wants to be viewed as a 'hero' in the process of redeveloping urban communities," Gigerich wrote.
Possible sites
From the beginning, the GM stamping plant site on the west side of downtown appeared to rise to the top as an ideal location for the plant.
Barnes & Thornburg LLP lawyer Robert H. Reynolds wrote in an email to Visit Indy CEO Leonard Hoops that "it sounds as if [HQ2] would be a knockout for the stamping plant site."
"Any thoughts on the possibility?" Hoops wrote to Cook, forwarding the email.
Cook replied that "much will depend on productive state-local cooperation" and that various central Indiana localities would hear Amazon wanted a "'big greenfield site' and start salivating."
"I'm hopeful that we can put forward a united effort at the state level that doesn't dilute the strongest sites on paper, which I selfishly believe are all in downtown Indy," Cook told Hoops.
Lisa Laflin, executive director of West Indy Development Corp., emailed Cook and Bennett with the subject line "Amazon and GM."
"Need I say more?" she wrote.
Cook replied that he had "certainly flagged this location and its potential."
But some city stakeholders were also proposing other possible sites.
Ike McCoy, a mayor's neighborhood advocate, told Cook the Stadium Village Business Association wanted to propose the Lucas Oil Stadium area as a potential site.
Midtown resident Doug Day emailed Bennett and other city officials to propose a "crazy idea" to locate Amazon HQ2 at 37 acres near the Indiana State Fairgrounds.
"Good transit," Day wrote. "Crap neighborhood. Could buy all the property on the right side of Sutherland for a song."
Bennett said it was "an idea certainly worth discussing."
Amenities and incentives
As the bid team was putting together its pitch in September 2017, Gigerich emailed an "RFP response process overview" to Cook and other officials, which he described as a "living and breathing document" to organize the pitch.
The document showed various teams working on real estate, capital and operating costs, incentives, talent, logistics, time-to-operations, cultural community fit, community quality of life, communication, proposal packaging, and a list of people who could provide potential testimonials for the bid, including Salesforce CEO Marc Benioff, tech entrepreneur Don Brown and former Gov. Mitch Daniels.
The incentives team was tagged with exploring "creating solutions/ideas," including "sales tax increment financing, [county option income tax] increment financing, a grant paid from hotel tax and car rental tax revenue generated by Amazon, the potential of giving free land or buildings, infrastructure improvements paid for by the city, permit fee waivers and property-tax increment financing."
But those creative ideas also included proposals that weren't just financial.
For instance, one potential idea was providing STEM education in all central Indiana high schools by a specific date, giving incentives for graduating students and universities to remain in Indiana and work for Amazon, approving a K-12 charter school on Amazon's campus, funding talent-related initiatives, developing an industry-recognized certificate or credentialing program using an "Amazon University" concept, building a pedestrian and bike bridge over the White River funded by the Indiana Department of Transportation, and creating and funding a public park adjacent to the campus.
The emails show a desire to include in the region's showcase a proactive approach to tackling city problems like homelessness.
Bennett emailed the Amazon team a plan to double the number of permanent supportive housing units for homeless residents from 600 to 1,200 "with Amazon's support."
Bennett's email also acknowledged "one long-standing gap that remains unfilled in our local system," that Indianapolis is one of few cities without a publicly funded emergency shelter.
"In partnership with Amazon, we would address this by proposing a 250-bed emergency shelter on the new campus," Bennett wrote. "If construction is financed, designed and built as part of the overall campus development, the city of Indianapolis would commit public resources for its ongoing operation."
Bennett said "we'd need to be careful who is living in the shelter we proposed that would be located so closely to the charter school we propose."
Please enable JavaScript to view this content.