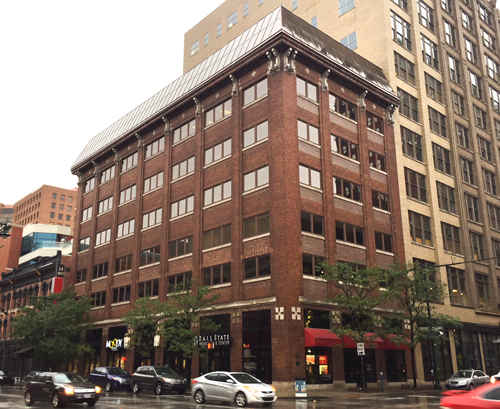 The 50 South Meridian office building in downtown Indianapolis has been acquired by a new ownership group that plans to make "significant improvements" to the seven-story property on the northwest corner of Meridian and Maryland Streets.
A joint venture between St. Louis-based Integris Ventures and New York-based Starlight Equity Partners paid about $3.1 million to purchase the 50,000-square-foot building, which is known as the Meridian Centre.
 
The seller was Corporate Park Development Inc., a local investment group and property manager that has had ownership in the property since 1983. Corporate Park Development is winding down operations.
The joint venture will manage the property and Rich Forslund and Matt Langfeldt of Colliers International Group will handle leasing. The building is about 75 percent occupied.
 
The property's most visible tenants include the Ball State University Indianapolis Center and optometrist Moody Eyes, which both occupy the ground floor. Several law firms also occupy the building, including Doninger Tuohy & Baily LLP, Fehribach Group, William W. Hurst, Threlkeld Stevenson, and Cline Law Group.
The new ownership group includes Starlight principal Jason Litwack, an attorney who previously invested in hundreds of residential rental properties in Indianapolis as part of BLT Homes LLC, and Integris partner David Tomlinson, a Butler University alum.
The joint venture is making its first investment in the Indianapolis market, but plans to make as many as four to five more over the next 18 months, according to Tomlinson, who said he was "bullish' on Indianapolis.
The new owners plan to renovate and contemporize the building's main lobby, take care of deferred maintenance and upgrade common corridors and signage. Renovations are expected to begin next month and be completed by early next year.
The owners don't plan to shed the Meridian Centre name, but will play up the building's prominent address more in new marketing efforts.
"We're very excited about unlocking what we think is some incredible potential at 50 South Meridian," Litwack said in written remarks. "The location is outstanding, and we are big believers in Indianapolis."
The site previously was occupied by the Daniel Stewart Co. Store Building, which was built in 1908 and designed by Rubush & Hunter, the former Indianapolis architectural firm  that worked on many of central Indiana's best known historic buildings. After Corporate Park Development acquired the building in 1983, it preserved the façade, but demolished the rest of the structure before reconstructing it in its current form.
Please enable JavaScript to view this content.