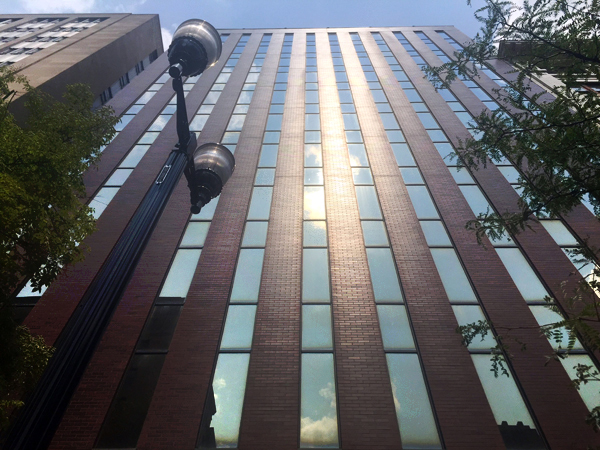 A hotel developer is investing $20 million to revive a 120-year-old office building in the core of downtown Indianapolis as a 128-room property in Marriott's millennial-friendly Aloft brand.
Everwood Hospitality Partners told IBJ on Monday that it had purchased the vacant, 12-story Stock Yards Bank & Trust Building at 136 E. Market St. for $5 million and planned to begin a $15 million renovation in the fourth quarter of this year.
Completion would be targeted for the third quarter of 2019.
Everwood officials said they started their search for a suitable downtown location to develop a hotel more than two years ago. After reaching a preliminary agreement with the Stock Yards building owner, they waited for two years for the leases of existing tenants to expire or for them to negotiate an exit.
Everwood now plans to essentially gut the interior of the building to remake it as an Aloft hotel, which the firm would own and operate as a franchisee of the Marriott brand.
"It's a storied building, and we like the location," said Amit Govin, an Everwood principal. "It's just two blocks away from Monument Circle. And we think we can bring something that's different to the city."
Aloft skews to younger travelers with high-tech features that can integrate with smart phones and smart watches. Aloft hotels also feature music stages for local and touring performers.
In the Stock Yards building, a mezzanine level will overlook the hotel bar and music stage, Govin said.
The eastern half of the Mile Square is not nearly as populated with hotels as the western half, but several operators have staked claims in the area in recent years with modest-sized properties—including two within a block of the Stock Yards building.
San Francisco-based Kimpton Hotels & Restaurants announced in December that it would convert the 109-year-old One North Penn building—located a block south of the Stock Yards building—into a 130-room hotel. It's set to open in early 2020.
In 2016, a 102-room Home2 Suites hotel opened at 115 N. Pennsylvania St., just around the corner from the Stock Yards building. And two blocks to the south, a 316-room dual-branded Hyatt Place and Hyatt House is under construction across Pennsylvania Street from Bankers Life Fieldhouse
Govin said he was not troubled by the competition.
"Downtown has had a multicycle history of absorbing high-quality hotel supply," he said.
Nor have local hospitality officials been concerned with overbuilding in the hotel market. In 2017, downtown hotel occupancy of 74.4 percent, which many have taken as an indicator that the market can handle more rooms.
That was up from 73.5 percent in 2016. And year-over-year downtown hotel occupancy has increased consistently since the 1,004-room JW Marriott opened in early 2011. In 2010, downtown hotel occupancy was 65.3 percent.
Founded in 2014, Everwood currently has 14 hotel properties in its portfolio, split between projects that are already open and those still in development.
Three existing hotels are located in Columbus: a Sleep Inn & Suites, a LaQuinta Inn & Suites and a Fairfield Inn & Suites. Others are located in Texas, Oklahoma, Tennessee, Florida and North Carolina.
Everwood's principals maintain two primary offices—one in Columbus and the other in New York City.
An affiliate of Everwood closed on the purchase of the Stock Yards building on Aug. 3. The seller was 136 E. Market LLC, which bought the building from Crown Stock Yards LLC in March 2015.
Early in its history, the structure was known as the Law Building and featured a law library on its top floor. The building was designed by Louis H. Gibson, who also was known as a prolific architect of homes in the Herron-Morton and Old Northside neighborhoods.
Peoples Bank & Trust Co. bought the building in 1920 and remodeled the brick façade in the 1970s, according to the Monument Circle District Preservation Plan.
Stock Yards Bank & Trust subsequently took up residence in the building. Peoples was acquired by Fifth Third Bank in 1999.
Please enable JavaScript to view this content.