The residential security market is growing fast.
Defenders, a local family-run company specializing in home security and smart-home technology, is growing faster.
Fueled by a plethora of new digital and wireless technology, the home-security industry is growing 5 percent to 10 percent each year, according to multiple sources.
Defenders, which was founded by husband and wife Dave and Jessica Lindsey in 1998, has grown at a 20 percent annual rate the past two years, with revenue projected to exceed $600 million this year.
And with security systems in only 22 percent of U.S. households and home-automation technology taking off, Defenders CEO Jim Boyce is confident there is still plenty of room for growth.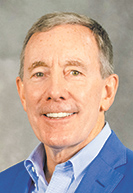 Boyce
"This is a great, great business," Boyce told IBJ. "There are tons of innovations going on within this industry and that's going to push growth."
But the potential has spawned a plethora of new competitors, from cable television providers such as Comcast, to telephone companies including AT&T and Verizon, and the latest—internet retail behemoth Amazon.
The leaders at Defenders aren't overly concerned.
"We are excited to see new entrants in the home security industry," Boyce said. "We believe these brands will increase consumer interest for security and smart-home solutions and help grow the overall category."
All of Defenders' revenue comes from residential security systems installed nationwide, a total the company predicts will hit 2 million next month.
It has no immediate plans to go into corporate security.
"We're good at residential and the category is growing," Boyce said. "We feel it's underpenetrated. We can achieve our near-term and midterm growth goals in residential. We're going to stay focused."
And that means more than security. Of its clients, 85 percent employ some "smart-home component," Boyce said. That could include the ability to disarm the home alarm, lock a door, or look at security camera footage via a cellphone.
But increasingly, Boyce said, smart-home components include the ability to adjust components like lighting, heating and air-conditioning, and appliances and devices.
Defenders projects up to 97 percent of its clients will have some form of smart-home technology within 12 months.
"We think the residential security business will continue to grow and the growth will accelerate because there will be more smart-home components," Boyce said.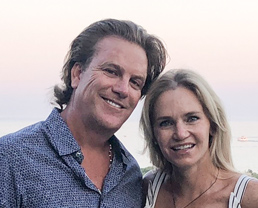 Dave and Jessica Lindsey founded Defenders in 1998. (Photo courtesy of Defenders)
That's pretty impressive penetration considering Defenders didn't get into smart-home devices until 2014.
The company then backed off of those sales for a time to re-evaluate and retest the market. This year, it has jumped back in full force.
"We're a test-and-measure company," Boyce said. "We test everything. We do a lot of analytics."
That testing extends to almost every aspect of the company, from sales and marketing (including how to handle in-bound calls and its sales pitch) to product offerings and customer service.
That approach "assures we never under-protect a family or never oversell a system people don't need," he said.
While the future is bright, Boyce admitted Defenders' 20 percent year-over-year growth rate could be difficult to maintain.
"That's not because the business isn't healthy; it's just that the number gets so big," he said. He's confident Defenders will continue to grow faster than the industry average.
To meet growing demand, Defenders—which has 2,840 employees overall, including nearly 900 in Indiana—has doubled its number of installers and at-home consultants in the last year to 1,755, Boyce said.
The sky is falling?
Defenders exclusively uses equipment made by ADT Inc. And ADT provides the monitoring service for all Defenders customers, who typically pay $99 to $700 for installation, depending on home size and product choices.
ADT monitoring costs start at $27.99 per month, Boyce said.
While close to two-thirds of the home security industry is still controlled by local and regional players, the growth potential has attracted some large companies and brought consolidation.
Most notably, Amazon this year acquired home security brands Blink and Ring—startups that offer web-connected doorbells and cameras—and announced a home-security offering with monthly monitoring as low as $10.
The move "is high up on the radars of people in this industry," said Jillian Bateman, chief development officer of the Electronic Security Association, a national trade group.
"Amazon is absolutely a disrupter, so we're very closely monitoring what they're doing," Bateman said. "It will be interesting to see if people trust Amazon with their home security."
Some think traditional security companies should be concerned.
"The difference [with Amazon] is their reach," Chris Johnson, president of the Direct to Consumer Division of Brinks Home Security, said at a recent industry panel.
"As much as we have seen of the SimpliSafe TV commercials, that reach is nothing compared to Amazon," he said. "We need to figure out what our competitive advantage is, because the sky might actually be falling this time."
As a company that covers much of the lower 48 U.S. states—with the exception of parts of the Dakotas—Defenders is likely to run up against Amazon sooner or later.
Chris Ward, publisher for SDM, a trade publication that covers the electronic security industry, said it "has changed drastically in the last five years."
"New competitors are coming out of the woodwork," he said. That, along with the do-it-yourself movement, he added, has in some cases "been detrimental to the traditional security dealer."
He called Defenders' revenue growth in the face of that increased competition "very aggressive and ahead of the curve."
One element that has helped home-security companies continue to thrive in the face of the DIY movement, Ward said, is monthly monitoring charges.
"Recurring monthly revenue is where a good number of security companies get the majority of their revenue," he said.
But Defenders doesn't have that luxury. In its arrangement with ADT, the latter gets all the monitoring revenue.
A different model
Defenders is focused on its own goals, Boyce said, not fretting about the competition or changing landscape.
The installation market is robust, Bateman said, adding that "companies with really good reputations and great stories to tell like Defenders can really benefit from all the mass advertising done by some of the new entrants—DIY and traditional. … It raises the awareness of the entire security and home automation industry."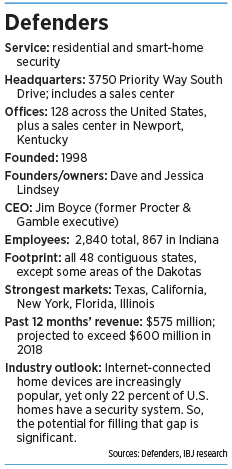 Boyce said he has four fundamental reasons for believing Defenders will continue to grow no matter the competitive landscape.
Number one is that the company is hyper-focused on its employees.
"Businesses don't grow; people do," he said. "We are focused on self-improvement. That is the single biggest reason we outgrow the companies we compete with."
Boyce, a former executive with publicly traded Convergys Corp. and Procter & Gamble, said of Defenders: "I've never been anywhere where the commitment to grow talent personally and professionally has been so high. It's real and tangible."
To celebrate its 20th anniversary, the company rolled out generous employee perks: It is awarding $20,000 each month this year to one employee who exemplifies the company's passion or core values. Additionally, it is each month choosing two employees involved in a charitable cause and rewarding them with $20,000 apiece to donate to the charity of their choice.
Defenders also created the Super Service Challenge, encouraging employees to submit videos of their service to a not-for-profit. Each quarter, the company donates $20,000 to the charity whose video gets the most votes.
The second reason for Defenders' growth, Boyce said, is the company's focus.
The third is its tested systems, which create consistent high-quality and predictable service, he said. And the fourth reason, he added, is the company's effort to build relationships.
"We believe God made us for relationships," Boyce said. "Our owners urge us to serve together. That's at the heart of why we are successful."
And Defenders isn't bashful about trumpeting its offerings and virtues.
The company, Boyce said, has "an unlimited advertising budget for programs that work. I realize that's highly unusual not to set a limit on marketing, but that gets back to our testing."
About half of Defenders' advertising spend goes to digital and half to traditional media, he said. He declined to say how much Defenders has spent in recent years, only calling it "multi of multi millions of dollars."
"You would be surprised by the number," he said. "It's very significant."•
Please enable JavaScript to view this content.