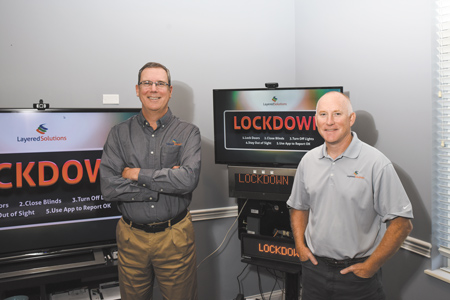 A Carmel-based company is helping schools and other industries streamline and enhance their mass-notification and emergency-management systems with products that could make it easier and faster to communicate in a crisis.
Layered Solutions Inc., founded by president and owner Jerry Geis in 2015, upgrades a client's existing infrastructure—public address systems, computers, fire-alarm systems—with software that can allow school leaders to reach their audience from anywhere with a tap of a button on a computer or mobile phone.
The software also lets clients integrate and monitor communications and emergency-management tools from a single dashboard rather than multiple dashboards.
When a school (or any client) contacts Layered Solutions, the team works with leaders to map out crisis scenarios and responses, so they can program messages and instructions that can be sent instantly. Those messages can go to mobile phones, LCD panels installed in buildings, or computers.
The products can also provide camera views and facility maps to first responders and automatically connect them with administrators.
The company has served hundreds of clients across the country and expects to introduce its products to more Indiana schools in coming months.
Most recently, the company added Guerin Catholic High School in Noblesville to its client list. Leaders at the school are looking at ways to enhance their school safety plan with the products. And Geis and his team are in talks with other Indiana schools, including those in Franklin Township, Brown County and Greensburg.
Layered Solutions' other clients include Washington, D.C.-based Gallaudet University, Southern Ohio Medical Center, St. Vincent Hospital in Indianapolis and the Colorado School for the Deaf and Blind.
The company's 16 products, which can be implemented together or separately, include a wireless panic button; PC Alert, which pushes emergency alerts and instructions to multiple PC screens; and a new mobile app that allows administrators to send emergency instructions that pop up on members' mobile and computer screens.
The app also enables team members, such as teachers, to report their status ("I'm OK," for example) through the push of a button. Users can send their GPS location, name and cellphone number to first responders to help emergency workers locate them.
One example of how Layered Solution's products with clients' existing safety systems is the Fire Alarm Systems Integration. The product not only allows a school to monitor all fire panels and alerts from a centralized desktop or the mobile app, it also enables school leaders to temporarily interrupt the noise coming from fire-alarm systems to get a message out, either through the fire panel or over a public address system.
That type of solution might have made a difference in Parkland, Florida, in February, when a shooter pulled a fire alarm in a high school before killing 17 people.
Many believed they were evacuating for a fire, unaware an active shooter was on campus.
"They needed a way to stop the fire panel noise, because that's active, and be able to speak a message on either the PA system or the fire" evacuation system, Geis said. "Our system can do all that. We can interrupt those fire panels so they can temporarily—that's key, temporarily—stop the fire panel audio … to let people know to change their behavior."
Packages are tailored to a school's needs. In most cases, the schools need only to buy software licenses from Layered Solutions, so the products are budget-friendly, said Chris Bohn, the company's CFO.
Depending on how many products schools want and how many staff members they want trained to use them, the price tag can range from as little as $5,000-$10,000, up to $200,000, Bohn said.
The products also are all scalable, enabling a school or business to add more as budgets allow.
Equip and protect
Geis said he's been working on the technology Layered Solutions now offers for 24 years, long before he opened his doors at 1610 E. Greyhound Pass in 2015.
He graduated from Purdue University with a degree in electrical engineering, then worked for several years at Bayer on blood-glucose monitoring devices. He later worked at Thomson Consumer Electronics.
He built what's become Layered Solutions in his spare time, he said.
His work started in deaf schools, where he crafted messaging systems through LED signage that acts as a visual public address system.
As technology has changed over the years, he's added more products to the company's lineup, especially as educators and parents call for buildings to be safer and better equipped to handle emergencies.
At Colorado School for the Deaf and the Blind, leaders were looking for ways to communicate with staff and students quickly but needed a system that could overcome the varying challenges they face.
Layered Solutions offered the school LED signage with speakers and a flashing lighting system that can be used during a crisis or in routine communication. The system allows the school to communicate with all students and staff at the same time.
The company also equipped the school with computer alerts with automatic pop-up messaging that can be used during an emergency, notifying teachers to lock down, for example, and a building-access system that notifies staff and students with voice and visual alerts when doorbells are pushed.
Now, Layered Solutions is offering its products to even more schools through a partnership with Indianapolis-based ESCO Communications, which provides integrated audiovisual communication to educational, health care and commercial facilities as well as entertainment and sports venues.
Mike Harmon, chief sales and marketing officer for ESCO, said he met Geis and Bohn a few years ago and, together, the two companies have worked with several schools. Lately, much of that work has focused on school safety, Harmon said.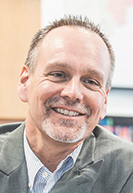 Harmon
ESCO, for example, might work with a school to install video surveillance, and Layered Solutions can then offer the school its Security Camera Integration product, which enables administrators or first responders to pop up live views of those cameras on their PCs or cellphones.
Layered Solutions "takes some of the things we've offered for years and … enhances it," Harmon said.
Lots of options
Recently, when Guerin Catholic High School contacted ESCO looking to replace its intercom system, school leaders were also connected with Layered Solutions.
Guerin Director of Technology Justin Dammeier said they liked the flexibility of Layered Solutions' products, and that the school could start with a new public-address system and add on.
"We can start very simple, and it gives us lots of options as to what we can do with a paging and intercom system and then jumping off into security," he said.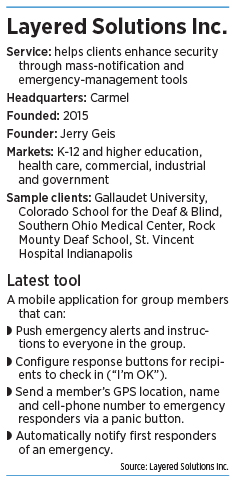 Already, the school has tied all its security cameras into Layered Solutions' software, which enables administrators (and law enforcement, if necessary) to load a map of the security cameras from anywhere and easily gain access to the footage on a computer or the mobile app.
Accessing the footage through their standard camera system could be cumbersome, but Layered Solutions' system has made it faster and easier, Dammeier said.
"It's a really simple way to have eyes throughout the building for anyone who needs it," he said.
Dammeier said the school's safety team is still considering other products, including giving the mobile app to teachers, as well as emergency signage that can be integrated into the school to streamline safety protocols.
In analyzing the May 25 shooting at Noblesville West Middle School, he said, where a 13-year-old injured a teacher and student, "we're able to really take their experience and take a look at all of our tools and figure out how to maximize that for the safety of our kids."
Layered Solutions is also now part of the National Systems Contractors Association's Partner Alliance for Safer Schools, which provides guidelines to security companies installing products in schools.
"They play a big role not just here locally but potentially nationally for helping improve the safety of our schools," said Harmon, who is on the alliance's steering committee.
ESCO is one of a handful of partners Layered Solutions works with to integrate its products. St. Louis-based Potter Electric Signal, which sells fire alarm systems, is another.
Other clients
The products Layered Solutions offers to schools can also be used in other industries, including government, health care, industrial and commercial.
One of its clients is St. Vincent Indianapolis Hospital, which uses its mobile app, PC Alert and other products.
PC Alert allows leaders to send messages to thousands of computers across the hospital's system at once, if necessary.
But the products have daily use, too.
The mobile app is used by nurse managers looking to fill shifts. With a push of a button, they can alert every nurse there is an open shift and get a response quickly, Geis said.
And in industrial settings, Layered Solutions has implemented LCD panels and digital signage that can send messages as simple as alerting employees to take a water break.
"Our products can be used really in many industries," Geis said.•
Please enable JavaScript to view this content.