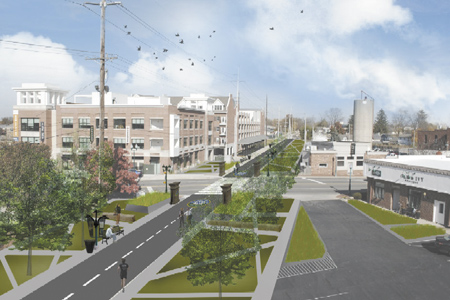 Opponents of the Nickel Plate Railroad corridor being converted into a recreational trail have asked state lawmakers for help preventing the train tracks from being removed.
Sen. Mike Crider, R-Greenfield, and Rep. Cindy Kirchhofer, R-Beech Grove, sent letters this week to the Indianapolis City-County Council encouraging councilors to investigate whether Indianapolis owns any portion of the Nickel Plate Railroad and should have had representation on the Hoosier Heritage Port Authority, the quasi-government group that has long managed the rail line.
Fishers, Noblesville and Hamilton County, which control the track that runs for 37.5 miles from Tipton to Indianapolis, agreed last year to convert the portions of railroad that run through their communities into a trail. Fishers has already chosen firms to lead the planning phase.
But members of not-for-profit Save the Nickel Plate, which was founded following the February 2017 announcement of the plan, haven't given up a battle to prevent the tracks from being removed. Save the Nickel Plate has argued if the trail is going to be built, it should be constructed adjacent to the tracks, not replace them.
Save the Nickel Plate representatives took their fight to state lawmakers and got responses from Crider and Kirchhofer. Their letters urged City-County Council to investigate whether Indianapolis should have more input into the rail corridor's fate.
"I have fielded inquiries from the public on this topic and would like to request your support in protecting the city of Indianapolis' interest in relation to the Nickel Plate Railroad," Crider wrote.
Crider wrote that he learned from a constituent that it's possible Indianapolis should have had two representatives on the Hoosier Heritage Port Authority since the late 1990s, but the city never appointed anybody.
"The city of Indianapolis needs to investigate its status as a member of the authority, and if indeed a member, assert its right to representation within this body," he wrote.
The content in Kirchhofer's letter is nearly identical to that of Crider's.
Fishers officials say the involvement of state lawmakers is another attempt by those opposed to the development to try to stop it. Indianapolis hasn't ever been an owner of the rail line, Fishers Mayor Scott Fadness told IBJ.
"The city of Fishers, the city of Noblesville and then Hamilton County are the rightful and exclusive owners of the rail line," Fadness said. "It's pretty clear Indianapolis has never been a part of that."
The confusion sparks from a 1996 decision by the Hoosier Heritage Port Authority to bring Indianapolis into the group, a decision that needed to be ratified by Fishers and Noblesville through city ordinances.
Fishers and Noblesville, who jointly purchased the Nickel Plate Railroad in 1994, never approved ordinances doing so, Fadness said.
Indianapolis Mayor Joe Hogsett's spokeswoman, Taylor Schaffer, confirmed as much, saying, "My understanding is (that at) some point in the late 1990s that group (Hoosier Heritage Port Authority) was founded. There was some kind of buy-in structure. Fishers and Noblesville chose to do that. Indianapolis did not. As a result, Indianapolis has never been involved in that organization."
Crider told IBJ he decided to get involved after hearing from constituents who have concerns about the corridor being rail banked.
"In the discussion about transportation in general, the idea that we're going to need even more capacity in our rail system and the idea of more freight moving across the infrastructure system, I question whether we should give up a corridor at this point," he said. "Have we explored all of our options? Is this our best use?" 
As of Thursday afternoon, he hadn't heard back from anyone in Indianapolis, he said.
But the letters did leave some Indianapolis officials confused.
The city's Department of Public Works has been communicating with Fishers for some time about the rail line's future and agreed to submit a letter to the Federal Surface Transportation Board last week supporting the current plan.
 But councilors say they haven't been part of those conversations.
"It's very frustrating," said Democrat Councilor Jared Evans. "I have not been able to figure out who authorized the letter."
He said Indianapolis needs to bring a coalition together to look at what should happen with the line. He would like to see rail and trail through Indianapolis and said there is plenty of room in the right of way to accomplish that.
"Regardless if we are a part-owner or not, the city should be thinking about the best use of the line in Indianapolis," he said. "The city needs to take a step back and do a feasibility study."
Please enable JavaScript to view this content.