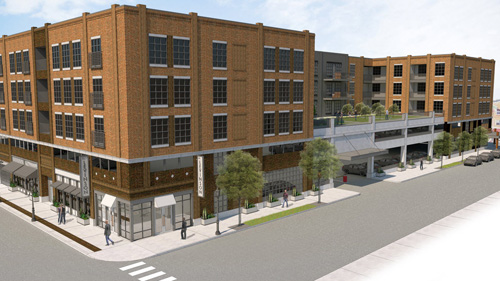 Fishers-based Rebar Development and the city of Noblesville are partnering on a $24.3 million mixed-use real estate project that would include construction of the city's first downtown apartment building in more than a century.
The project also would provide Noblesville with its first-ever downtown parking garage. And it would bring to life city officials' longtime vision of providing more housing in the city's historic downtown, which is now dominated by restaurants and shops.
Called The Levinson, the development is expected to be introduced to the Noblesville City Council on Tuesday.
Plans call for the building to be located on the half-block bordered by Eighth and Ninth streets, Maple Avenue and the east/west alley south of Conner Street.
The residential portion includes 73 market-rate and 10 affordable-rate studio, one- and two-bedroom apartments with a rooftop deck and contemporary amenities. Additionally, a 2,000-square-foot lobby along Eighth Street would include a public exhibit about downtown Noblesville's history. 
Along Ninth Street, 5,100 square feet of commercial space would be available for retail, office or restaurants.
The project could meet some of the objectives included in Noblesville's recently released capital improvement projects plan.
"The Levinson will attract and retain millennials, empty-nesters, high-earning and workforce professionals to downtown—serving as an economic driver for Noblesville restaurants and businesses," Rebar Development President Shelby Bowen said in written comments.
The four-level parking garage would include 337 spaces. Under the plan, a minimum of 237 spaces will be available for paid public parking—a net gain of more than 165 spots for Noblesville's off-street parking inventory.
"Rebar's plans create the first new apartment building downtown in more than a century and it will help bring urban density to our square to support our local businesses, restaurants and shops," Noblesville Mayor John Ditslear said in written comments.
As part of an agreement with the developer, the city will issue an economic development bond to fund $16 million of the project, including the $13.2 million needed to build the garage. The city expects the project to garner $185,000 annually in tax increment financing dollars and provide $8.8 million in new assessed tax value to the city.
The Levinson is named after one of the pioneer families in Noblesville. Nationally known attorney, Salmon Oliver "S.O." Levinson, donated his family's former homestead to the city in 1938. A portion of the land was used as the former City Hall site before becoming a public parking lot.
"As the family's success and contributions were a source of pride in our community long ago, so, too, will this building named after them. The look and name pays homage to downtown's history as we prepare for the next 150 years," Ditslear said.
If approved by the council, construction is expected to start in March with plans for the garage to be completed and open by January 2020. The apartments are anticipated to open in the fall of 2020.
Please enable JavaScript to view this content.