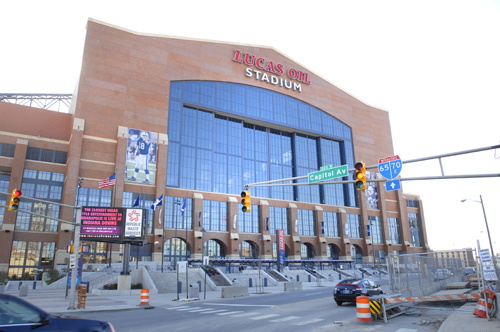 Fans attending Indianapolis Colts games at Lucas Oil Stadium this season can expect to see an overhauled menu that goes well beyond hots dogs, hamburgers, nachos and Budweiser.
Colts hospitality vendor Centerplate announced Friday that it has added several food items that don't conjure images of stadium foods. It's also adding several beer offerings from Indianapolis-area breweries.
Among the new menu items:
—    Saltado Peruvian sandwich, featuring beef tenderloin, caramelized red onion, fresh tomato and a spicy green Aji sauce;
—    Monument Circle muffaletta, with ham, salami and capicola and provolone cheese;
—    Hoosier Buffalo chicken wrap, with fried chicken and bacon;
—    Colts Forged Combo, a Johnsonville bratwurst topped with Italian beef;
—    Indy Italian Grinder, featuring local meats from Goose the Market;
—    Several macaroni and cheese dishes, including a Pigskin Bowl with braised pulled pork;
—    Kickoff Kebobs, with options of beef, chicken or vegetable.
Local beer options will come from Metazoa Brewing Co., Deer Creek Brewery, 3 Wise Men Brewing Co., Two Deep Brewing Co. and Sun King Brewery.
The draft selection will be upgraded in general  with several Goose offerings, Virtue Cider,   Elysian Space Dust IPA and Breckenridge Vanilla Porter, among others.
"The gameday experience is a top priority for the Colts, and we know that food and drink offerings are important to all our fans, corporate partners and guests," said Roger VanDerSnick, Colts chief sales & marketing officer, in written comments. "We are excited to be able to refresh our menus this season, which is our 35th in Indianapolis, in partnership with Centerplate."
Please enable JavaScript to view this content.