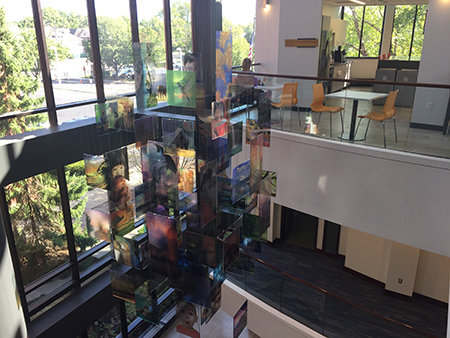 The United Way of Central Indiana is overhauling how it funds local not-for-profits, a fundamental shift toward grant applications over annual allocations that will be phased in over two years and has some social service leaders worried.
As soon as next year, the organization's 85 partner agencies could see significant changes in the amount of money they receive under United Way's new emphasis on attacking poverty comprehensively. The strategy aims to provide a collection of services to families that will simultaneously address multiple problems that lead to poverty, rather than only one concern at a time.
The change comes as United Way also cuts the amount it's allocating to partner agencies nearly 16 percent—the result of reductions in workplace giving.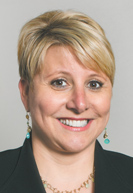 Murtlow
"This is an evolution we've been going through for some time," Ann Murtlow, CEO and president of United Way of Central Indiana, told IBJ after the organization's board approved the strategy on Aug. 24.
The framework integrates the four pillars on which the United Way of Central Indiana has historically based its decisions—education, financial stability, health and basic need—into a more coordinated approach to putting families on a path to success.
"We're building on what we have done in the past," Murtlow said.
But the funding changes tied to the new framework were not made public until after a meeting Aug. 28 when the partner agencies were officially notified.
David Siler, president and CEO of Families First, a United Way partner agency, said not-for-profit leaders weren't necessarily surprised there were changes. But he said the room was filled with "mostly stunned silence" as they learned the details.
"Everybody is just trying to process it," Siler said.
Leaders of some not-for-profits contacted by IBJ declined to comment because they did not feel informed enough to talk about the changes. Others said they worried speaking out could lead to retribution.
Traditionally, United Way has collected money from donors—often through workplace-giving programs—and redistributed it to partner agencies. That practice will continue, but how United Way decides to distribute the funding is changing.
Currently, United Way annually evaluates its partner agencies, and assigns a score that determines the funding amount the not-for-profit will receive. Fifty percent of the score is considered the base allocation that is pre-determined by the board of directors, 30 percent is based on how well the agency's work aligns with United Way's goals and 20 percent is based on a performance review.
But the new funding model, once fully implemented, will not follow that method. Instead, United Way will accredit organizations, which can then apply annually for what United Way is calling impact-initiative funding that is based on its goals of addressing poverty.
For example, Murtlow said, some of the impact funding will be based on a two-generation approach to fighting poverty. That means offering solutions for children as well as parents or caregivers at the same time so the family can make progress together.
Phased in
The funding model will be phased in starting next year, when United Way will use a sliding scale that takes into account how dependent an organization is on United Way funding. Groups with budgets that rely more heavily on United Way will see smaller reductions to help ease the transition.
All groups will then be able to apply for additional money through the impact funds.
That's why Murtlow doesn't characterize the changes as cuts for partner agencies—even though there's no guarantee groups will receive additional funding.
In 2020, the new system will be completely implemented and organizations will have to apply for impact grants.
Other funding streams provided by United Way—including the Great Families 2020 program, capacity-building and maintenance grants, contingency fund grants, and capital projects grants—will remain as long as United Way continues to receive the financial resources that back those initiatives, Murtlow said.
Those other funding options account for about half of the total amount United Way awards partner agencies each year. The other half has been based on a formula that is being phased out and replaced with the impact initiative funding.
Existing partner agencies will be grandfathered in as accredited for the first three years, but after that will have to apply. Other not-for-profits might also be invited by United Way to apply to become accredited, which means the number of organizations seeking funds could increase.
Murtlow said the accreditation process will be simpler and less of a burden for everyone involved.
But Siler, of Families First, said the changes leave a lot of questions. What's clear, he said, is that budgeting for next year will be extremely difficult.
"Nobody can even come close to saying, 'This is what this means,' in terms of dollar figures," Siler said.
Less workplace giving
The funding transition comes as United Way is awarding less to partner agencies.
The organization allocated a total of $15.4 million this year, down from $18.3 million last year. Funding for each agency ranged from a 26 percent increase to a 44 percent decrease.
Siler said Families First saw a 1.5 percent cut in United Way funding this year. But he said the group was able to absorb it because that funding makes up only 13 percent of the not-for-profit's budget.
"It's a little bit of a scary prospect if we have less funding," Siler said.
The Villages, another agency partner, suffered a 16 percent decrease in United Way funding this year. But the allocation accounts for only 1 percent of its budget.
Still, The Villages CEO Sharon Pierce said, the cut matters.
"Even when it's not a huge proportion of your budget, the resources are vital," Pierce said.
Murtlow said the decrease in allocations is the result of a decline in employee workplace giving. Donations through that program dropped from $19.9 million last year to $18.6 million.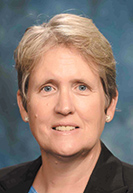 Paarlberg
Laurie Paarlberg, the Charles Stewart Mott Foundation Chair in Community Foundations at the Indiana University Lilly Family School of Philanthropy, said United Ways throughout the country are seeing the trend.
It's due, she said, to a change in the nature of office culture, with so many individuals working from home or at small companies that might not participate in United Way campaigns, as well as changes in the way many workers want to contribute—often through engagement rather than money. Paarlberg said competition for donor dollars has also increased.
That's why United Way's new fundraising model is part of other strategic changes. The not-for-profit has started incorporating the Salesforce.org Philanthropy Cloud—a platform businesses can use to engage their employees in workplace giving.
"This is a way for us to modernize and energize workplace campaigns," Murtlow said.
The platform will allow donors to find causes they are passionate about and give to those specific causes or find volunteer opportunities.
"We know today, people are much more interested in investing in causes" than in specific organizations, Murtlow said.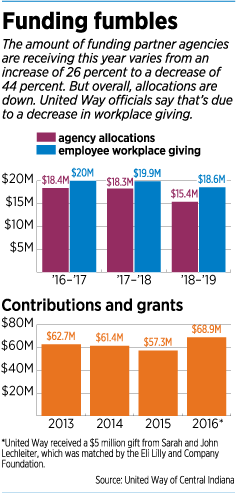 Open applications
The new approach is somewhat similar to the way the United Way of Greater Cincinnati is operating after shifting its strategy last year to focus more on poverty. Not-for-profits request funding during a certain time period, and United Way makes investments in programs that align with its approach.
In fact, Paarlberg said United Ways started making similar transitions in the late 1990s and early 2000s.
She said different United Way associations have different names for the approach, but generally speaking, the strategy uses more of an open grant-application process as opposed to designated members or partner agencies receiving set amounts annually.
The reaction to the change tends to be based on your relationship to it, Paarlberg said.
"If you're an organization that has been dependent upon United Way funding, then any change is scary and apprehensive," she said.
The handful of partner agencies that spoke to IBJ for this story said they'd like to be more involved in the United Way's decision-making and would like to see changes implemented slowly to minimize negative impacts.
Pierce, of The Villages, said she agrees that funding models need to be updated to adapt to the changes in donor preferences, and she doesn't want to resist change. But she said the transition period will be critical.
"We'll be anxious to see how it rolls out," she said.
Siler said "so much remains to be seen," but thinks there is a lot of fear among partner agencies.
Some are more optimistic. Eric Koehler, CEO of JCC of Indianapolis, said he hopes the changes spur an increase in philanthropy "and allow the JCC an opportunity to serve a wider audience as a partner to help bring positive change and impact."
United Way plans to flesh out the details over the coming months, but existing partner agencies need "to be prepared to adapt with where we're going," Murtlow said.•
Please enable JavaScript to view this content.