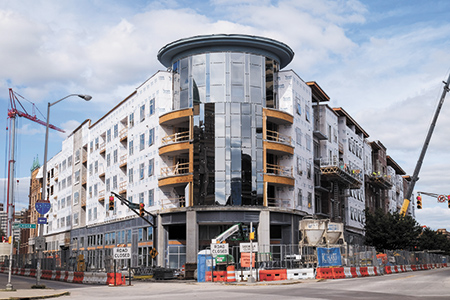 Developers of the $50 million Penrose on Mass say they've already signed four commercial tenants to the block-long mixed-use project that won't open for another five months.
Observers say Penrose will boost the entire Massachusetts Avenue corridor by bringing more residents and filling a critical retail gap along the street.
Penrose on Mass, at 500 Massachusetts Ave., includes nearly 39,000 square feet of commercial space, divided into 13 units. Signed tenants include Evansville-based Old National Bank, which will open a 1,500-square-foot branch with a walk-up ATM. Louisville-based restaurant LouVino, which entered the Indianapolis market with a Fishers location in 2016, will take a 4,000-square-foot space. Columbus, Ohio-based Condado Tacos, which opened its first local store in July in Broad Ripple, will take a 4,434-square-foot space. And market newcomer Kilwins Chocolates, a Michigan-based candy and ice cream shop, will take a 1,104-square-foot space.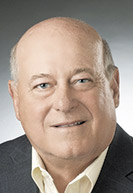 Hart
Additionally, "we have active conversations going on in every [retail] space that we have available," said John C. Hart, president of Carmel-based J.C. Hart Co. Inc. "As these things progress, some things work out and some things don't work out. But it's very encouraging."
Those conversations include lease negotiations with a "farm-to-table" restaurant—a local operator Hart declined to identify. An Asian-concept restaurant, a coffee/tea shop and some "health/workout-related type activities" have also expressed serious interest, Hart said, though he declined to give specifics because none of those parties have yet signed leases.
J.C. Hart, a residential developer, is one of several partners in the Penrose project. Others include StrongBox Commercial Development Group and the architecture/engineering/design firm Schmidt Associates, both of which are based in Indianapolis.
Paul Kite, founder and CEO of StrongBox, said the goal is to get the best mix of retail tenants, whether they be local, regional or national operators.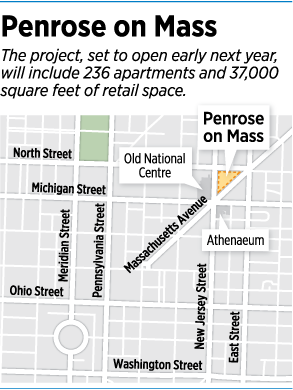 "We want to get as many local tenants as possible, but at the same time, if we're contacted by someone who would be a national tenant, we're not not going to talk with them," Kite said. "Our focus is on the quality of the experience for the entire property."
The project will add an entire block's worth of retail space to Mass Ave, along with 236 apartments and hundreds of parking spots, including both a parking garage and 50 on-street spaces. It is expected to start opening retailers and leasing apartments in February.
Current business owners, and others, say all three of these additions—more people, parking and retail space—should improve the area's overall retail climate.
For years, the 500 block of Mass Ave was a retail desert that divided the north and south ends of the street. In 2015, a grassy area that occupied one side of the block was filled in by Millikan on Mass, a $13.9 million apartment and retail project. Penrose will bring retail to the other side of the street, occupying the entire triangular block bordered by Massachusetts Avenue, and North and New Jersey streets. The property had housed the Indianapolis Fire Department headquarters, a firehouse and a credit union.
While the fire department was a valued community asset, it interrupted the street's commercial flow, creating the equivalent of "missing teeth that were hard to ignore," said Eric Strickland, executive director of the Riley Area Development Corp.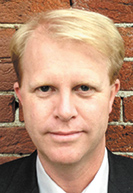 Strickland
"Our No. 1 discussion about Mass Avenue, because it's 1.2 miles long, is, it's a linear district," Strickland said. "The more connected all of Mass Avenue is, the better it is."
Amanda Mauer Taflinger, who owns the boutique Homespun: Modern Handmade at 869 Massachusetts Ave., agreed.
Her boutique is on the north end of Mass Ave's commercial district, where development is sparser than at the heavily traveled south end. Taflinger said College Avenue and, until now, the 500 block of Mass Ave have served as barriers to development on her end of the street.
"I think it's nice to see some fill-in of some of those empty spaces," she said. "Any type of retail will help bolster the area and bring more people in."
Penrose's gap-bridging location was part of what made the property attractive to Andy Schoentrup, who will operate the local Kilwins along with his wife, Robin.
Kilwins stores do best in areas with strong foot traffic and nearby restaurants, he said, and Penrose on Mass seemed to fit the bill on both counts.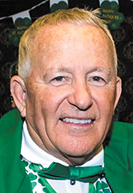 O'Bryan
"We think that this is in kind of a sweet spot between the two heavy areas of foot traffic," Schoentrup said. "The people seem to be there that we need for business, and that's the key driver for us."
Shawn Cannon, a partner in Salt on Mass seafood restaurant at 505 Massachusetts Ave., said his focus is on the additional residents Penrose will bring to the neighborhood. A downtown retail district like Mass Ave can only grow, he said, if the residential population also grows. "We need more bodies to support what we have," Cannon said. "You've got to have that balance of [retail] density and population."
Salt on Mass is directly across from the Penrose site, and Cannon said he's also enthusiastic about the project's parking.
Jerry O'Bryan, founder of the pub Nine Irish Brothers, said he's also excited for the opening of Penrose because of the additional residents and parking spots. Nine Irish Brothers is at 575 Mass Ave., also directly across from Penrose.
"It's like putting another street at your back door," O'Bryan said. "I know it's going to be a boost, no doubt."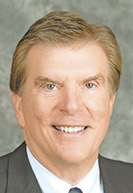 Delaney
Looking ahead, Mass Ave will see another big influx of retail and residential space with the opening of the Bottleworks District, an 11-acre mixed-use development in the street's 800 block. The first phase of that project, which includes 125,000 square feet of retail space, is expected to open in early 2020. A second phase, expected to open the following year, will include another 50,000 square feet of retail space along Massachusetts and College avenues.
The leasing agent for the Bottleworks project, Steve Delaney of CBRE, said he believes Bottleworks and Penrose will help each other, in part because they're coming online at different times.
"I think they're complementary projects rather than competitive, just because of the timing," Delaney said. "In either case, it's drawing interest in Mass Avenue."•
Please enable JavaScript to view this content.