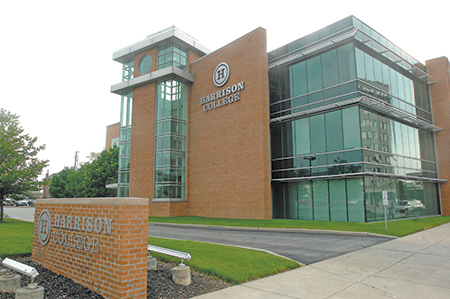 Indianapolis-based Harrison College is calling it quits, the for-profit school announced Friday.
Harrison, which was founded in Marion in 1902 as Indiana Business College, said it "made the difficult business decision to close operations effective Sunday," except for its Chef's Academy, which will close Oct. 14 at the end of the current semester.
Harrison board chairman Craig F. Pfannenstiehl blamed declining student enrollment and financial pressure for the closure, the Terre Haute Tribune Star reported.
The college has 10 campuses in Indiana, Ohio and North Carolina. Three of those campuses are in Indianapolis. Its main address is at 550 E. Washington St.
The school has about 2,000 students, down from about 4,000 earlier this decade.
It offered degrees in business, criminal justice & social services, health sciences, information technology, nursing, veterinary technology, and culinary arts.
Harrison is owned by Pittsburgh-based Educational Management Corp. Inc., the owner of Brown Mackie College, which shut down most of its campuses in 2016, and the Art Institute of Indianapolis, which is closing Dec. 28.
The school said it would "work with transfer and teach-out partners including state governing bodies and our accreditors to ensure each student has a pathway to complete their education."
National American University is Harrison College's preferred transfer institution in Indiana, it said.
Please enable JavaScript to view this content.