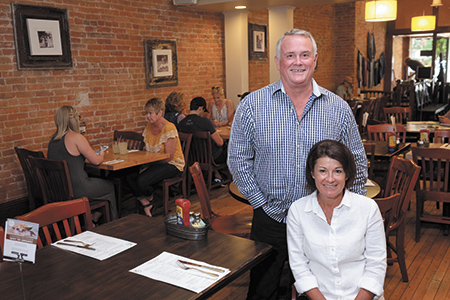 Michael Bourgerie envisioned it first.
He was serving on a jury at the Hamilton County Courthouse nearly 10 years ago when he asked a courthouse employee about lunch options near Noblesville's historic square.
At the time, there were few, he said.
His wife, Debbi, had been thinking about a new business venture after taking time off to raise their children. She grew up working in the restaurant business in St. Louis and loved to bake.
If Debbi was serious about opening her own bakery, Michael told her, he'd found the perfect spot. They took a drive to downtown Noblesville and found an available storefront at 68 N. Ninth St. They instantly fell in love with the historic-looking building.
Noblesville reminded the couple of Boston, where they lived before moving to Carmel a
few years before for Michael's corporate job. The historic square anchored by the courthouse and the sense of community—parades and festivals and neighbors who knew and supported one another—was familiar.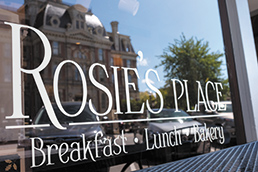 "This area reminded us of that same kind of living," Michael said. "You just feel like you step back in time."
The storefront had housed several unsuccessful restaurants, but Debbi and Michael thought they had something special to offer the city.
They opened Rosie's Place in 2010, occupying the 3,100 square feet with a breakfast-and-lunch restaurant and bakery.
They now also operate a second eatery with the same name in Zionsville and they're preparing to open a third location in The Olivia on Main mixed-use development in Carmel this fall.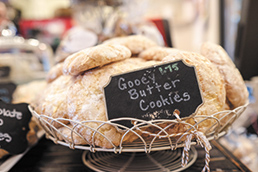 The new restaurant will feature the same menu (think Summer Veggie Hash, Grilled Salmon Salad and Corned Beef Reuben) and style as its sister eateries, but will occupy two stories instead of one.
Asked what makes Rosie's Place successful, Debbi said the staff treats every customer, whether on a first visit or 10th, like a regular. And the experience should always be the same, she said. Plus the food, especially the homemade Gooey Butter Cookies, doesn't hurt, she added.
Debbi was raised in the restaurant business. Her family owns the St. Louis-based Miss Sheri's Cafeteria, where Debbi and her siblings learned about cooking and running a business from their father, who has operated Miss Sheri's for nearly 50 years.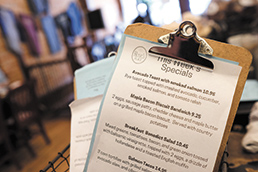 As a teenager, everyone in the family had a job. The kids went to college and returned to join the family business, where Debbi worked until Michael's job relocated them to Boston. There, she stayed home with their children. Eventually, the family moved to Carmel, where they still live.
In 2010, one daughter was headed to college and the other two were in high school. The kids didn't need Mom home all day anymore, so Debbi looked for something to fill her time.
She had long thought about opening a bakery, but she knew if it were coupled with a restaurant, it would be more successful. And so, Rosie's Place was born.
The restaurant is named for her paternal grandmother, an ode to her dad who she said taught her everything she knows. Pictures of Rosie's family serve as the restaurant's primary art elements.
Early success
Debbi took the reins, cooking and baking from old family recipes. Of course, when the restaurant opened, her dad was there to lend a hand and teach her a few more tricks of the trade.
"It was just supposed to be something fun," she said. "I thought it would be a little sleepy place."
About 18 months later, the restaurant was doing so well, Debbi couldn't keep up. Michael left his job as a small-business consultant to help run the restaurant.
And when the couple decided in 2014 to open at 10 S. Main St., in Zionsville, Debbi's sister, Sheri (the namesake of the original family business), moved from St. Louis to be part of the growing success.
"We stole Sheri from Miss Sheri's," Debbi said with a laugh.
The restaurants are open through early afternoon, serving breakfast and lunch and a smorgasbord of bakery treats, including the butter cookie based on St. Louis' famous Gooey Butter Cake. The cookies are the eatery's signature item and its best-seller, with as many as 2,000 baked at each location every week.
At first, Debbi sold the cake, which is similar to a coffee cake. But patrons had another idea in mind; they wanted something for after lunch at the office.
"It's just a handheld [version] of the cake," she said. "Now we do the original and all kinds of seasonal flavors, which have gone crazy, too."
Beyond the storefronts, the cookies are sold at a few establishments in downtown Indianapolis—including King David Dogs—and soon they'll be available at Needler's Fresh Market locations. Fans can also buy them wholesale online. And through a partnership with Hare Chevrolet in Noblesville, car buyers get a pack of the cookies on their way out the door.
The breakfast and lunch menus at Rosie's change seasonally, and all the entrees are locally sourced and made from scratch. Most weekend mornings, visitors are lined up outside waiting to get a seat, the couple said.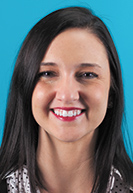 Riggs
Whitney Riggs, communications coordinator for Hamilton County Tourism Inc., said Rosie's Place has changed Noblesville for the better.
Several times a month, staff at the tourism bureau entertain visitors and almost always take them to Rosie's Place.
"It has local charm, the couple that runs it is delightful and the food is amazing," she said. "People go there for breakfast, lunch and meetings. It's a great place to convene and gather."
From the beginning, the Bourgeries never intended to open a second location, much less a third. But they say they let the growth happen organically.
Still growing
In 2014, Debbi and Michael found an open storefront on Zionsville's brick Main Street, which they loved because of its historic buildings and mom-and-pop merchants, the same things they love about Noblesville.
Zionsville is the largest of the three locations, at about 3,600 square feet. It's also the busier of the two restaurants.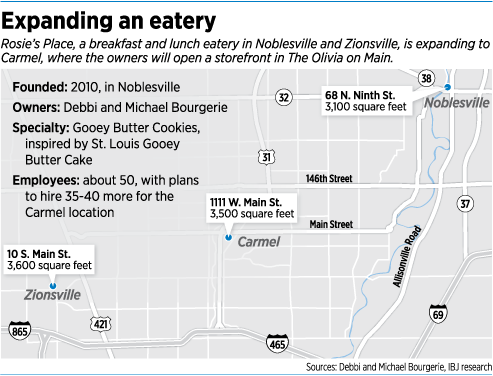 Rosie's Place in Zionsville was so well received, the couple decided to open a third eatery in Carmel. The Olivia on Main development is currently under construction, and Rosie's Place will occupy one of its corner spaces.
The Bourgeries said their employees were looking for opportunities to grow within the company; the couple believes a third location will grant some of those wishes. The business has 50 employees and plans to add 35 for the new location.
Suzi Sweger, for example, has worked for the Bourgeries since day one. She had worked at the restaurant that previously occupied the Noblesville space. And when she saw a new eatery was opening, she told the Bourgeries that she came with the building. She's worked there ever since.
Now, she'll move to the Carmel location as lead server, supervising other servers.
Rosie's Place is a gem, Sweger said, where everyone who walks through the door is treated like family. She said it's been fun watching the company grow and she's looking forward to her role in the new location, where she'll teach a new set of servers how customers should be treated.
Early on, Debbi and Michael had considered Carmel for their first location, but at the time, they didn't feel it was the right fit.
Now, they're ready for a new challenge. The restaurant, at the southwest corner of Main and Old Meridian streets, isn't in a downtown, and it's being constructed in a brand-new building.
"It's going to be different," she said.
Asked if they have plans to grow beyond Carmel, the owners are quick to say no. But then again, they never planned to open a second or third location.
"Right when you're in the throes of opening one, you always say no," Michael said with a laugh. "Then after you get it nailed down, your mind shifts."•
Please enable JavaScript to view this content.