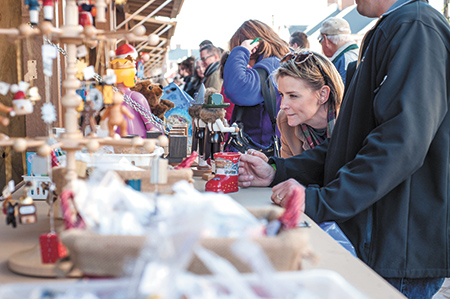 Carmel's second Christkindlmarkt is still two months from opening, but leaders are already planning a more ambitious schedule and making changes to address visitors' concerns from the inaugural event.
The 2017 German-themed Christmas market—the brainchild of Mayor Jim Brainard—attracted at least 150,000 people over five weeks to the Center Green in front of the Palladium, generating almost $1 million and clearing almost $300,000.
Including revenue during those weeks from outside vendors and from the accompanying ice rink, which operated through March and is run by Carmel Ice Skadium in partnership with the city, total proceeds were nearly $1.4 million.
At $936,000 in revenue, the market itself brought in almost $200,000 more than the $738,000 organizers forecasted. But it also cost $100,000 more than the $542,000 originally budgeted for expenses. Still, the inaugural market ended up $290,000 in the black.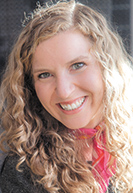 Murphy
Brainard in 2016 unveiled his $5 million plan to transform the Center Green into an ice rink and Christmas market. The following year, Carmel created a not-for-profit called Carmel Christkindlmarkt to oversee the market and tapped former Lake City Bank branch manager Maria Murphy to serve as CEO and market master.
For this year's event, which will run Nov. 17 to Dec. 23, the market will expand east to the Monon Trail, a change aimed at addressing concerns about congestion.
Some visitors also complained there weren't enough moderately priced souvenirs. So organizers are expanding the offerings of lower-priced German goods.
And many of the commemorative items, such as the 15,000 glühwein (mulled wine) mugs, sold out in the market's opening days. This year, organizers say they've purchased more than 60,000 mugs for the sweet wine and hot chocolate.
The Carmel City Council is also scaling back its financial support. It provided $420,000 in 2017, but will contribute just $125,000 this year.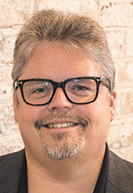 McFeely
The not-for-profit's initial goal was to be self-funded within three years, and that still might be possible, said Dan McFeely, a city spokesman who serves as president of the not-for-profit board.
This year, the not-for-profit will run only seven of the 47 huts; outside vendors will run the rest. Last year, it ran 19 of the 40 huts, Murphy said. She'd eventually like to get that down to four.
In addition to direct funding, the city provides other support, such as marketing services and street department assistance setting up huts.
Center Green is a popular destination during warm months for a variety of events, including a farmer's market. Brainard championed the market and ice rink as a way to extend the whir of activity through the winter, bringing visitors to the area who also might shop at nearby businesses.
Christkindlmarkt is German for Christ child market; the tradition began in Saxony, Germany, during the Middle Ages.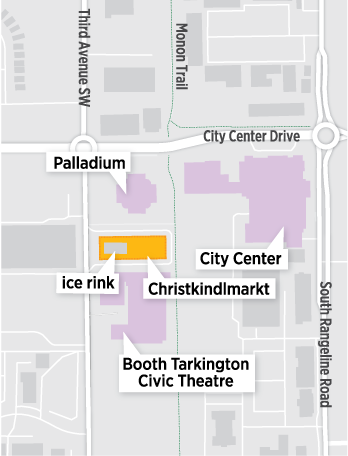 Carmel's is the biggest German-themed Christmas festival in Indiana, McFeely said.
Organizers say they were overwhelmed with last year's response. The market's busiest days were opening weekend and the one following Thanksgiving, when 48,000 people visited, Murphy said.
McFeely said 150,000 might understate the total number of visitors. Because the event required no entry fee or ticket, organizers relied on counters to estimate attendance.
"Going into last year, honestly, none of us knew what to expect," he said. "We weren't sure how the people of Carmel would react."
Last year, Murphy visited Germany to purchase many of the items sold at the festival. The goods, which included incense smokers, nutcrackers and candle arches, cost $250,000. About $66,000 in inventory remains and will be available for purchase this year, she said.
With a $290,000 account balance and this year's $125,000 in city funding, the not-for-profit has about $415,000 to work with, not including sponsorships, which it is still seeking.
The not-for-profit works with Fishers-based Express Employment Professionals to staff its booths. The temporary employees are trained on the products they're selling so they can speak knowledgably about them and their German history.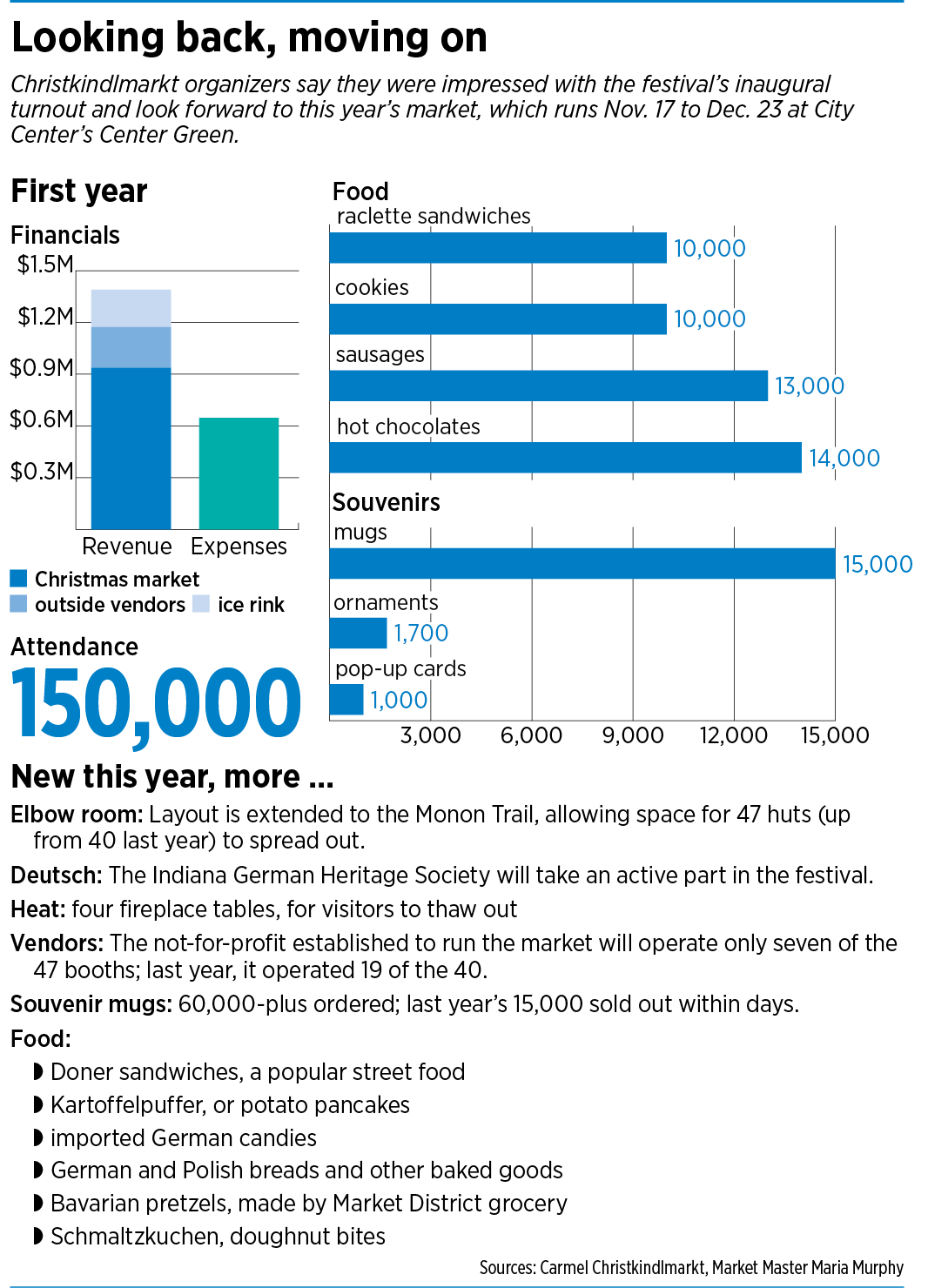 Carmel retiree Gary Weitzel, who last year worked at a popular hut selling beer steins, said he grew up in Milwaukee and fondly remembers attending a similar market there each year.
"I really am in love with this whole concept of a market," he said. "Again, because it brings me back to the days in Milwaukee … but also the sheer joy that everyone had at the market. The beauty of the market is that it truly is a family event."
A new feature this year will be fireplace tables. The not-for-profit bought four, which guests can stand around to get toasty.
Christkindlmarkt also will introduce an activity booth for children and will partner with the Indiana German Heritage Society to celebrate Saint Nicholas Day, a German tradition in which children leave their shoes out Dec. 6 and are visited by the saint, who leaves behind presents.
Saint Nicholas will visit the activity booth, passing out paper bags filled with German-inspired goodies like oranges, nuts and wooden toys.
This year's event will also feature an expanded food selection, another request from visitors, Murphy said.
For example, the German Heritage Society is teaming with the Market District grocery in Carmel to sell authentic Bavarian pretzels. Last year, the market sold pretzels but they weren't German-style, Murphy said.
Other added foods include German and Polish breads and sweets; German potato pancakes, called Kartoffelpuffer; and deep-fried doughnut bites covered in powdered sugar, called Schmaltzkuchen.
Organizers hope the improvements will increase attendance even further and help establish the event as an annual tradition for central Indiana families.
"We all know about the sophomore curse," McFeely said. "Last year, it was all new. This year, it's still new and it's even better. I think we're going to see bigger crowds this year."•
Please enable JavaScript to view this content.